Defending champion Yip Pin Xiu ready for test in Tokyo
The 29-year-old focuses on what she can control ahead of fourth Paralympic Games
19 Jul 2021
Imagen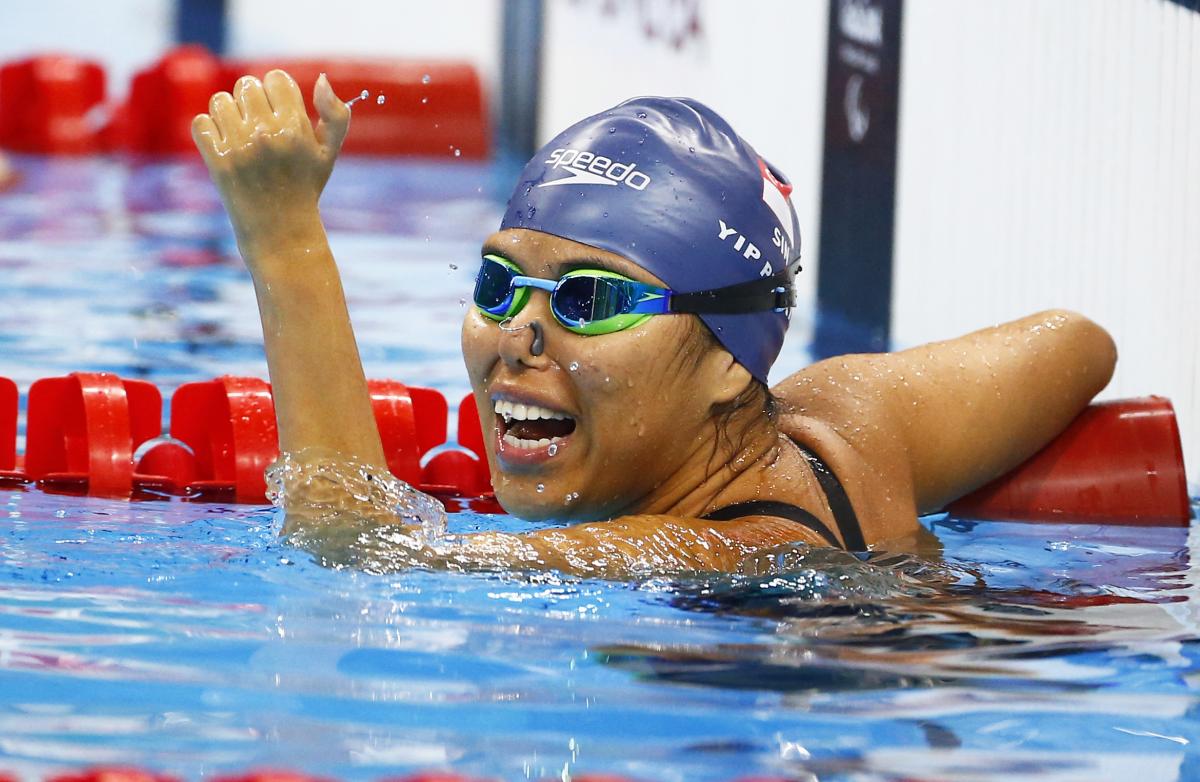 ⒸREUTERS/Jason O'Brien
By Tim Norris | For the IPC
Yip Pin Xiu will head into the Tokyo 2020 Paralympic Games having not competed at a major event for almost two years.
The double Paralympic champion last competed at the World Para Swimming Championships in London in September 2019 where she won gold in both the 50m and 100m backstroke S2.
"It's been really different," said Xiu. "Normally we would be travelling for competitions and training camps. All I can do is find the best ways to train in Singapore and do everything I can to be faster."
While the season opener of the 2020 World Series took place in Melbourne in February 2020, World Para Swimming announced in April 2020 that the season would be put on hold. Additionally, local restrictions meant Xiu had to take two months off swimming.
"I couldn't swim or see a physio," said Xiu, who lost the ability to walk at 11 due to muscular dystrophy. "It's important to be racing, as your body gets used to the high intensity and routines. My condition means I detrain faster, and it has been tough trying to bring it back up," said Xiu, who had golds in 50m and 100m backstroke S2 at Rio 2016.
Rather than let it affect her, the Singaporean decided to focus on what she could control, setting up time trials locally to try and improve her times.
"I have a mindset of doing what I can every single day," continued Xiu, who has also been working with a psychologist. "When I go to compete in the pool, I shouldn't be worrying about how my competitors swim. I can't control how fast they are, only how fast I am. I focus all my energy there."
Xiu's love of swimming goes back to her childhood, with her mum taking her and her older brothers to the pool on a Sunday morning. She was soon spotted by a volunteer and asked if she wanted to join junior events.
"I really liked the water," said Xiu. "It gave me a sense of freedom. I could do what everyone else could do and I really fell in love with this feeling."
From junior events, she then joined up with the national team and competed at her first Paralympics at Beijing 2008. Even as she approaches her fourth Paralympics, this remains her most memorable to date.
"It was my very first gold medal," said Xiu, who also won silver in the 50m freestyle S3. "I guess at a young age I never knew I could be part of Paralympics, so winning that medal was special."
That medal was also Singapore's first Paralympic gold. As well as making an impact for her country in the pool, she also leads by example away from it, including as a former parliamentarian and member of the National Youth Council.
"I'm really proud of how I've been able to advocate and create more awareness in Singapore," explained Xiu. "I'm grateful to have had all these opportunities to share and fight for equality. I don't take it lightly and it's something I can and want to do while swimming. I don't want to wait until I stop swimming to live my best life!"
Xiu will certainly have the backing of her entire country for her success in Tokyo, even if her friends, family and supporters cannot be there in person.
"I'm not sure how much it will affect me," admitted the 29-year-old. "In Beijing, standing on the podium and knowing I had an entire village behind me – coaches, the team, family – and listening to the national anthem, that was special."
"But as long as I'm there competing, I will be really happy and grateful for the Paralympics to even be happening," she continued. "I know my family and supporters will be watching – and even if they can't be in the stands, they'll be cheering me on!"
After a one-year postponement, Xiu is not alone in looking forward to the return of the Paralympic Games. Only time will tell if Singapore's most decorated Paralympian can add to her medal collection in Tokyo.