Family ties: The mountain brings us together
Some visually impaired skiers use members of their family as guides, but how does it work in practice to have someone so close hurtling down the slopes with you?
23 Jul 2013
Imagen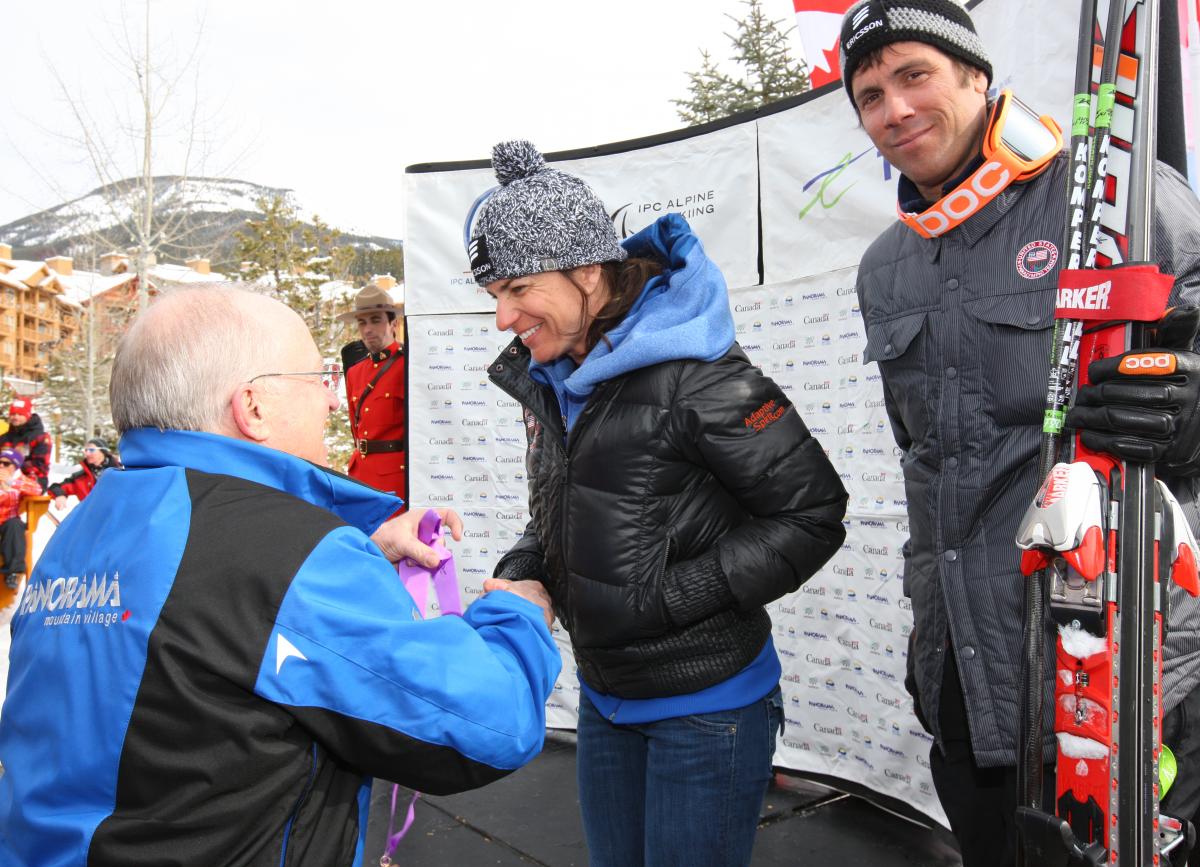 ⒸMalcolm Carmichael / Alpine Canada
By Jake Duhaime | For the IPC
"Before the race, Rob was reminding me what I needed to do and he was great about knowing how to say the right things, the things that would make me excited for the challenge of the jump and not make me anxious."
With his classmates about to take off for university, BJ Marcoux, with the help of his parents, had a different idea in mind.
The family from Ontario, Canada decided that the 18-year-old should delay his studies for a bit. As they'd point out, he'd spend a lot of years getting a degree and another 30 in the workforce. There was a more important opportunity to make an impact on the home front.
BJ's younger brother Mac was starting to develop his skills as a skier, but without much in the way of sight, he needed a guide. Someone who could channel his energy in speeding down the mountain in a race against the clock and competitors.
Big brother was up for the challenge.
"I never saw delaying university as a sacrifice, but an opportunity to do something new in life," said BJ "I think it's much better than what would have happened if we weren't here right now."
What once was a family activity had turned into an unofficial profession. One quickly paying dividends for the Brothers Marcoux.
Mac, with BJ's help, scored three World Cup podium finishes in 2012/13 and earned a silver medal in the giant slalom at the IPC Alpine Skiing World Championships in La Molina, Spain. Winning a national title in the slalom was the cherry on top for the 16 year-old, who still has his best years very much ahead of him.
"The best way to explain the whole season was that it was simply amazing," Mac said. "We came into the season with no expectations and the way everything played out, it turned out to be a fantastic experience."
"I wasn't planning on winning medals, or winning a national championship, so it astonishes me to look back and even think about it."
The brothers' need for speed first started with go-carts, something that Mac was forced to give up as he lost his vision to a degenerative condition. Skiing, along with BMX biking on the side, made for a suitable replacement for a pair of self-described adrenaline junkies
"Biking happened to fit in with what we were doing," Mac said. "Our friends did a little bit of it and it balances out the work on the mountain. It's a good off the mountain workout."
With their first Paralympics in Sochi, Russia just months away, the Marcoux's are busy training in Mount Hood, then off to Whistler before the first World Cup event in New Zealand on 22-23 August. You could say that the trips to Switzerland and Italy would almost qualify the two for any study abroad program they wanted.
"It was great to see the way different countries work and it was an interesting experience," BJ said. "We never thought we'd have such an opportunity, but to do so while trying to do a job at the same time is something you can't teach."
Danelle and Rob Umstead have a similar story, one of a family bond brought together by the mountain.
When Danelle had trouble finding a guide, her husband Rob decided to step in. Growing up, he was a competitive racer, which eventually led to being a coach for the Park City Ski team in the USA. While the decision to give up his job full-time seemed like a natural fit, doing so meant the family was completely dependent on her career to support them.
Sacrifice wasn't an easy choice, until results were quickly achieved.
"As a kid, I was a ski racer and the Olympic dream was always there for me," Rob said. "This is kind of another level to get to that stage. It was a tough financial decision to give up my coaching job, but once we made the national team in that first season, it made it a little easier.
The Umsteads won a pair of bronze medals at the 2010 Paralympic Games in Vancouver, but joy was met with setbacks after Danelle was diagnosed with Multiple Sclerosis, limiting her ability to compete internationally until this past season.
"I was building my way back up," Danelle said. "I haven't been as competitive and was a little bit off the pace. I just kept fighting to work my way back up the ladder."
The ladder was reached when Team Umstead won a gold medal in the downhill event at the IPC World Cup Finals in Sochi. While the medal's color was a well deserved testament to never giving up, it was conquering the course's jump, a rarity for para-alpine skiing, which showcased the communication that makes Danelle and Rob unique.
"Before the race, Rob was reminding me what I needed to do and he was great about knowing how to say the right things, the things that would make me excited for the challenge of the jump and not make me anxious," Danelle said.
"The experience we have as a team and with him as my husband, it really helped. I feel like that's an advantage that few other racers have."
Like the Marcoux's, the Umstead's are spending the summer in Mount Hood, then to Australia and New Zealand for the start of the season in August. While one tandem has experience and the other a youthful energy, the four individuals who carve the mountain all have one thing in common.
They wouldn't be here without each other.