Ghana's Botsyo Nkegbe owes his life to Paralympics
'I do not see any other way society could have embraced me, celebrated me and accepted me had it not been for the Paralympics'
15 Oct 2020
Imagen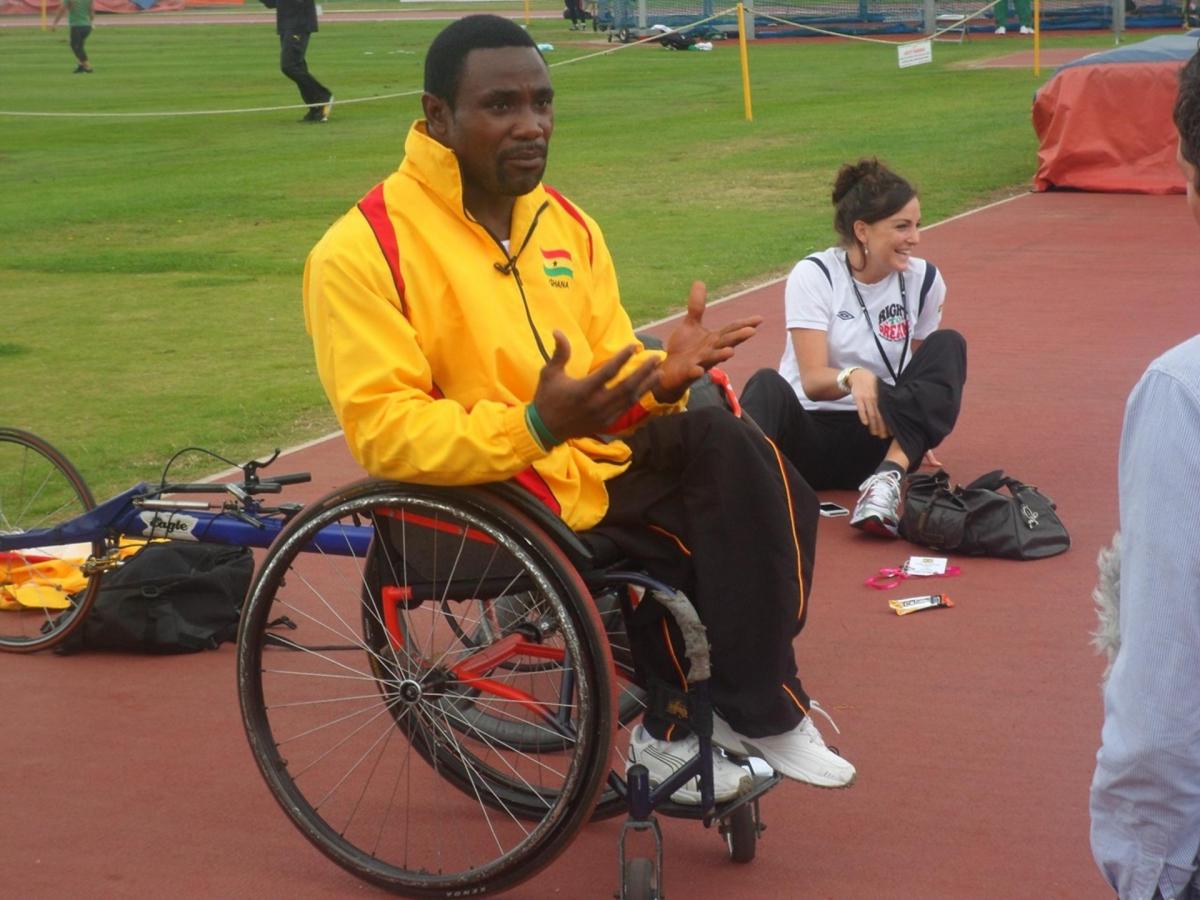 By Gracious Toriro
Raphael Botsyo Nkegbe started his Para athletics career competing for Ghana in 2003 and since then never looked back. The leading wheelchair racer in 100m T54 set a new Africa record with 14.22secs in 2019 and also holds the National Record 14.62sec.
Last week, Nkegbe joined the list of elite Sports Writers Association of Ghana (SWAG) Sports Personality of the Year award victors when he was crowned the winner of the 45th edition. Nkegbe credits all his success, how society looks at him and his ability to take care of his family to Paralympics.
"Para sports has been my life. I am able to take care of my family because of Paralympics. I do not see any other way society would have embraced me, celebrated me and accepted me, had it not been for the Paralympics."
The Ghanaian flag bearer at the London 2012 Paralympic Games believes that disability prevalence, negative perceptions, and challenges are relatively higher for developing countries and Ghana too is no different.
Nkegbe reveals he was also quick to gauge that it is not just about sport but how one uses sport as a tool to change negative perceptions about disability and be a role model for change.
"Every time I am on the track, I feel like I am carrying the hopes of 1 billion disabled people on my shoulder and I want to make an impact and win a medal," said the 40-year-old from Sunyani, Bono region.
Tokyo 2020 Games preparations
Nkegbe became the first athlete competing for Ghana to qualify for Tokyo 2020 Paralympic Games after winning the T54 World Wheelchair 100m race with a new personal best of 14.22s at the Desert Challenge Games in Arizona, USA.
The Tokyo 2020 would be his fourth Paralympic Games and the veteran African athlete could not hide his disappointment at the postponement of the Games.
"My spirit dropped when I heard about the postponement of the Games considering I was also thinking of retiring after that. However, I have picked myself up and tried to remain upbeat. I also manage to continue training despite the current unprecedented times due to the pandemic. I also have a Zoom training with my coach from Canada," said Nkegbe who wants to leave a legacy behind with a medal at Tokyo.
"It would be great to win a medal at Tokyo. Once I retire, my dream is to uplift upcoming Para athletes in my country and hence I have started a racing club in Ghana to give back to the youth. I founded it in 2012 and it aims to improve the lives of disabled persons, especially the youth in the rural areas. Sports can definitely empower them to live fulfilling lives."