Jean-Baptiste Alaize hopes story in 'Rising Phoenix' inspires love not hate
How Para sport helped Frenchman overcome trauma from civil war in native Burundi
10 Oct 2020
Imagen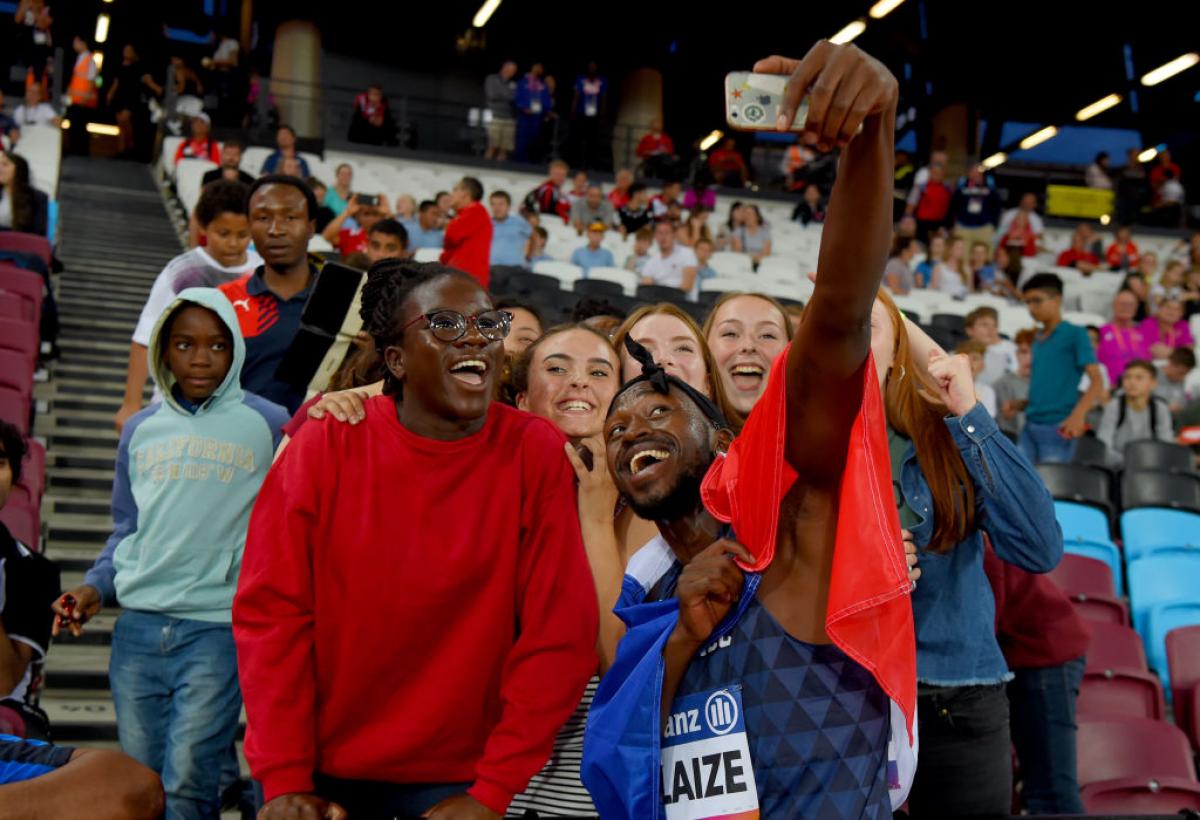 ⒸGetty Images
By Aryanna Prasad | For the IPC
The inhibitions about his prosthesis were put to rest when Jean-Baptiste Alaize of France helped his classmates win a relay race. 
That very night, he realised what he had accomplished and what lay ahead. It not only helped him overcome the traumatic memories of a child amidst the Burundi Civil War but also to look at his disability, differently.
"It was the first night in years, in nine years, that I slept," Alaize recalled. "From that moment on, I understood that athletics could change my life."
Alaize is one of nine Paralympians whose were featured in Netflix's 'Rising Phoenix' released in August. 
In the documentary, Alaize opens up about the time when he was three years old. He was caught in the midst of a genocide in his native Burundi, where he witnessed his mother's killing.. 
"They (from the Hutu ethnic group) gave me a machete in the back, arm and leg," said Alaize, reminiscing the horror, describing the origin of his lower left leg amputation. "They left me for dead, but I survived."
Alaize survived in an orphanage until he was adopted by a French family in 1998. He relocated to southeastern France with his adoptive family, growing up in Montelimar. While he adapted to his physical scars, the mental ones remained. That is, until he discovered the "sensation of flying" in his sport. 
"When I was sleeping, I always had the trauma of massacre with my mother and I, like a 'flashback'," Alaize explained. 
His adoptive parents took him to a child psychologist who encouraged him to draw out his feelings. But Alaize grew frustrated with this method of therapy. He and his family healed in their own way, and  young Alaize built a mental fortitude by learning how to live with his injury and the questions surrounding it.
In fact, sharing his own stories he later learned, was healing for others. 
"It's how people are: they're always interested to know, 'What happened to you?'" Alaize said. "Share your experience, because your story can change perspective for a lot of people. You can show that in life, there are many children, from everywhere in the world, who share your experience. You can also help anyone, even ignorant people, grow in their understanding."
That healing began at 14, when he took up sports in school and helped his classmates win a relay. He stuck with sports, specialising in sprints and long jump, eventually making it to the London 2012 and Rio 2016 Paralympic Games. One of his major breaks was at the 2017 World Championships, where he won long jump bronze.  
While the 29-year-old has built a life out of his passion for running and long jump, he still sees lots of work needed to tackle discrimination in all forms.
"It's not easy to enter France," Alaize said. "When I arrived in France and faced racism, it was very hard, when you were in the south [hearing things] like 'this neg' or 'this black'... I was not surprised when I arrived in a country like that, to see and hear such wicked racism, so I knew that was going to be very difficult."
That is partially why Alaize has been enthusiastic about the release of 'Rising Phoenix'.
"To see the movie coming out this year, [with] the story of 'Black Lives Matter', I think that can change things a lot," he said. "Hatred and violence show what humans are capable of — I know because I have experienced hate and violence throughout the whole world.
"I want to show that violence and hatred did not bring me anything, nor would it satisfy me to hurt and kill people who don't like me," Alaize continued. "[I wish that] the whole world would change after this film because I truly show what a child can undergo. While it was going on, I wondered [why] and all that, but despite all this, it's OK: all of these experiences revealed to me how one can embody the best in humanity."