Rising Phoenix Quiz: Ntando Mahlangu
Test your knowledge about South Africa's Para athletics world champion and one of the stars of the Netflix's documentary
29 Aug 2020
Imagen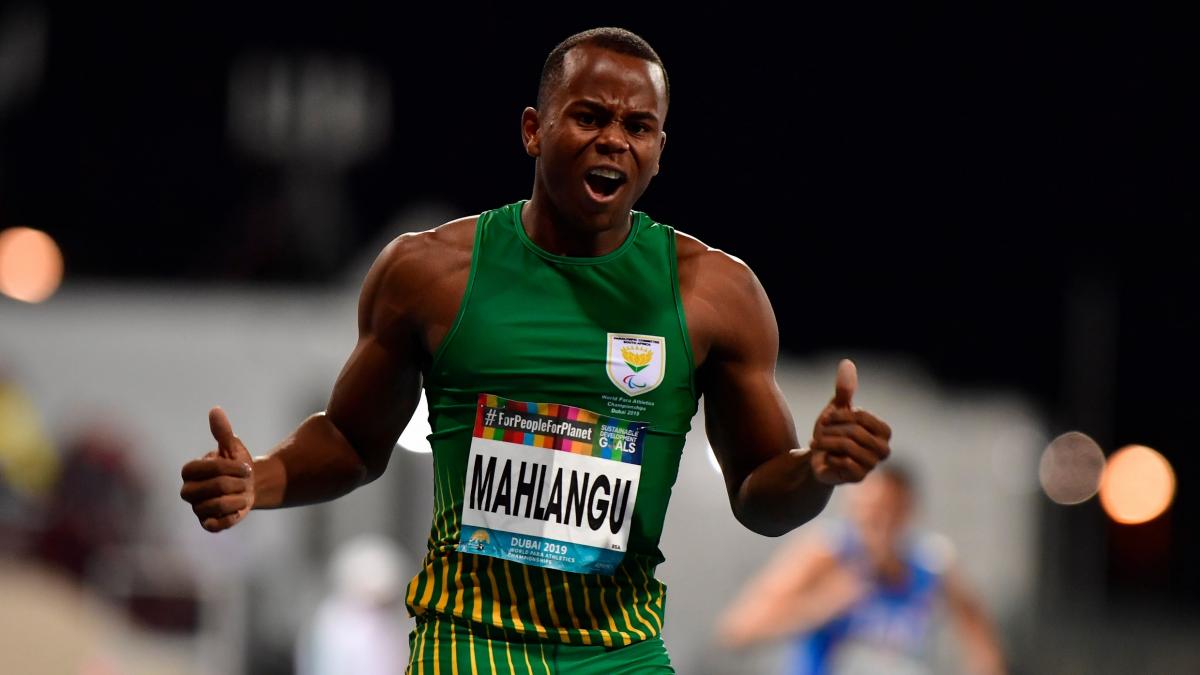 ⒸLuc Percival for World Para Athletics
By World Para Athletics
South Africa's Ntando Mahlangu is one of the stars of the Netflix documentary 'Rising Phoenix' featuring the story of the Paralympic Games.
The movie is available in more than 190 countries worldwide and was launched to coincide with the one-year-to-go celebrations for the Tokyo 2020 Paralympic Games. 
World Para Athletics prepared a quiz for you to test your knowledge about Mahlangu. Are you ready?
The answers are at the end of the quiz!
Question 1
Which animal does Ntando Mahlangu race against on 'Rising Phoenix'?
A – Leopard
B – Cheetah
C – Dog
D - Horse
*GIF by Giphy.com
Question 2 
How old was Mahlangu when he competed at his first Paralympic Games in Rio de Janeiro?
A – 14
B – 15
C – 16
D – 17
*GIF by Giphy.com
Question 3
In which event did Mahlangu win his medal at Rio 2016?
A – Long jump
B – 100m
C – 200m
D – 400m
*GIF by Giphy.com
Question 4
In 2019, Mahlangu became world champion for the first time. Where did the World Para Athletics Championships take place that year?
A – Doha
B – Kobe
C – London
D - Dubai
*GIF by Giphy.com
Question 5
What was the event that inspired Ntando Mahlangu to want to become an athlete?
A – Beijing 2008 Paralympic Games
B – London 2012 Paralympic Games
C – Lyon 2013 World Championships
D – Glasgow 2014 Commonwealth Games
*GIF by Giphy.com
Question 6
What is Ntando Mahlangu's favourite football club?
A – Liverpool
B – Manchester United
C – Tottenham
D – Manchester City 
*GIF by Giphy.com
And the answers are...
1 – B
2 – A
3 – C
4 – D
5 – B
6 – D
How did it go?
 
0 TO 1 CORRECT ANSWER
Have you watched 'Rising Phoenix'? If the answer is no, go and watch it now! If the answer is yes, you should definitely watch it again because it is one of the coolest sport movies ever.  You can also learn more about Mahlangu here and on this video.
*GIF by Giphy.com
2 TO 3 CORRECT ANSWERS
Not bad. There is still time to prepare for the Paralympic Games in Tokyo and get ready to watch Mahlangu going for more gold.
*GIF by Giphy.com
4 TO 5 CORRECT ANSWERS
You made it to the podium! Whether bronze or silver, you are real fan. Just make sure to follow World Para Athletics on social media to get all the information you need to be a gold medallist.
*GIF by Giphy.com
6 CORRECT ANSWERS
Ntando, is that you? :)  
Congratulations! We're so proud of you (and we are quite sure there is a world champion in South Africa really proud too!).