Esperança Gicasso - the teacher who runs and inspires her pupils through sport
Angolan vision impaired athlete feels grateful for bp's support on and off the track
04 Aug 2020
Imagen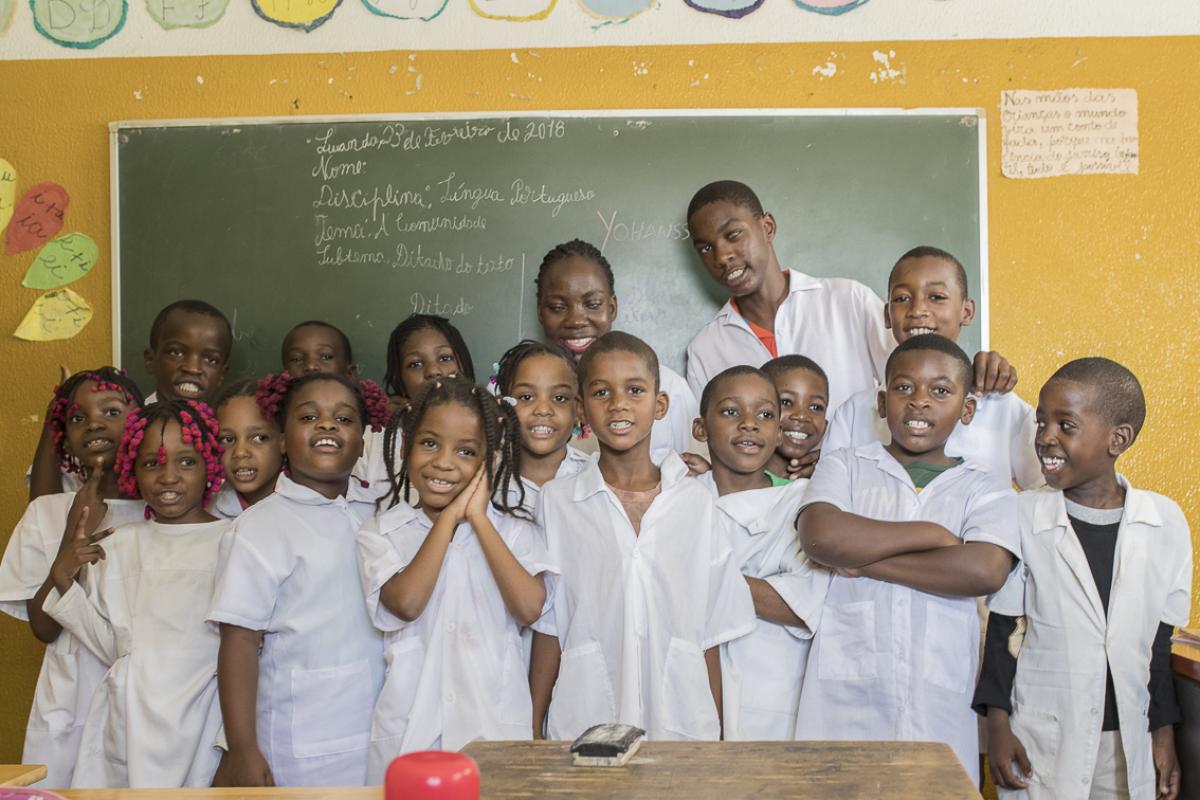 ⒸJoao Racy/MPIX/CPB
By BP and Santiago Menichelli
The Óscar Ribas Institute and Teacher's Training College – Garcia Neto – were not just brick and mortar for the Angolan Paralympic vision impaired athlete Esperança Gicasso - it's 'the world' for her.
It was at Óscar Ribas that the 28-year-old began and completed her primary and secondary school, was introduced to Para athletics by the school principal and is now working as a full-time teacher for eight and nine-year olds.
Life-changing support
The only girl in a family of six children, Esperança was born in Huambo Province, on the central plateau of Angola. She joined Paralympic sport in 2008, but her hopes of completing secondary education looked as far from becoming a reality as her burgeoning sports career.
When Esperança signed the Paralympics sponsorship agreement with bp Angola in 2011, little did she know that this would transform her life for ever. 
At the time, Esperança was 19 years old and had just joined grade 11 at the Teacher's Training Institute in Luanda, one of Angola's leading inclusion education establishments.
"Coming from a humble background and a society that normally pays scant attention to people with a disability, meant that I needed to fight harder to realise my dreams," said Esperança at the signing ceremony 10 years ago.
Her determination to win was greater than the partial blindness that overshadowed her dreams of becoming a Paralympic athlete and a successful teacher; but signing that contract has brought remarkable successes on and off the track.
The Art of Teaching
It was thanks to Paralympic International Partner bp that Esperança could afford completing her degree in Pedagogy at the Metropolitan Polytechnic Institute of Angola.
"Teaching is a beautiful thing for me. When I am teaching, I am passing on knowledge to the students and, in turn, learning from them. I really like my job; it prepares students for life," she said. 
Gicasso teaches several subjects; from Portuguese to mathematics, passing through geography and natural sciences.
Until the COVID-19 pandemic and subsequent quarantine, Gicasso used to walk the 800m that separates her home from the Óscar Ribas Institute for students with vision impairment; working in the same classrooms where she used to be a student. "That is so special to me."
Technology has played a big part in her development as a teacher. "Now everything is much easier," she explained. 
"Braille is no longer used in universities. Software is now installed on computers. But we continue to teach it (Braille) to children from the age of six because then they will have to use it in the street, in elevators, they will find it in medications."
The Running Teacher
Throughout her glittering career, Esperança has claimed 17 medals, including four golds, eight silvers and five bronze across multiple competitions. Looking back on the events in which she has taken part, she singles out the 2017 World Championships in London as the most special.
"I so vividly remember that day when I won a silver and a bronze medal," she said. "I'm still not sure how I managed to achieve that. It was unbelievable."
Esperança is now a veteran Paralympian, having taken part both in Rio 2016 and London 2012.
Her laurels have been drawing a lot of media attention and with that, her adulation among her students. 
"Fortunately, my students know that Professor Esperança is an athlete because one day they saw me on TV and they said 'Professor Esperança, we saw you on TV!' They were very happy. They like to run, and they know their teacher runs too," she said, confident that Para sport can have the same positive impact on her students as it had on her.
"Through the practice of athletics, my life has changed a lot. I was able to meet people from other countries and have a great intellectual development. I also acquired many skills and lost preconceptions I had about myself. I used to be very insecure and thanks to Para sports I am a more confident person."
As classes were interrupted due to the pandemic, Esperança spends her time training at home. She also enjoys talking to her friends, reading the Bible and listening to love songs from Angolan artist Anselmo Ralph.
She also likes baking cakes, is concerned with the environment and wants to inspire others through her success in sport.
"Becoming a bp Paralympic Athlete Ambassador has paved the way for my success in so many avenues," she admitted. 
"I have been able to compete in world level championships, thereby coming into contact with different cultures, and at the same time completing my degree in education. I believe this sponsorship will also support my further integration to wider societal affairs."