Reactions pour in following 'Rising Phoenix' world premiere
Personalities and Paralympians around the world take to social media to express enthusiasm following ground-breaking Paralympics Netflix documentary
27 Aug 2020
Imagen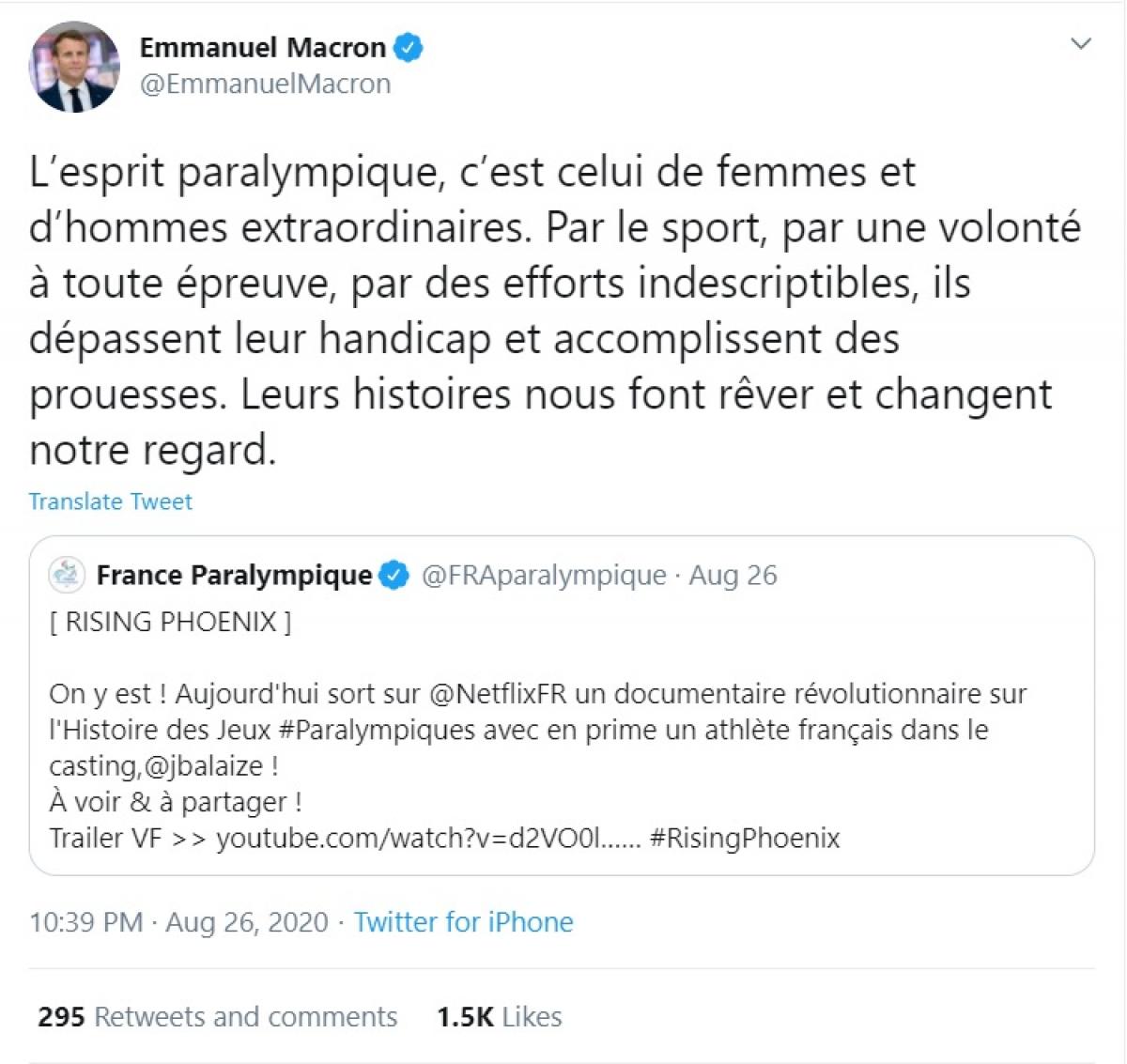 By IPC
Social media exploded with rave reactions from athletes, global leaders and celebrities following the long-anticipated premiere of Paralympic documentary 'Rising Phoenix,' which became available on Netflix to 190 countries on 26 August. 
President of France Emmanuel Macron tweeted "Their stories make us dream and change our outlook;" while English football star David Beckham shared on Instagram his excitement to watch the film Wednesday evening. 
The response within the Paralympic Movement was just as overwhelming, with Paralympic champions such as Oksana Masters of the USA and Colombia's Carlos Serrano in awe of the extraordinary story of the Games. 
It's exciting knowing the world will finally know the background of the @Paralympics movement. This film features just 7 of the 400+ extraordinary #Paralympic athletes. Just imagine the power of all paralympians coming together at the opening ceremonies in @Tokyo2020 you'll feel. https://t.co/6rplE6AM36

— Oksana Masters (@OksanaMasters) August 26, 2020
L'esprit paralympique, c'est celui de femmes et d'hommes extraordinaires. Par le sport, par une volonté à toute épreuve, par des efforts indescriptibles, ils dépassent leur handicap et accomplissent des prouesses. Leurs histoires nous font rêver et changent notre regard. https://t.co/nrGCyjWV19

— Emmanuel Macron (@EmmanuelMacron) August 26, 2020
Definitely not a dry eye in this house! This film illustrates the power of the Paralympics and how it is so much more than just sport. I feel incredibly proud to be able to call myself a PARALYMPIAN. I definitely recommend watching. #RisingPhoenix https://t.co/rqQQ6ihEQi

— Claire Cashmore MBE (@ClaireCashmore) August 26, 2020
Featuring nine Paralympians from across the world, this cutting-edge movie tells the remarkable story of the Paralympic Games from the rubble of World War II until becoming the third biggest sporting event on the planet.
'Rising Phoenix' examines how the Paralympics have sparked a global movement throughout the decades and shows how it continues to change the way the world thinks about disability, excellence, diversity and human potential.   
Rising Phoenix is an HTYT Films and Passion Pictures production in association with Ventureland and Misfits Entertainment.
The title track from the film 'Rising Phoenix', scored by Daniel Pemberton and performed by Krip Hop Nation, is available to download from all major online outlets. 
Very powerful watch. Highly recommend. 👇 https://t.co/oiTdfrDNQA

— Piers Morgan (@piersmorgan) August 26, 2020
Hoy hubiese nadado mi prueba principal en Tokio y en cambio estoy en casa en un día de lluvia. Creo que voy a cambiar el animo haciendo pororó y mirando #RisingPhoenix en @netflix

— Dani Gimenez (@ddanigimenez) August 26, 2020
Incredible new documentary called #RisingPhoenix has just released on Netflix telling the story of the Paralympic Games! So inspiring! A must watch! pic.twitter.com/2NFIdooIFg

— Rita Ora ⚡️ (@RitaOra) August 26, 2020