Nikita den Boer and Brent Lakatos win for the first time in London
Dutch surprises favourite Manuela Schar in the women's race while and Canadian gives his country the first victory in the British capital
04 Oct 2020
Imagen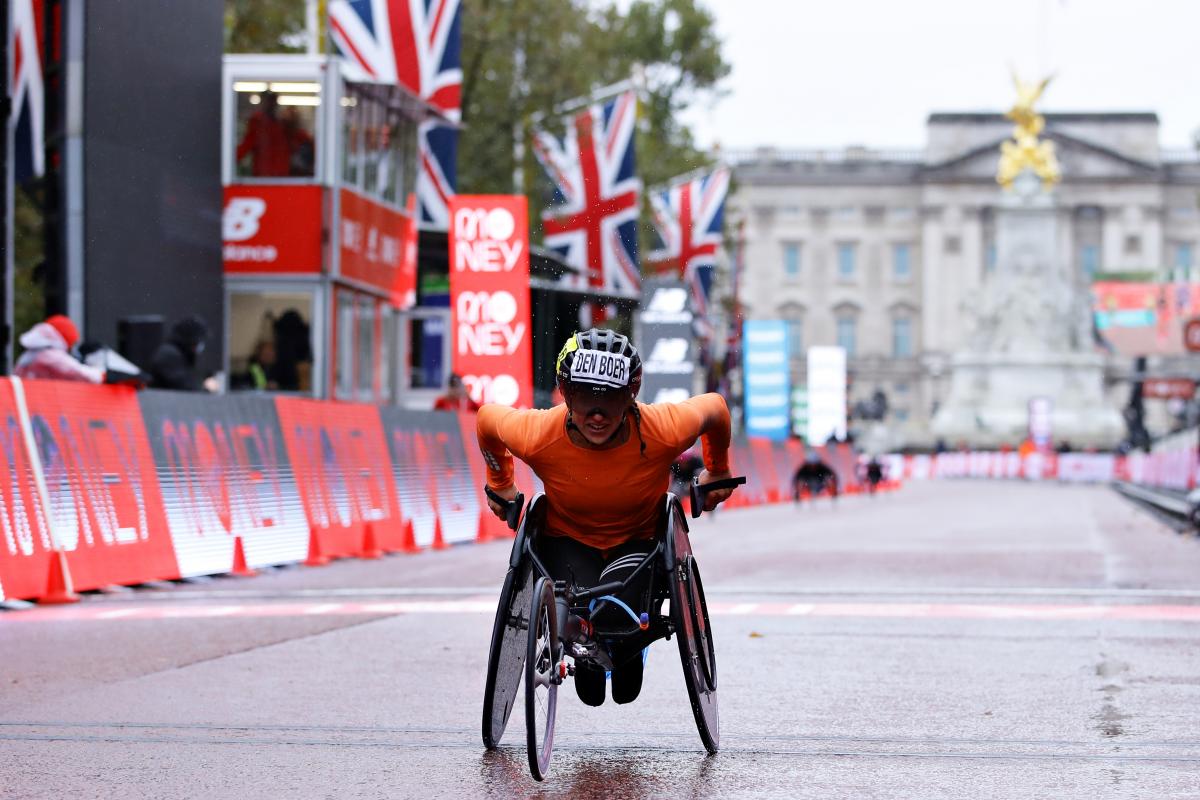 ⒸRichard Heathcote/Getty Images
By Virgin Money London Marathon and World Para Athletics
New course, new format and new winners. The 2020 Virgin Money London Marathon ended with superb and unexpected triumphs from Netherlands' Nikita den Boer and Canada's Brent Lakatos in the women's and men's elite wheelchair races on Sunday (4 October).
Just as Eliud Kipchoge had seen his magnificent unbeaten streak ended earlier in the day in the men's able-bodied race, Manuela Schaer, the maestro of the women's wheelchair racing circuit, saw her hope of a third victory destroyed by Den Boer's unrelenting drive and spirit in difficult rainy conditions around St James's Park.
Amazingly, Den Boer sliced more than 10 minutes off her lifetime best in these challenging conditions, clocking 1 hour, 40 minutes and 7 seconds, 1:22 clear of Schaer, who had won all nine of her previous Abbott World Major Marathons races, but who ended up looking wet and rather dispirited here.
"I'm Dutch but I hate rain. I came here aiming for a top four as this was the Dutch qualifying standard for the Tokyo Paralympic Games. I didn't know I could do this," a shocked Den Boer said.
Lakatos, at the tender age of 40, also delivered the greatest marathon of his distinguished career, as the track sprint specialist, pushing from the front throughout, proved the strongest to drive away from home hero David Weir in a sprint finish down the Mall.
It meant there was to be no record-extending ninth title for Weir, who finished second and pushed his old rival Marcel Hug into third place.
"The London Marathon is the biggest marathon out there. When they suggested they might have an elite-only race it gave me motivation. My training has gone well all summer long," Lakatos said.
Waterproof victory
Despite the weather, this really felt like a landmark afternoon. With the two races staged together on the biosecure course, it offered a fabulous showcase for wheelchair racing, as the best in the world were watched live by millions as they careered around a course against the backdrop of some of London's most celebrated landmarks.
Lakatos has enjoyed a wonderful career as a seven-time Paralympic medallist. Yet this triumph, in 1:36:04, just a couple of seconds clear of Weir and four ahead of Hug, ranked right up there with all those achievements, he felt.
"On the final lap I knew Marcel Hug was right there. I didn't know if I'd be able to hold on but I got lucky," Lakatos added.
Lakatos had looked in commanding form throughout the race, earlier largely dominating the four intermediate sprints of the Abbott World Marathon Majors Accumulator that had added such spice to the overall contest.
Two years earlier, he recalled, he had suffered hypothermia during a chilly Tokyo Marathon, so this time he made sure he was perfectly prepared.
"I learned from that and had a waterproof jacket this time, so I wasn't cold the whole race," he explained. "The other thing is the grip, we are pushing rubber on rubber, and that gets quite slippery in the rain so everybody has a different solution. Mine worked quite well today."
Dominant Dutch
Few would have given Den Boer, an athlete whose personal best going into the race was some 22 minutes slower than Schaer's, a hope of staying close to the Swiss.
Yet far from it turning into the predicted one-woman show, the 29-year-old decided to gamble everything on sticking with the title holder.
Her courage and persistence eventually paid off after the pair had quickly opened up a vast gap over their pursuers, including Britain's 2012 Paralympic silver medallist Shelly Woods, who ended up pulling out.
Indeed, the front two were so dominant that the third-placed finisher, USA's Jenna Fesemyer, ended up over 10 minutes behind them in 1:52:16.
The impression was that the Netherlands athlete was having to push twice as hard as the economical Schaer, while the front of her chair also seemed to be bumping up and down on the road.
Yet it became clear when she made her big push with three of the 19.6 laps left that Schaer, who had admitted pre-race to not liking competing in the rain, was suffering.
"My coach said 'just go for it', and I was going for it. Manuela was speeding down, and I [thought], 'I have to go on my own, I'm alone now. I have to go faster," Den Boer explained.
She ended as the first Dutch athlete, man or woman, ever to prevail in the London Marathon.
"I didn't know I was the first one," she smiled. "I think it's really, really special."
Due to technical issues World Para Athletics could not show the 2020 London Marathon wheelchair race on Facebook as it had been announced.
*The article was first published on Sunday, 4 October (16:35 CEST) and updated on Monday, 5 October (11:57 CEST).