Tatyana McFadden makes London Marathon return
US wheelchair racer ready to face completely different condifitions than in last Sunday's win in Boston
21 Apr 2018
Imagen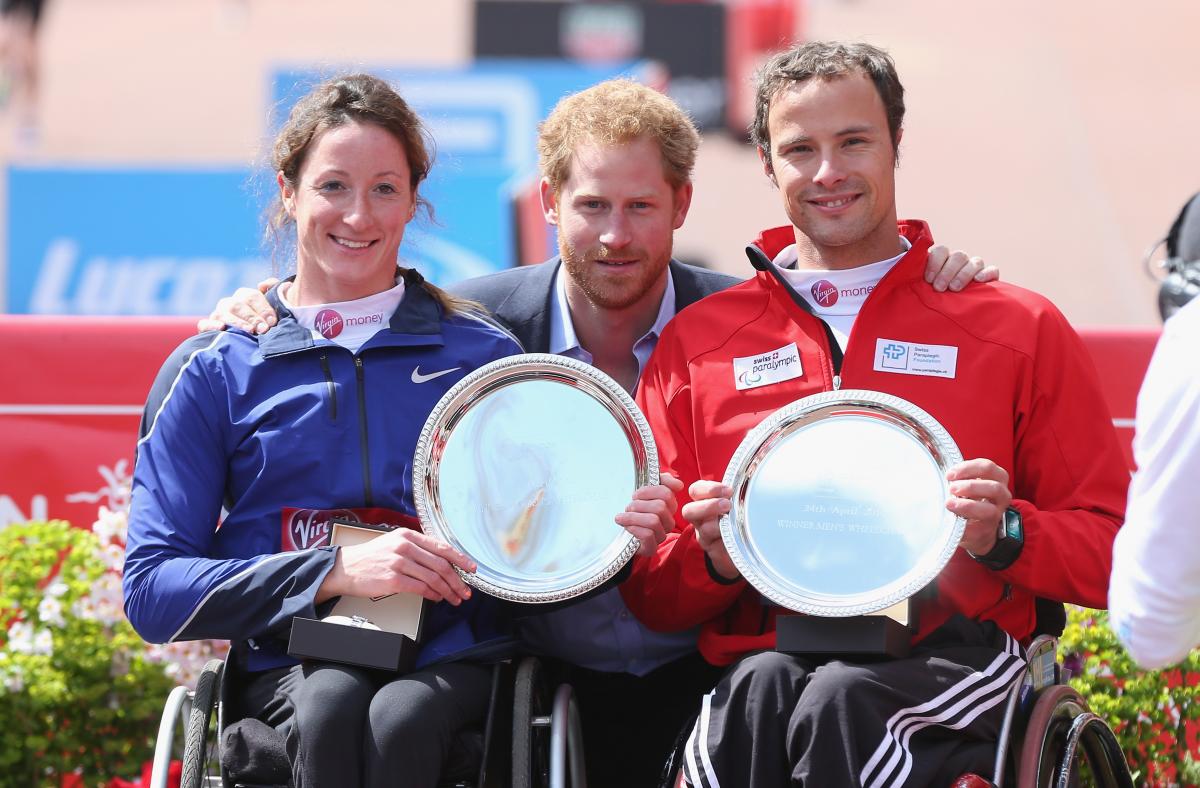 ⒸGetty Images
US wheelchair racer Tatyana McFadden missed last year's London Marathon due to ill health, but the seven-time Paralympic champion is back with a vengeance and ready to notch up her second marathon win in the space of one week when she takes to the British city's streets on Sunday (22 April).
"It feels really nice to be back," said McFadden, who was forced to stay at home 12 months ago after suffering severe blood clots in her leg.
"It is nice to be having fun racing again, that's what it's all about. It was really tough missing London, watching everyone get to go and compete. But health is first always."
McFadden proved she is well on her way back to full fitness six days ago when she won the Boston Marathon in fiercely cold and wet conditions – a race which Abbott World Marathon Majors champion Manuela Schär was unable to finish.
"The finishing was the key part – surviving that race was key," admitted McFadden. "That day was really, really hard – it was about survival; doing what you can do and nothing more."
Despite the harsh conditions, McFadden did not suffer any lasting ill effects.
"It's a different kind of tiredness – you were just cold. So once you warmed up you were alright. It wasn't like a regular marathon where you go, go, go, chasing all the way because it's a beautiful day," she explained.
Schär meanwhile was forced to retire after 30 kilometres, but she too has bounced back from the cold and returns to the British capital as the defending champion, having set a new course record over the city's streets last year.
"I didn't make the decision (to retire from the race in Boston), I just couldn't move anymore," explained Schär. "I had a hard time to see – everything was through a filter and I just got colder and colder. Everything was shivering and I just couldn't move anymore."
After flying home that night, Schär spent two days at home in Switzerland, fixed up her wheelchair and headed to London.
With last year's victory under her belt, and the new-found self-belief that her subsequent wins in Berlin, New York and Tokyo have instilled in her, Schär is looking forward to taking on the opposition once again – especially with London weather forecasts anticipating a warm, dry day.
In fact the temperature in London is expected to be at least 15 degrees higher than it was in Boston, with forecasters predicting the warmest race conditions in London Marathon history.
"I was excited to come here. It's been a pretty tough week so far but it still can be a good week, especially with the weather conditions here, so I'm really happy to be here," added Schär, who lines up against the likes of newly-crowned Commonwealth Games champion Madison de Rozario, US duo Amanda McGrory and Susannah Scaroni and China's Paralympic champion Zou Lihong.
"I know that it's possible to win the London marathon and I know that it's possible to win it in a fast time. That's like a booster, so I'm really excited."
As for McFadden, she has embraced the chance to 'start over' and build her body back up to full strength. She may not have been able to defend her Abbott World Marathon Majors title this year, but the 28-year-old remains upbeat about what lies ahead and refuses to dwell on missed opportunities.
"I'm just enjoying the journey and putting it all behind me. Everything's stable now so no new clots, that's really good and means the medicine and therapeutics are working," said McFadden.
"So what if I lose a year – it's about that journey back and getting back up top. I still got to do really cool things last year like go to the Golden Globes, partner up with Toyota; I still have really good sponsors, I won my World Championship medals, so it's all okay.
"Things happen for a reason and we all go through challenges – it just takes time. It's going to be a really tough race on Sunday, really good weather; fast girls. I think it will be hard, it will be challenging - but I'm looking forward to the journey, to be back and racing again."