Marcel Hug and Tatyana McFadden victorious again in Boston
Swiss Silver Bullet wins fourth successive race while US racer McFadden secures her fifth title
16 Apr 2018
Imagen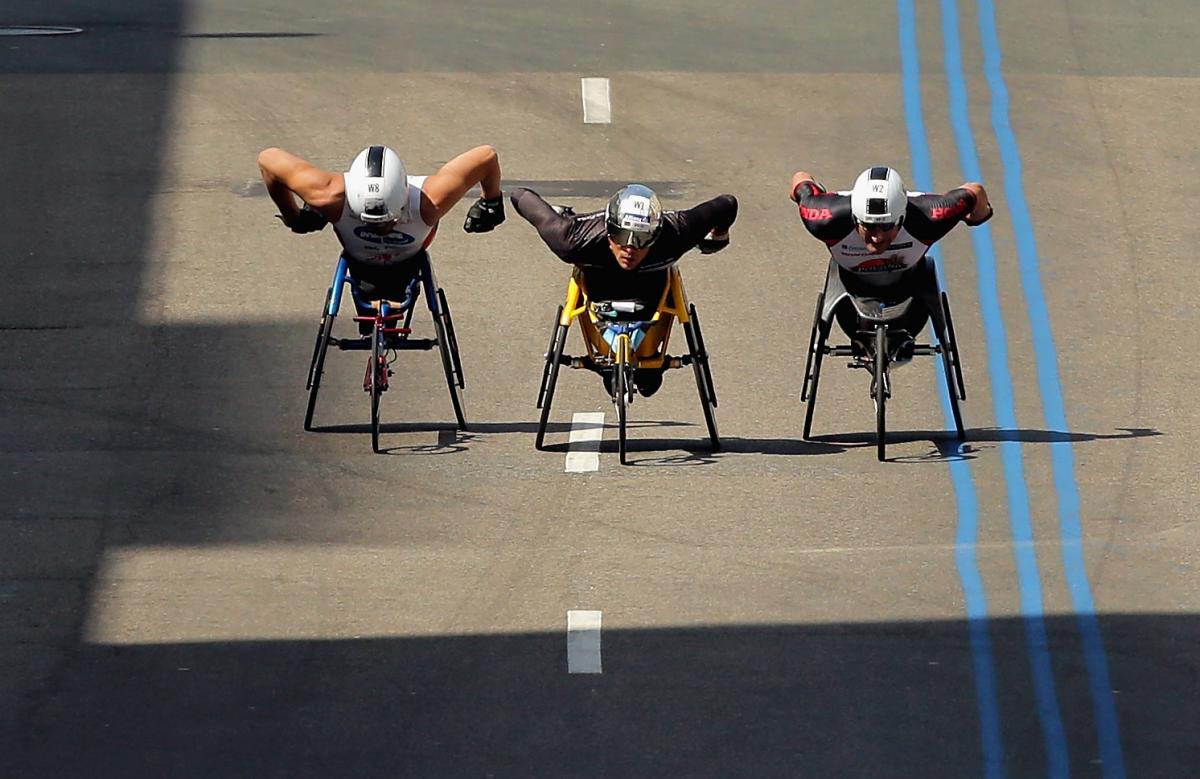 ⒸGetty Images
Pouring rain and blustery winds failed to dampen the spirits of Marcel Hug and Tatyana McFadden who won the men's and women's races at the Boston Marathon on Monday (16 April).
Hug has dominated men's marathon racing in recent years and this time was no different as he notched up a fourth consecutive win in the US city.
South Africa's 10-time champion Ernst van Dyk darted clear of the pack with Hug early on but after over an hour of racing together Hug broke free, pushing hard up Heartbreak Hill as he left van Dyk behind.
The Swiss Silver Bullet crossed the line in 1:46:26 – a slow time for the predominantly downhill Boston course but a phenomenal achievement in the wet conditions, where spray from the racers front wheels relentlessly splashed in their faces.
"It was such a tough race," said Hug afterwards, who had frequently glanced behind in the closing stages to check on his competitors as he battled the elements alone at the front.
"It was very cold all the time, just freezing. I was together with Ernst van Dyk but then in the uphill I broke away.
"It was just so tough, so freezing, I don't realise what happened now - I'm just very glad I made it."
Van Dyk finished second in 1:47:14 with the USA's Daniel Romanchuk (1:50:39) third.
Defending champion Manuela Schaer had been the early leader in the women's race but McFadden moved from fourth up to first place just after the half way point and never looked back, crossing the line in 2:04:39 to secure a fifth Boston Marathon title.
"I am so happy and so overwhelmed today. In the past month I've been putting in lots of hard work, lots of two-a-days just to prepare for this day," said McFadden, who finished over 15 minutes clear of the field.
"I knew today was going to be tough so I started out comfortably, what I could handle down that hill because it was pretty scary but I just kept hammering; kept a consistent speed, really working on the ups and the straight-aways - and I did it."
Fellow American Susannah Scaroni finished second in 2:20:01 with Switzerland's Sandra Graf (2:26:32) third.