Marcel Hug goes for four in a row in Boston
Swiss Silver Bullet ready to extend marathon dominance
13 Apr 2018
Imagen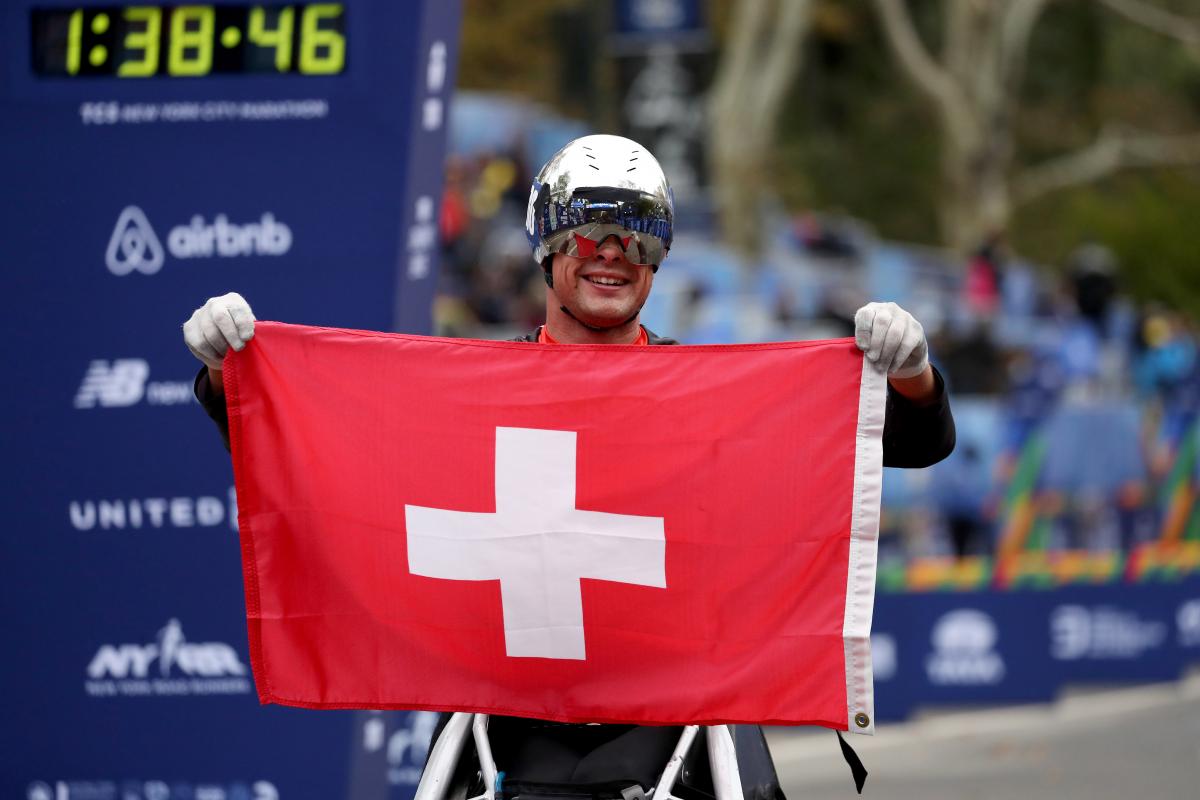 ⒸGetty Images
By IPC
"It's a great challenge when you have good guys there making it not easy. It's a great motivation for me in training too."
Swiss wheelchair racer Marcel Hug may already have the Abbott World Marathon Majors series tied up, but the 32-year-old is determined to give it his all as he aims for a fourth consecutive win at the Boston Marathon on Monday (16 April).
"I always want to win anyway, to give my best and focus, so it's not a big difference for me – I just don't have to think about it," said Hug, who won in Boston, Berlin, Chicago and New York last year, to add to the six major marathon titles he claimed in 2016.
The Abbott WMM Series officially ends at the London Marathon on 22 April. But like last year, Hug has it sewn up ahead of time. That's despite missing the Tokyo Marathon in February, when his plane was forced to turn around mid-flight when a passenger took ill.
The delay meant Hug, who likes to travel to events as near to race day as possible, was not able to get to Tokyo in time, but it didn't matter – Series XI is already his.
"It's great to win the second time again, it's a great achievement and a great thing that series exists – for me financially it's great too to earn this prize money," said Hug, who also won the prestigious 2018 Laureus Sportsperson of the Year with a Disability in February.
Hug set a new course record in Boston twelve months ago when he beat ten-time champion Ernst van Dyk to the line in a sprint finish, clocking 1:18:04, with Japan's Hiroyuki Yamamoto in third.
The trio have already raced against each other this year at the Dubai Marathon in January – with Hug coming out on top once again. Yamamoto was second, with van Dyk in third.
He may be the man to beat on the roads, but the Swiss Silver Bullet believes both racers could pose a real threat in Boston. Still, he relishes the opportunity to race against the best and appreciates the fact he can't be complacent.
"It's a great challenge when you have good guys there making it not easy. It's a great motivation for me in training too," said Hug, who was back in Dubai in March to race on the track at the opening Grand Prix of the season, fine-tuning his speed work, ready for another sprint finish.
The challenging course, which starts with a long, steep downhill, favours those who can pick up speed quickly – and are fearless to do so.
There's no doubt van Dyk is well-suited to the terrain, and Hug believes the South African is capable of winning an eleventh title.
"I think so," agreed Hug. "He's definitely one of the best in the downhill, that's a fact, if he is in good shape of course he can win the marathon again.
"Also for me one of the favourites is Yamamoto because he was very strong in the Dubai marathon, and also he is strong in downhills.
"For me it will be the most important thing to be in touch with the fastest guy downhill, to be in the leading group after the first downhill.
"Then the race will start again. It's very difficult when you lose contact with the leading group in the first downhill – it's very hard to catch them again."
While Hug admits the downhill sections are "not my favourite thing" he believes his previous wins will help give him the edge.
"Yes of course, it gives you a lot of confidence when you are able to win before," said Hug.
"Especially with the Boston Marathon and the downhill - I think it is difficult when you do it for the first time, you don't know how it is – maybe you find it scary, I don't know. But of course it really helps then when you have had some good experiences."