Great Britain's Gordon Reid has momentum on his side ahead of Tokyo 2020
Wheelchair tennis player has beaten Shingo Kunieda, Alfie Hewett, Gustavo Fernandez and Joachim Gerard, the world's top four players, this year
31 Jul 2021
Imagen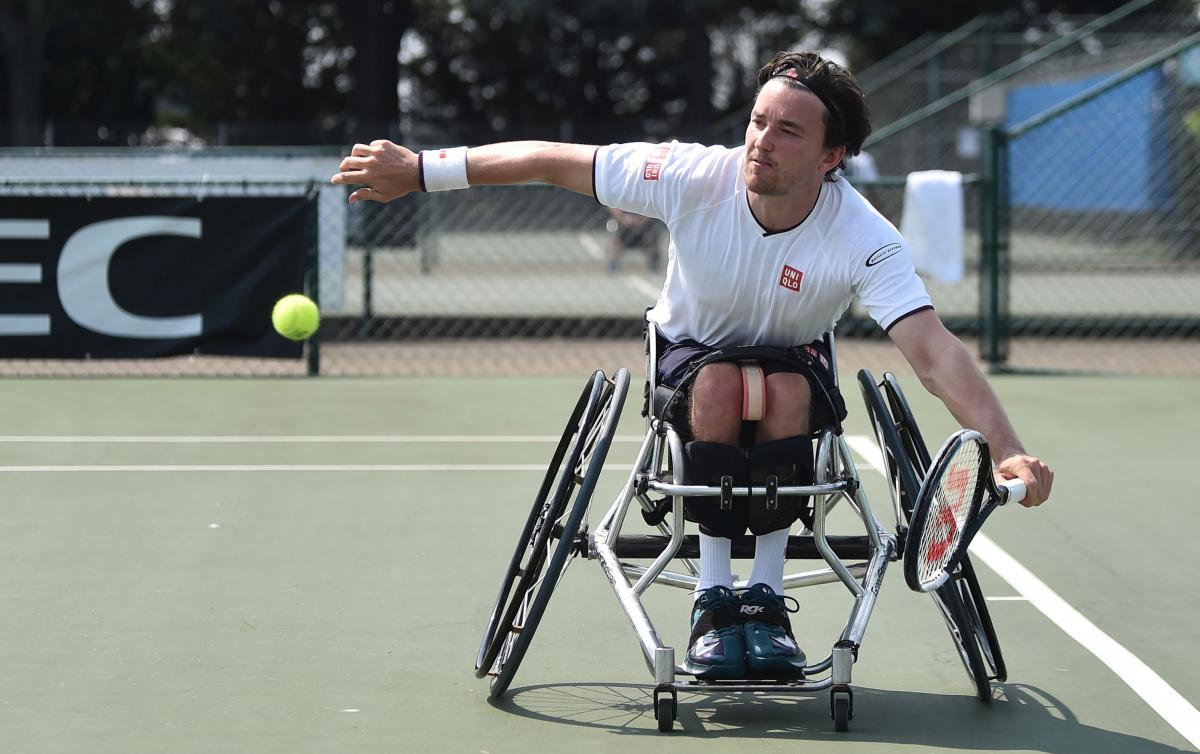 ⒸLTA
By Marshall Thomas | For the IPC
Momentum is a term frequently used during a tennis match. It's either with you or it's against you. But it shifts, often very suddenly.
For large parts of 2016, the momentum was very much with Gordon Reid as the Briton made significant wheelchair tennis history, not just once, twice or thrice, but four times.
He became the first British wheelchair player to win a Grand Slam men's singles title, the first wheelchair player to win a Wimbledon men's singles title and the first Briton to earn the year-end world No.1 ranking and the title of ITF World Champion. However, most significantly of all, he became the first British player to win a Paralympic men's singles gold medal – and in the first all-British final in Games history, no less.
"I've got amazing memories, I loved every moment of it, from the preparation camp we had in Sao Paolo with the GB team through to the last match in the singles, and then the closing ceremony," he says of his Rio 2016 experience. "But the winning moment, I don't remember much. I've watched it back quite a few times and I probably remember more from watching it back than I do from being in that moment. It's kind of a cliché, but I was totally in the zone at that moment in time and focussing totally on my performance." 
However, with so much history achieved in a relatively short space of time, the next few seasons were to bring somewhat conflicting fortunes – at least in Reid's eyes.
Ⓒ Matthew Stockman/Getty Images

"I just lost direction. I'd always had long-term goals that I was working towards that made the day-to-day-training and the week-to-week travelling all worthwhile," adds Reid. "The goal for me was Paralympic gold, a singles title at the Grand Slams and to try to make it to world No. 1. I completed those three goals in the space of 12 months, and that's when I started to struggle a bit and I didn't have any clear goals set out.
"I think I also had too high expectations of myself, as well," he continued "I felt like me and everybody else was expecting me to win everything, because I had had such a good year in 2016, but in sport, and in tennis, especially, it doesn't work that way. There are so many other good players." 
While 2017 was to bring just two titles and 2018 three titles, the one constant in both seasons was the Japan Open, one of six tournaments at Super Series level on the UNIQLO Wheelchair Tennis Tour, the highest tier of tournaments outside of the Grand Slams. Reid won back-to-back Japan Opens, beating Japan's Shingo Kunieda in the 2018 final.
"Looking back, the level of tennis that I was producing was definitely not as bad as I thought it was at the time," Reid recalls. "I wasn't consistently winning tournaments, but I was consistently competing well with the top players. Sometimes you can get lost in your expectations of yourself and what others are thinking of you doesn't matter, you just need to keep working towards your goals."
Ⓒ Getty Images

In readjusting his goals, Reid also felt the time was right to change his coach. He remains firm friends with Karen Ross, the woman he credits as 'one of the main reasons why I achieved everything that I achieved because she helped me to get to the level I got to'. He goes into Tokyo with this second new personal coach since Rio.
With just one title in 2019, Reid began 2020 in good heart as the target of emulating Kunieda and winning back-to-back Paralympics gold medals approached. That target remains unwavering, despite the COVID-19 pandemic delaying proceedings.
"I feel good, I feel like I started 2020, before the pandemic, building some momentum and I had some good performances on the big stage, including reaching the final of the Australian Open," he said.
"Everything stopped in March and it took me a bit of time to get going when we came back. But then I started well this year with some good results in Australia, Rotterdam and then Loughborough and I feel that I've built that momentum again. Physically, I'm feeling good and mentally I'm really motivated and I'm enjoying a lot of success in doubles with Alfie (Hewett), so I take a lot of confidence from that, as well. What's really important for me is to be enjoying situations and not the get stressed by any pressure."
Reid has won two singles titles so far this year and he has beaten Kunieda, Hewett, Gustavo Fernandez and Joachim Gerard, the world's top four players. After recently beating Kunieda on his way to his second Wimbledon singles final, the 29-year-old is back inside the world's top five ranked players, the position where he started 2016.
Doubles champion and singles semi-finalist at last week's British Open, next it's Tokyo for Reid. Should he need another goal, then maybe it's going one better than in Rio, where he won singles gold and doubles silver with Hewett, the player he beat in that historic Rio singles gold medal match. Together, Reid and Hewett have won the last seven Grand Slam men's doubles titles.