Ireland's Eaglesham hits target with wheelchair invention
The shooter's innovative design a huge hit among athletes at Paralympic Games
22 Dec 2021
Imagen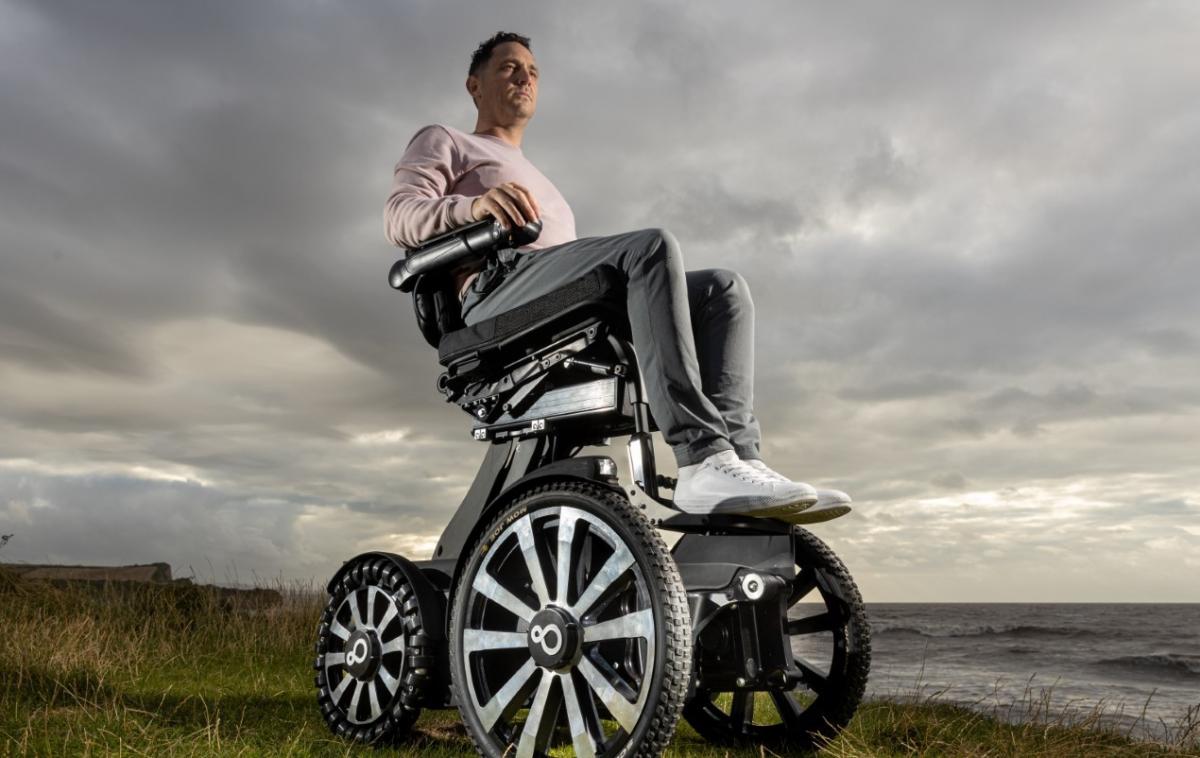 ⒸAutumnfilms
By AMP Media I For The IPC
Ireland's Phil Eaglesham may have missed out on the medals at Tokyo 2020 but the Paralympic shooter's trip to Japan was still a smash hit.
Eaglesham, a former Royal Marine commando, had been working for five years on an innovative wheelchair design known as The Victor and took a pre-production prototype to the Far East.
The reaction from his fellow competitors was incredible.
Eaglesham has been in a wheelchair since contracting Q fever while serving in Afghanistan in 2010. He became frustrated by how difficult he found getting around in a standard mobility device and the fact he wasn't at eye level with other people.
"I searched for something better and eventually adapted a Segway," said the 39-year-old. This led him to meet business people and entrepreneurs keen to help out and he set up his own company, Conquering Horizons, which is on the verge of putting his invention into production.
The Victor has the capability to smoothly elevate the user to eye level or drop down and slide underneath a desk. It boasts a small turning circle and four-wheel-drive wheelbase. It provides independence, flexibility and sociability for the user and is seen as one of the biggest breakthroughs in disability mobility for years.
In Tokyo, his prototype was a revelation. "It was just great," said Eaglesham, who won a bronze medal at the World Championships in Sydney two years ago. "I was able to drive around everywhere at a social height and keep up with people. It gave me so much independence. We saw what a great product it was. 
"I couldn't get very far without people from all over the world wanting to take a picture, or saying it looked awesome, or wanting to get involved. They could see that it is the sort of thing that will change people's lives and change stigmas. It reaffirmed that the chair will achieve everything I wanted it to."
His shooting was slightly less satisfying as he finished 14th, 15th and 21st in the three events he participated.
He said: "It wasn't quite where I wanted it to be. Anyone in top 20 can win on the day, so I could have done better. But the guys who won were worthy winners.
"I probably didn't get the best preparation because our shooting ranges were shut a lot during the pandemic. But I'm very glad I went out to Tokyo. Shooting for Ireland means a lot to me. I have a lot of loyalty to the Irish shooting team, a lot of them are military as well and it's like a family. It's like being back in the corps again and I see it as rehab."
Since returning from Japan to his home in Taunton, England, it has been full steam ahead with Conquering Horizons. 
"The project is going well, we're looking to put it into production very soon," Eaglesham said. "We hope to be selling them by the second quarter of 2022. The time I spent in Tokyo means I have lost all my worries about it being a success.
"Users can go through difficult doorways, open doors, and use normal kitchens rather than having your own one adapted. You can get in and out of a normal van rather than spending thousands on having one altered.
"The chair can also help businesses. They can get an employee a Victor rather than reworking their buildings. And disabled people can move into old buildings too, rather than being limited to adapted homes. It can empower a lot of people and save a lot of money. 
"It's also cool. Victor is something able-bodied people want to have a go on. And that's important, that it looks aesthetically good."
He's also got on eye on the next Paralympic Games. "It's just under three years until Paris 2024 and if I can source some support I will have another go," he said.