London 2019: Prolific Sophie Pascoe aiming to write a new chapter
Kiwi Para swimmer remembers every medal she has won – and she wants more…
07 Sep 2019
Imagen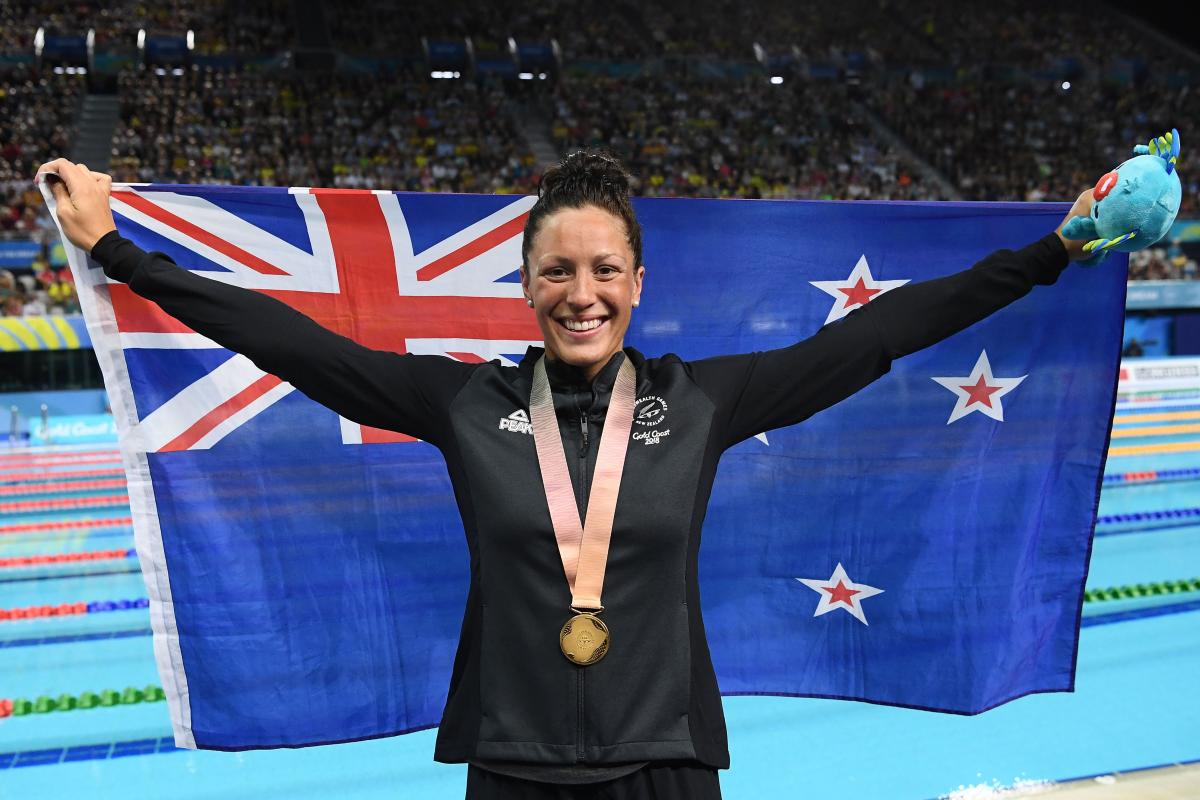 ⒸGetty Images
By Amp Media | For World Para Swimming
Asking multi-Paralympic and world champion Sophie Pascoe about her favourite victory is like making a toddler pick out their favourite toy. There are just too many to choose from. 

"I remember how I felt in every race, and how I felt when I finished. I remember how I won each of my medals and I think it's really special that I have a story for every one. But that also makes it hard to pick out one favourite," said New Zealand's Para swimming phenomenon.

"It's crazy because my medals aren't actually on show at home, they just sit in a bag – it's terrible. But when I do bring them out they come to life." 

Medal machine
It's possible Pascoe would need a home extension just to showcase all the gongs she's won. 

She has nine Paralympic gold medals, 12 World Championships gold medals and four Commonwealth Games gold medals. That's before we've even mentioned the many more silvers and bronze.

And at 26, Pascoe is signing no signs of slowing down. Quite the opposite. At the New Zealand national championships this year, she set four world records. Now she is aiming for more medals to shovel into her bag from the World Para Swimming Allianz Championships in London.

"I haven't been back to London since 2012 [where she won three gold medals at the London Paralympics] and I've got great memories. It was a fast pool, and the crowd and the atmosphere were fantastic. I can't wait to get back and get those feels back from when I was 19," Pascoe said.

"I'm doing a shorter programme this time and racing in four events: the 200m medley, the 100m backstroke, the 100m freestyle and the 50m freestyle. As always, I'll be aiming for personal best times. I've set a very high standard for myself at the nationals, but I'm looking forward to that challenge."

Pascoe says her secret to maintaining those standards is mixing up her training regime. Ahead of London 2019, she has combined pool practice with activities such as rock climbing, boxing and yoga.  

"I'm getting older and every campaign needs to change. I can't be doing the same thing as before. We are changing it up a lot because the body needs to – physically but also mentally. I've been in this sport since I was 11. I'm doing lot of cross training outside of the pool, which I'm really enjoying," she said.
Negative into a positive

Pascoe's life changed forever the day her father ran her over with a lawnmower when she was two years old, leading to the amputation of her left leg. She maintains it is "the best thing" that ever happened to
her. 

"Accidents happen every day. My accident changed our family, and we changed what a lot of people would class as a negative into a positive. Now I'm doing what I love, I get to make people proud, chase my dreams every day, and hopefully in the future leave a legacy for other people to aspire to," Pascoe said.

"Most of all, I've been able to become a Paralympian and show the rest of the world that I can take on the world. If the accident had never happened, I don't like to think 'what if?'. It's created my life, in a way."

The next dream she is chasing is to add to those 12 World Championship golds. But with London 2019 doubling up as a qualifying event for the Tokyo 2020 Paralympic Games, Pascoe will face fierce competition as the world's best Para swimmers descend on the British capital.  

"The biggest pressure is the pressure I put on myself, but I'll be expecting some big swims from the likes of Ellie Cole and Sarai [Gascon], and there will be new athletes coming in too. It will be a great World Championships," the swimmer said. 

Few would bet against Pascoe creating another triumphant chapter in her remarkable story when she makes her long-anticipated London return.
You can follow the World Para Swimming Allianz Championships in full on the official London 2019 website.