London 2019: Suyash Narayan Jadhav goes global
Indian swimming star ready to excel at the World Para Swimming Allianz Championships
07 Sep 2019
Imagen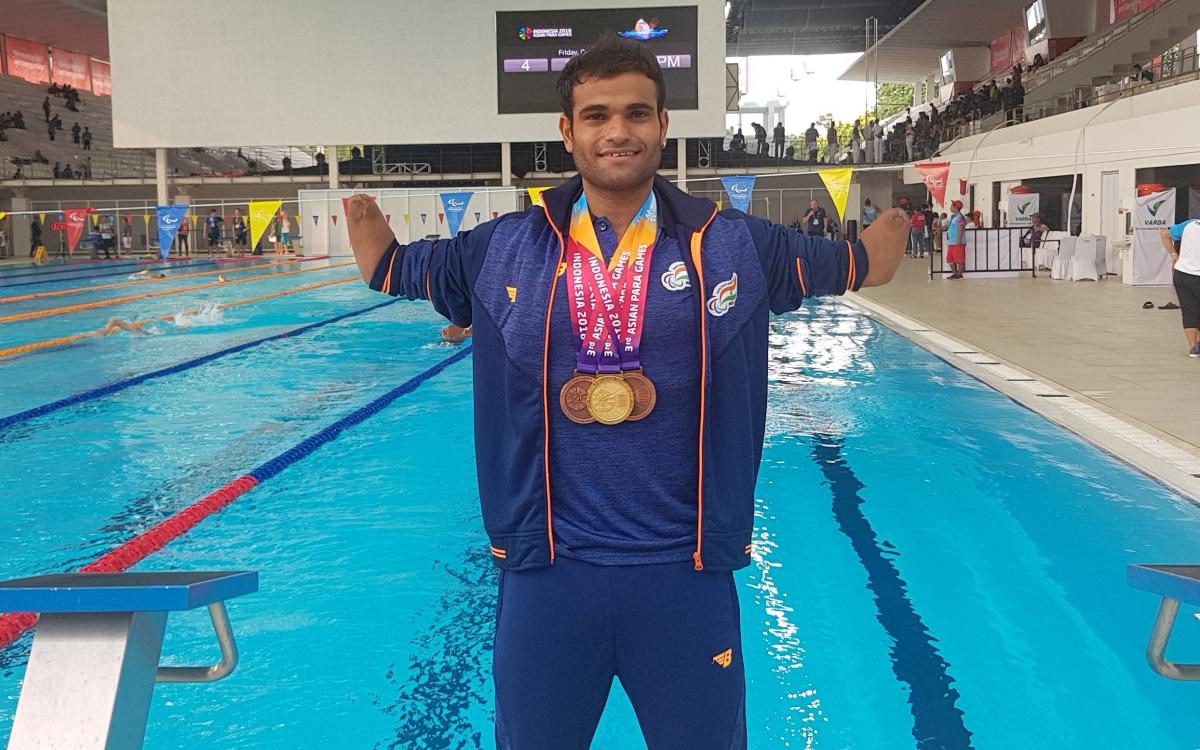 ⒸNPC India / Suyash Narayan Jadhav
By Amp Media | For World Para Swimming
Suyash Narayan Jadhav picked up something even more valuable than a gold medal at the 2018 Asian Para Games in Jakarta, with the 25-year-old leaving Indonesia feeling like he finally understood just what it takes to compete at the very highest level. 

"Those Games gave me so many experiences and taught me a lot of lessons," Jadhav said. 

"Three months before the Games I got an injury in my left knee and I was about to skip the event but then within 15 days I managed somehow to recover. After that I was able to train really hard. 

"But then during the Games, the night before my race [the 50m freestyle S7 final] I didn't sleep well for the whole night because my left hamstring was very stiff. I couldn't even walk properly. Then, with all that, and without any [proper] warm-up, I went out did my personal best and won the gold medal."

The joyful surprise in Jadhav's voice as he recalls this sequence of testing events is mixed with a clear streak of determination. 

Now that he knows his body will respond when he really needs it to – Jadhav also won bronze in both the 50m freestyle S7 and the 200m individual medley SM7 – the Indian cannot wait for the World Para Swimming Allianz Championships to start. 

"Thanks to my training I'm hoping for two more personal bests in London," said the man who finished fourth in both the 50m freestyle and 50m butterfly S7 finals at the 2017 World Championships in Mexico City. 

Nerves are something that every competitor in London will have to deal with and for Jadhav, a commerce degree holder, it is all about working through the issue methodically, as if he were tackling a maths problem. 

"If my nerves are proving to be long or painful then I try to find the reason behind them and I try to solve them by giving myself time to let them go," he explained. 

"But if this formula is not working then I usually share the reason for my nerves with my close friends and try to solve them that way."

The thoughtful Jadhav has another resource to plunder when it comes to improving his mental approach and it is via a sport that he and most of his countrymen are utterly in love with.

"More than cricket I like cricketers, when they play their stubbornness is tremendous," Jadhav said.  "I like their attitude and that is the thing I use when I compete."

Jadhav has been competing and swimming simply for pleasure for as long as he can remember. His father was himself a top young swimmer, destined for the national championships until they happened to be cancelled the year he was due to go. Instead, Jadhav senior turned his attentions to his young son. 

"He decided his dream would be completed through me and he taught me everything about swimming," Jadhav said. "And when I first participated in the nationals, his dream came true." 

Tokyo via London

The dreams have not stopped flowing since. 

Three years ago, Jadhav ascended to the biggest stage in his sport, taking part in the Rio 2016 Paralympic Games. Next year he wants to do more than just take part, with his mind firmly fixed on winning a medal in Tokyo. 

Whether he fulfils those ambitions or not however, one thing will never change: Jadhav will always spend as much time as he can in the water.

"From childhood I have been passionate about swimming," Jadhav said. "If I'm swimming sets then I am thinking how to get myself faster, more technical and stronger. If I'm swimming for recovery [purposes] then I just feel water and let myself recover while at the same time I think about my stroke technique.

"And if I'm swimming with friends for fun then I'm not thinking. I am just having fun."