Long wait for Paralympic return makes New Zealand's Wheel Blacks more eager
New Zealand's wheelchair rugby team qualified for a Paralympics for the first time since Beijing 2008, and they are not letting the COVID-19 pandemic destroy their hopes
15 Jan 2021
Imagen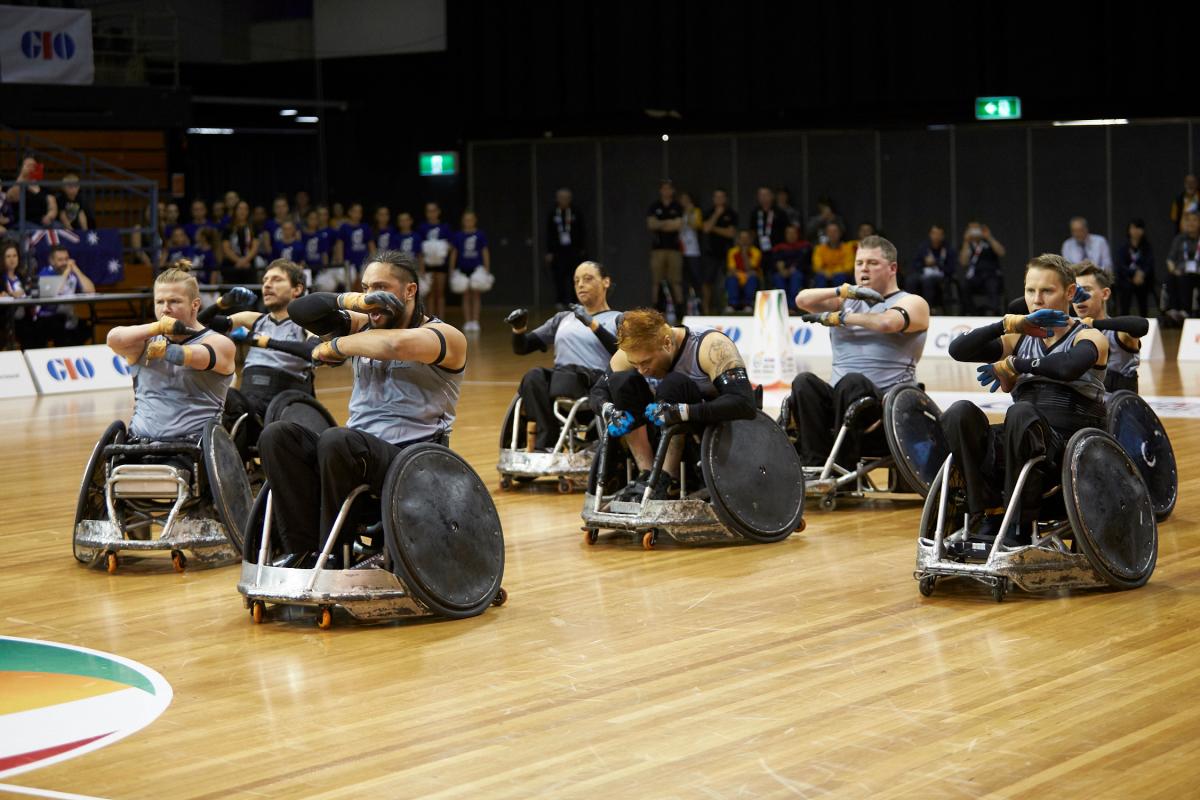 ⒸCherie Harris/IWRF
By Tokyo 2020
New Zealand is undoubtedly a proud rugby nation. They boast a total of eight World Cups, five Rugby 7's World Cups and 17 Tri Nations and Rugby Championships between their men's and women's senior national teams.
But there is also another national team in the rugby sphere looking to make a name for themselves: The Wheel Blacks.
It has been 13 years since New Zealand featured in the wheelchair rugby tournament at the Paralympics but their bronze medal win over South Korea at the 2019 Asia-Oceania Championships ensured their return to the world's greatest sporting stage.
For co-captain Cody Everson, qualifying for Tokyo 2020 was a special moment after narrowly missing out on Rio 2016 qualification.
"To have a chance to qualify, I was like, 'right, we're not going to screw this up'," Everson recalled. "Everyone was super switched on and we stuck to the game plan. We were super confident.
"I think a few guys were a bit emotional because they wanted it for so long and they were at the end of the career and now they can finally say that they're going to be a Paralympian."
It was even more encouraging considering the youthfulness of the team.
"The main focus was going to be (Paris) 2024 when we should be at the top of our game, everyone should have played together enough," he said. "So Tokyo was realistic for us but we knew as well that we're building.
"Who knows. We're the dark horses."
FORGING THE PATH

Growing up in Christchurch, on New Zealand's South Island, Everson had dreams of becoming an All Black one day.
"I think growing up for everyone, especially every boy who plays rugby, [it] was the kind of the dream. You'd watch the games, and you'd do the Haka in front of the TV. So definitely for me, it was like always wanting to be an All Black."
But it was while playing his favourite game that he sustained a neck injury in a tackle which resulted in the then 15-year-old becoming tetraplegic, meaning all his limbs were affected by paralysis.
After spending two weeks in the intensive care unit, he went into the spinal unit where he was told he would not walk again. 
"I'd lost function in my fingers and I couldn't push my chair. I couldn't really feed myself," he said, before adding, "It was more I really want to get back to doing more for myself."
At the Burwood Spinal Unit, Everson met Sholto Taylor, a member of the Wheel Blacks, who had been mentoring young patients. Taylor, who was a ray of positivity, was also the one who introduced the Christchurch local to wheelchair rugby.
While the teenager did not think he needed rugby, documentary "Murderball" which is about wheelchair rugby, changed his mind. So he gave it a try.
"I'm a 16-year-old boy and getting beaten by like 40-year-olds," he laughed. "So it was a little bit disheartening, but it was also like I want to get better, I want to beat these guys.
"When I started to notice that I was getting better and quicker, I realised, 'hey, look, I could be really good at this'. And that's when things started taking shape for me and I began to improve quite rapidly."
STAYING MOTIVATED THROUGH THE PANDEMIC

When word started circulating about a possible postponement of the 2020 Paralympics, Everson thought worse - that the Games might not even go ahead. Especially qualifying after so long and so much training, a cancellation would have been disheartening.
Thankfully, it was a postponement until 2021. That meant an opportunity.
In fact, Everson had been approached prior to their Paralympic qualification about a surgery which could give him back the use of his hands. It was an enticing offer, something the wheelchair athlete wanted to try but he did not want to jeopardise his chance of making his Paralympic dreams come true, so he pushed back the idea until after Tokyo 2020.
"When it got postponed, I asked the physio and we got onto the surgeons so within a month [I got in] to get the surgery," said Everson. "After the surgery I couldn't do anything for myself. I got to leave the hospital the next day and I couldn't even transfer out of bed on a sliding board. I couldn't feed myself that night."
A fortnight later, while things started to get back to normal and he waits to see if the surgery worked, mentally it has been tough.
"It has been tough getting back into training because I've had [such a] long off, and I've missed a tournament and missed out on a lot of trainings," Everson said.
"So that's probably been the most challenging time for me now, knowing Paralympics is so far away and my mental sort of thing is probably the worst it's ever been."
While the period away from training has allowed the 23-year-old to focus on other aspects of his life, being able to get back in the mindset to train has not been easy.
"Now it's come to a point where I need to get my mind back into training and it's been really hard because you just don't know. So, I'm really fighting with myself to get back out and do it and get back into training," he said last November.
"I think once I built that momentum back up and get to camp in a few weeks time and see everyone, this sort of drive will kick in again.
"It brings excitement back as well. It's good to see everyone and talking about next year and our plans for next year. That's what I'm most looking forward to."