McKenzie Coan: Tokyo is going to be something special
While the Tokyo 2020 Paralympic Games could be unlike past ones, the American Para swimmer is positive that they'll be even more meaningful
07 Jul 2021
Imagen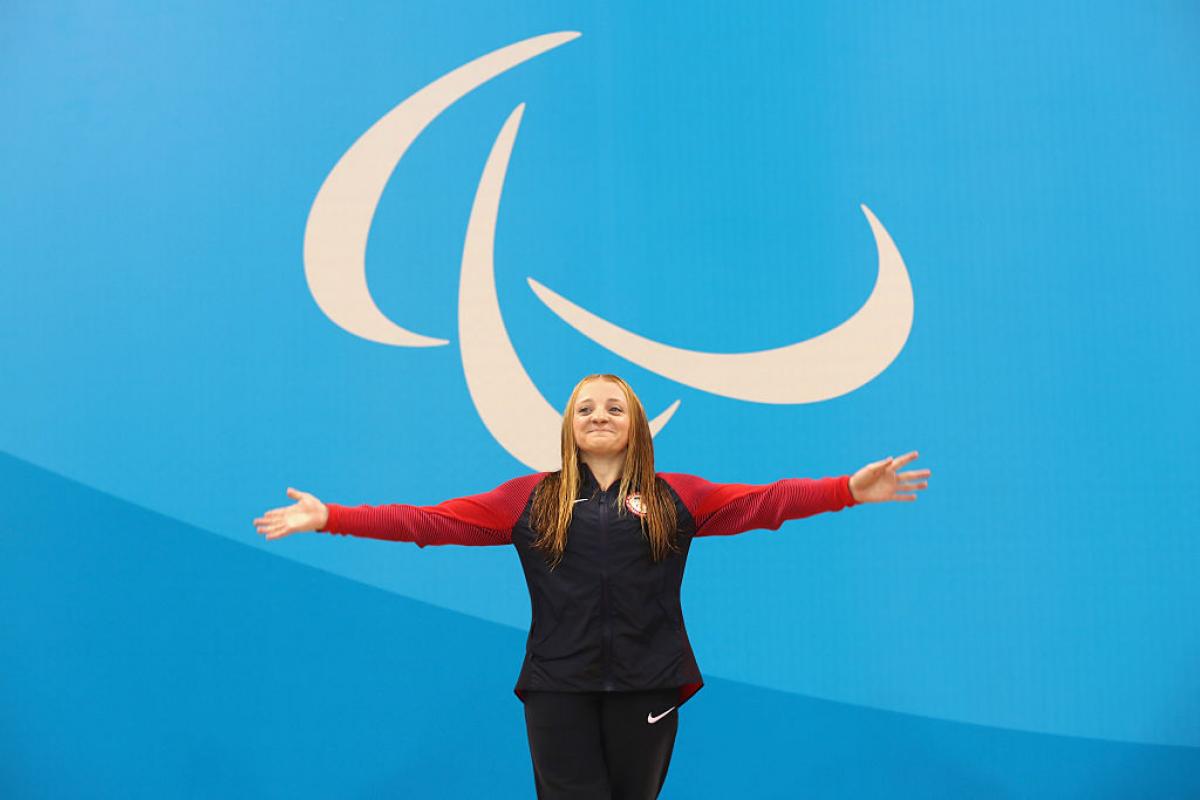 ⒸBuda Mendes/Getty Images
By Tokyo 2020
When McKenzie Coan steps up on the block at the Tokyo Aquatic Centre, it will mean much more than just diving in and swimming for a medal.
"It's sending a message of positivity and optimism to the world that we've made it this far and we will keep going until things get better," the three-time Rio 2016 gold medallist said.
"I think being able to go out there [in Tokyo], we'll be able to make a statement and say that, yes, what we have gone through is horrific and a lot of people are still going through it, but we got here together and it's showing the world a sense of unity."
Speaking from the Olympic and Paralympic Training Centre in Colorado Springs, the 24-year-old's positivity shines through – a trait which has been crucial to her success in and out of the pool.
Diagnosed with osteogenesis imperfecta shortly after birth, Coan is used to facing challenges head on, remaining positive and never looking at the disadvantages as something negative.
And it's evident with her outlook on Tokyo 2020.
"I thought a lot about this," Coan said of the differences from Tokyo to previous Paralympics, "Obviously, it's going to be very different from London and it'll be very different from Rio, but I also think that's true with any Games.
"I've certainly thought about how things will look in Tokyo, but I've said it for years now. I think Tokyo is going to do something so special even amid a devastating worldwide pandemic, I still think that these will be an incredible Games.
"I think that there's even more meaning behind the Games this year, because I think the world needs something to bring everyone together and I think we all need something to smile about."
TURNING THE GARAGE INTO THE POOL
As the world came to a literal halt in March, Coan made the decision to return to her family's home in Georgia from Baltimore, where she had been training as part of the Loyola postgraduate Paralympic group since finishing out from National Collegiate Athletic Association in 2018.
But after being at home for a month with no pool, the two-time 2019 World Para Swimming Champion thought there had to be a way to start swimming again.
"I remember thinking to myself, there is got to be tethered pools that people are swimming in, because I saw online that people were making their own pools," she recalled.
The search for a swimming pool was on, and well…it didn't take her to find an eight-foot (243cm) pool and that's when Coan got the idea: "I could literally turn our garage into my own personal aquatic centre."
"I went to my dad and mum, I was like, 'how would you feel about me turning the garage into a pool?' They said, 'let's do it'."
However, she didn't quite expect to be building a pool.
"We got all the boxes there and we laid it out and we were like, 'oh my goodness', there were hundreds of pieces," Coan laughed.
"I might be very good in the pool and I might be very good at other things but building things is not my strong point, so it took my mum, my dad and I about a week to put it together," she added, mentioning that her mum and her had built it the wrong way the first time.
But then the moment of truth came, and it was time to jump back in the water. Coan has previously mentioned how 'freeing' it feels to swim, and it didn't matter that it wasn't a regular 50m pool or that she couldn't do tumble turns, she was just happy to be swimming once again.
"I was swimming again and we were making steps in the right direction," she said. "I'm very thankful for that garage aquatic centre."
DIVING BACK INTO COMPETITION
It had been over a year since Coan – and members of the USA Paralympic swim team – had swum in an international competition when the 2021 World Series in Lewisville came to town in April.
With more than 100 competitors from 20 countries coming together for the three-day event, Coan, who was excited to be able to race again, admits that leading up to the event was stressful with the unknowns.
"There were times I was wondering, 'is this meet going to go on?', 'are we going to be able to do this?'," she said. "Going into Texas, I would like hold my breath a little bit when I checked my email, or I did anything because it was just so surreal to think that we are going to have the opportunity to compete again."
But when she dove in for the heats of the S7 100m freestyle, this feeling hit her.
"I was like, oh my goodness, I'm in a race right now and it kind of took me a minute to get the jitters out. But by finals, I just felt so ready to go out there and to compete again," Coan, who won gold in the race said. "It was like second nature."
At the US Paralympic Trials in Minneapolis, in June, Coan was one-hundredth off of the American record in the S7 400 free with a winning time of 5:04.88. She also won the 100 free in 1:10.80.
THERE IS EVEN MORE MEANING BEHIND THE GAMES
There is one thing that comes to Coan's mind when she wakes up and before she goes to sleep: standing on that podium in Tokyo.
With the difficulty of the past year still present, the Para swimmer wants to show the world all the hard work herself – and athletes around the world – have put into their craft since Rio 2016.
"Those freestyle world records have been on my mind for a very long time now so to be able to go out there and have a great showing in Tokyo and hopefully break those world records would mean the absolute world to me," Coan explained.
"So much work has gone into this and so much support from my family, my coaches and all of the Tokyo 2020 Organising Committee and all the staff. They've have put so much into this.
"To be able to go out and have a great Games in the midst of all of this would mean everything."
But beyond the Paralympic Games, there is another aspect the Para swimming star is exploring away from the pool. When she was younger, Coan would need to go to hospital every three months to receive treatment for her disease and during every stay, she would pick her favourite movie to watch. One of them happened to be Legally Blond.
"I'll never forget the first time watching it," said Coan, who will be entering Law School next year. "Ever since then, I have wanted to be that voice for people. I have wanted to make a difference, so Law School has always been in the cards for me."
However, while she is hoping to use her degree to a future in politics, Coan still has her eyes set on continuing her swimming career through the Los Angeles 2028 Games.
"Having four years of swimming in college and juggling national team and academics is really it gives me a lot of confidence that I'll be able to do that, so I'll be pursuing both dreams still, but I am definitely excited to be to be focusing on my on my career a little bit more."
PUTTING HER STORY ON PAPER
When Coan finished her NCAA collegiate career, she was asked by her agent what she wanted to do with her brand.
"I want to write a book," she hesitantly responded.
Working with a co-author, Coan admits that she had way too much fun with the project which she is hoping to share before the Games begin in August.
"In a way, I think this past year has obviously been very difficult with a pandemic, kind of stepping away from that and news sometimes… but also reflect on my journey and remember, how I got here has been really therapeutic in a way," she explained.
"I'm very excited for everybody to read it when it comes out."