No matter the sport, Cameron Leslie keeps moving
Champion swimmer balances international wins with love of wheelchair rugby, as he prepares to compete at his third World Championships for New Zealand.
03 Jul 2013
Imagen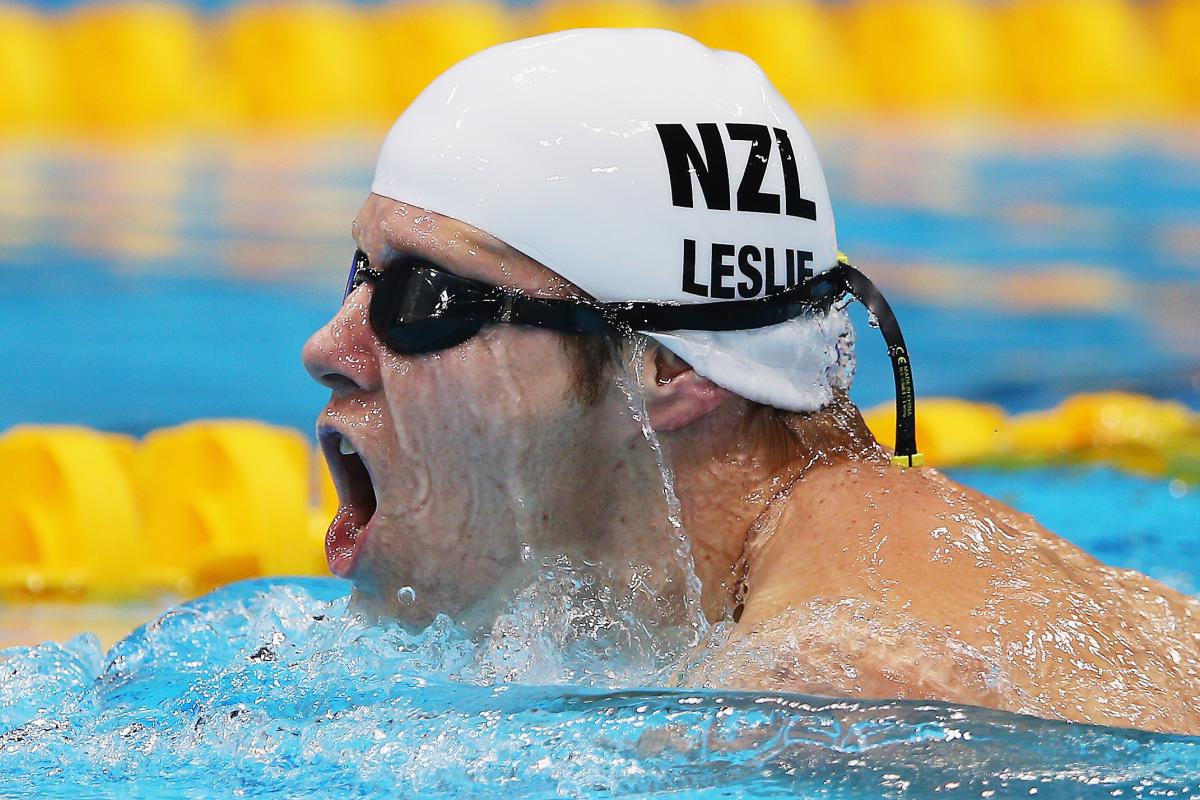 ⒸGetty
By Lindsay Wyskowski
"At this stage there has been very little which has stopped me competing. "
Cameron Leslie has been quoted as saying that he may retire from swimming to focus on his other athletic aspiration, wheelchair ruby.
But he says that is simply not true.
"That was a student journalist who got the wrong end of the stick who said I was considering retiring back in 2008," Leslie said. "I have never actually given thought to retiring from swimming as yet, I'm still enjoying my time in the pool so until that stops I won't be seriously considering it."
Now the 23-year-old New Zealand native is preparing to compete at the 2013 International Paralympic Committee (IPC) Swimming World Championships in Montreal, Canada, in August for a sport he says has great rewards attached to it.
"It's very cool when you set yourself a goal, work towards it, and then achieve it knowing that it was your hard work, combined with your coach and support network of course, which lead to that success," Leslie said, citing sporting success and health benefits as major draws to the sport.
Wheelchair rugby also offers a benefit.
"For me being on the lower end of the classification scale, the use of the arms and core in wheelchair rugby is such a good way of cross training," said Leslie, who was born with a quadruple limb deficiency and competes in the SM4, SB3 and S5 classifications.
"Wheelchair rugby is such a contrast to swimming," he said. "In the pool it's all about you and achieving the goals set and whatnot, but in wheelchair rugby it's that camaraderie and shared journey that makes it so different and appealing to me."
Wheelchair rugby is Leslie's chance to play a team sport, something he says he wasn't able to do as a child although he watched his siblings.
"Sharing the successes and failures with someone who has been through the same training and punishment as yourself makes achieving […] that goal so much more special," he said.
Leslie began swimming in 2001 and competed at his first World Championships in 2006. Though he didn't perform how he had hoped, he continued to focus on swimming. At his first Paralympic Games in 2008 in Beijing, China, he won the 150m SM4 individual medley in world record time.
After Beijing, Leslie kept swimming. He won gold in the 150m individual medley SM4 at the World Championships in 2010. In London, Leslie defended his Paralympic title, a feat he says was not easy.
"Thinking back to last year and the build up to London, it was tough," Leslie said. "I set the bar high and knew if I was to achieve it there was going to be a need to remind myself why I'm doing the hard yards, especially on those days where the body is hurting and the mind is questioning whether or not you're able to push through."
Leslie will represent New Zealand again in just over a month's time at the World Championships in Montreal, Canada, his third for the sport of swimming. He admits that he loves hearing the national anthem and seeing the flag raised, and it is certain that his athletic endeavours won't end there.
Though the Rio 2016 Paralympic Games are still a few years away, Leslie is still considering his chances to compete, though he's not focused on any one particular event at the moment.
"I do see myself there provided I still meet all the qualifying standards and all that jazz. I remember back to when I was a teenager coming up in the sport and I looked up to the likes of Peter Martin [a New Zealand thrower] who has been and done basically everything there is in disabled sport, twice. So I think I'm trying to emulate that in a way. I considered him to be successful as an athlete so I think that's what I'm striving for."
"I definitely have aspirations in wheelchair rugby so that is plenty to keep me around the international sporting scene."
It is possible that Leslie's two-sport ambitions will continue to inspire others around the world for years to come.
"I'm keen to continue doing the two sports for as long as I can," he said. "At this stage there has been very little which has stopped me competing. "
Leslie will compete for New Zealand at the IPC Swimming World Championships in Montreal, Canada from 12-18 August. Featuring 650 athletes from 60 countries, it will be the biggest gathering of international swimmers since London 2012.
Related Videos