One year on: Sarah Storey becomes a mother
After winning four London 2012 golds, Sarah Storey gave birth to her first child and had to drop out of the World Championships.
04 Sep 2013
Imagen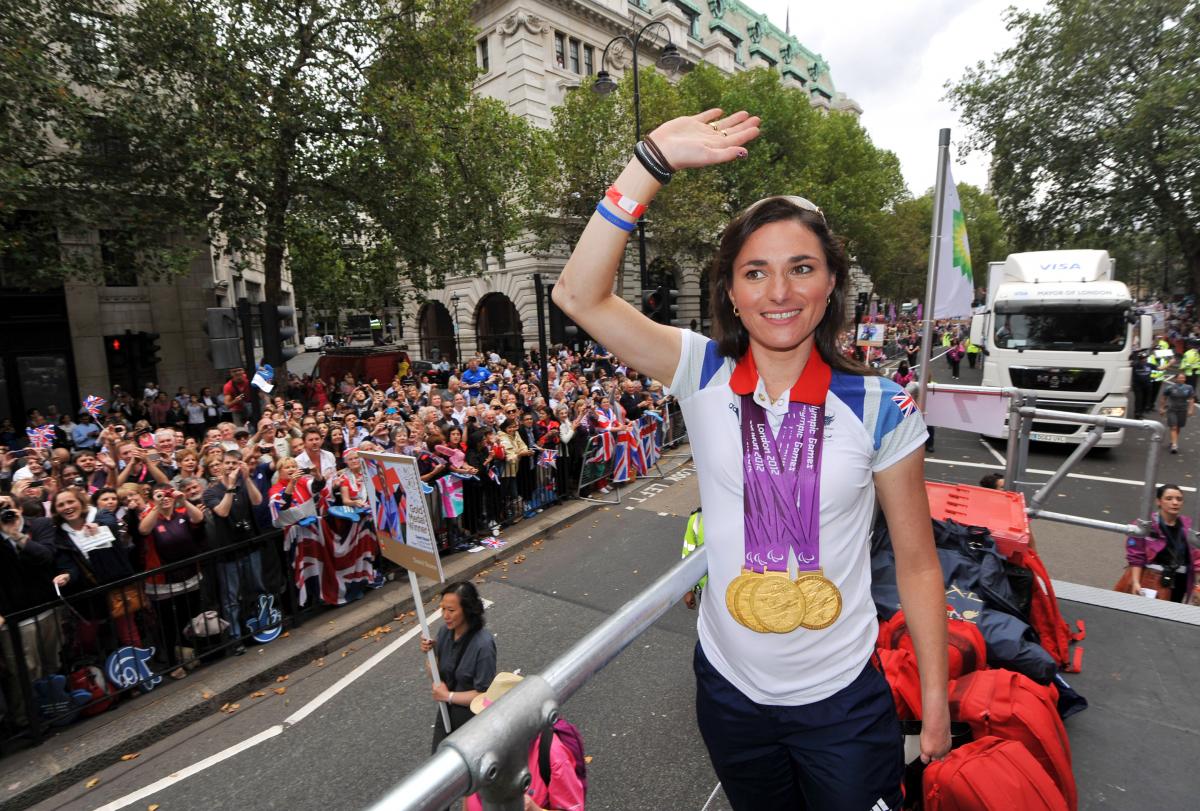 ⒸGetty Images
By Sean Cartell | For the IPC
"So many women retire to have a family and are a loss to sport. I think with the amazing funding we have in Olympic and Paralympic sports, we should see more women extending their careers and having children at the right time for their sport, and then making a comeback, if that is their choice."
By any measure, having unparalleled success at a Paralympic Games can be a life-changing experience for any athlete.
The international acclaim, and all that accompanies it, gives the athlete a new perspective and opens doors previously unimaginable.
Sarah Storey, a para-cyclist from Great Britain who captured four gold medals – and a world record – at London 2012, has found that to be especially true.
Having the opportunity to accomplish that feat in her home country made it all the more special.
"London was a truly once-in-a-lifetime experience – literally and in the sense that, for a British athlete, the atmosphere will never be beaten," Storey said.
"Whilst our job of winning gold remains the same for Rio 2016 and beyond, we will never have the chance to win in front of a home crowd again."
But, for Storey, this year has been life-changing in a different regard. Less than 12 months after setting a new international cycling standard in London, Storey and her husband Barney welcomed their first child Louisa to the world, altering her life in a different way.
"The year since London has been a journey of a different kind," Storey said. "Winning four gold medals at a home Games is almost a movie script. Normally, 12 months after a Games, you feel as though an age has passed, but this year has flown by and it has been an honour to share that success with so many people.
"Having Louisa has made everything even better," she continued. "We couldn't have wished for a more amazing end to the year. Every day is like winning a gold medal. With a baby in the house, it is fantastic."
Balancing cycling and motherhood was never in question for Storey, who initially planned to compete at last weekend's UCI Para-Cycling Road World Championships.
A cesarean section was necessary for the birth of Louisa, which slowed Storey's recovery process.
"I always knew that a c-section was a longer rehab, so as soon as the decision was made for the operation, I knew that I would be putting cycling to one side while I recovered," Storey said. "I have thoroughly enjoyed the enforced rest and made the most of the time it gave me with Louisa."
For a first-time mother, Storey has found that the approach she takes to her cycling career has helped her in her new home life.
"I think the calm, logical approach to sport has helped with motherhood and working out what needs to be done if Louisa is unsettled," she said. "You can't get upset when a baby is crying; you have to work out what is upsetting them and sort it out."
Storey has recently returned to training and is still learning how to balance her training regimen with caring for her daughter.
"My training has been different because I have been pregnant and now breastfeeding since I raced in London," Storey said. "The balancing act between feeds and training has been a challenging, but I love the fact that we are flexible and I just train when Louisa lets me."
While Storey had hoped to have returned to competition by this point, she is not concerned about how the hiatus will affect her performance. In fact, she had to withdraw from the 2007 World Championships due to a broken collarbone and knows missing a world championships will not be an impediment to her performance.
Storey has, to her credit, 22 Paralympic medals.
"This is the least important year of the four-year cycle and while getting results is great, it is not a prerequisite for being successful in Rio," Storey said.
"Attending a World Championships three years out of a Games is a nice thing to do, and if I had won, it would have been a huge achievement. But, being fit for Rio is much more important, so we have to look long-term."
Storey will look to defend her gold medals at Rio 2016, but she also hopes to serve as an inspiration for fellow athletes, showing them that it is possible to balance motherhood and an athletic career.
"The two parts of your life can exist alongside each other; they don't have to be mutually exclusive," Storey said.
"So many women retire to have a family and are a loss to sport. I think with the amazing funding we have in Olympic and Paralympic sports, we should see more women extending their careers and having children at the right time for their sport, and then making a comeback, if that is their choice."
Related Images