Para taekwondo, badminton stars look back on sports' historic debuts at Tokyo 2020
Para taekwondo's Lisa Gjessing and Para badminton's Cheah Liek Hou share what winning gold in Tokyo meant for them and their sports
25 Aug 2022
Imagen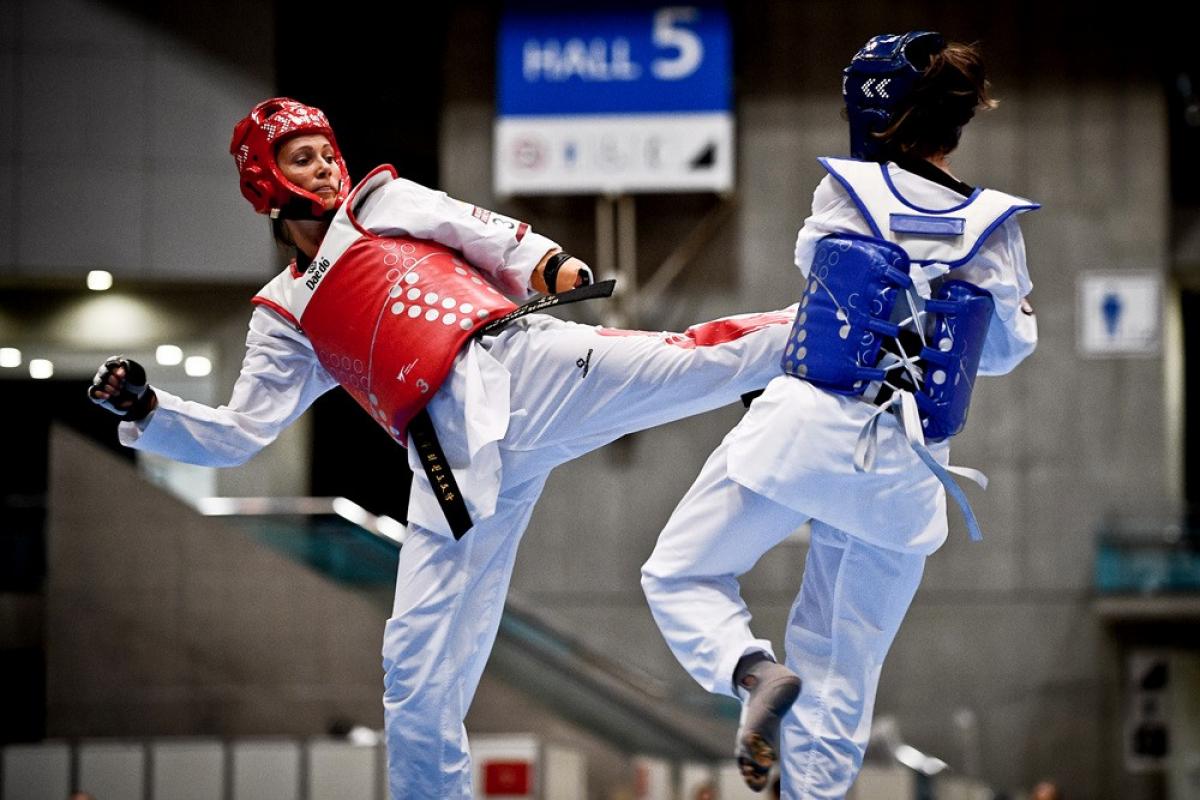 ⒸWorld Taekwondo
By Ayano Shimizu | For the IPC
While the Tokyo 2020 Paralympic Games had many memorable moments, the inclusion of Para taekwondo and Para badminton to the sports programme is one of the biggest highlights.
The Games, held from 24 August to 5 September 2021, featured six medal events in Para taekwondo and 14 in Para badminton.
One year since the opening of the Games, the sports' superstars, Para taekwondo's Lisa Gjessing and Para badminton's Cheah Liek Hou, recall stepping into competition thinking their long wait was finally over and they were ready to shine.
Lisa's Para taekwondo journey
Gjessing's Paralympic journey started when she watched the London 2012 Paralympic Games after losing her lower arm in a battle against cancer.
"I watched it with very hungry eyes and I swallowed it all. Watching the athletes compete at the Games was so inspiring for me," the Danish athlete said. 
"I really had something in me telling that I have to do this. But taekwondo was not on the programme in 2012 and it was not set to be on the programme in 2016, so I was a little disappointed inside."
While Gjessing thought about taking up a different sport to improve her chances of going to the Paralympics, she continued with taekwondo, a sport she has done before her amputation.
The day when Gjessing learned that Para taekwondo will be included in the Tokyo 2020 programme stands out vividly in her memory.
"The first competition was so emotional because I felt every step I took toward the mat, the years of preparation that had come before that," said Gjessing, who was also Denmark's flagbearer during the Opening Ceremony.
"I had a feeling that I would have a good day even from the start of the day. Actually, I remember saying to myself, 'This is the day of your life,'" she added. 
Her instincts were right. Gjessing captured the gold medal in the women's -58kg K44 event and later said that winning Paralympic gold is special compared to any other medal.
"It's just so amazing that it's still hard to believe that it actually happened," Gjessing said. "It's very different because the whole country is following you and is very joyful about what athletes do."
Cheah's Para badminton journey
Malaysia's Liek Hou, 34, remembers praying before the Tokyo Games that the COVID-19 pandemic will not get in the way of his 18-year dream of competing at a Paralympics.
When he started Para badminton at age 15, his coach told him that one day the sport will be included in the Paralympic programme, but also noted that the date of the inclusion was unknown.
"I just waited and waited. In the end, I waited for 18 years to play the first Paralympic Games for Para badminton in Tokyo," Liek Hou said.
After the pandemic led to a one-year postponement of Tokyo 2020, Liek Hou was constantly worried that the global health crisis could lead to a cancellation of the Games or that he may be out of the competition for testing positive for the coronavirus.
He made it to the Games, however, and in Tokyo he beat Indonesia's Dheva Anrimusthi in the men's singles SU5 to become the first-ever gold medallist in Para badminton.
It was a moment when years of hard work and sacrifice, including quitting his manager position at a sports company to focus on training, paid off.
"When I stood on the podium, I was very proud of myself and I told myself that I really deserved to get this gold medal because I really, really prepared," Liek Hou said.
One year later
Both Liek Hou and Gjessing said that they have already seen the impact of Paralympic inclusion on their sports. Para badminton and Para taekwondo have gained more recognition and the level of competition has improved since Tokyo 2020. More players are now aspiring to reach the Paralympic level.
"The impact is very big," Liek Hou said. "During the qualifying period (for Tokyo 2020), a lot of good players started to join Para badminton."
Gjessing said she has been approached by people in Denmark who saw her compete at Tokyo 2020, and has also noticed the publicity for Para sports increase in her country.
Paris awaits 
Para badminton and Para taekwondo will be staged at the Paris 2024 Paralympic Games, with both sports seeing an increase in the number of medal events contested.
There will be 16 Para badminton events, compared to 14 in Tokyo, to be held at the Porte de La Chapelle Arena, and there will be 10 Para taekwondo events held at Paris' iconic Grand Palais, up from six events held in 2021.
With roughly two years to go, the two gold medallists have different ways of looking at Paris 2024.
Liek Hou said he is taking things one step at a time rather than thinking about repeating his feat in the French capital, given that his condition may change drastically because he is "not young anymore".
"I already won a gold medal in Tokyo and I don't really like giving myself very big pressure, like 'Oh you must win another gold in Paris Paralympics'," he said. "I will enjoy the moment.
"When things come to next year, there will be different things that I need to target step by step to focus on the Paris Paralympics. But if you think about a gold medal in Paris, I think you won't succeed because you're giving yourself too much pressure."
Meanwhile, Gjessing said that standing atop the Paralympic podium in France is her short-term goal as she enjoyed her journey in the lead-up to winning gold at the Tokyo 2020 Paralympics.
In the long run, the Danish athlete wants to inspire people to take up sports and show people that they can make their dreams come true if they "believe in it and work a little hard."
"The thing is, work is not work for me. I play when I'm training and the people around me are friends and playmates," Gjessing said.
"I hope that other people will find out that they can lead a good healthy life if you join sports and if you set goals for yourself."