Para triathlete Goerlach overcomes fear of water to take bronze at Birmingham 2022
Australian athlete says he would rather swim with sharks than jump in a pool after traumatic experience of nearly drowning more than 30 years ago
01 Aug 2022
Imagen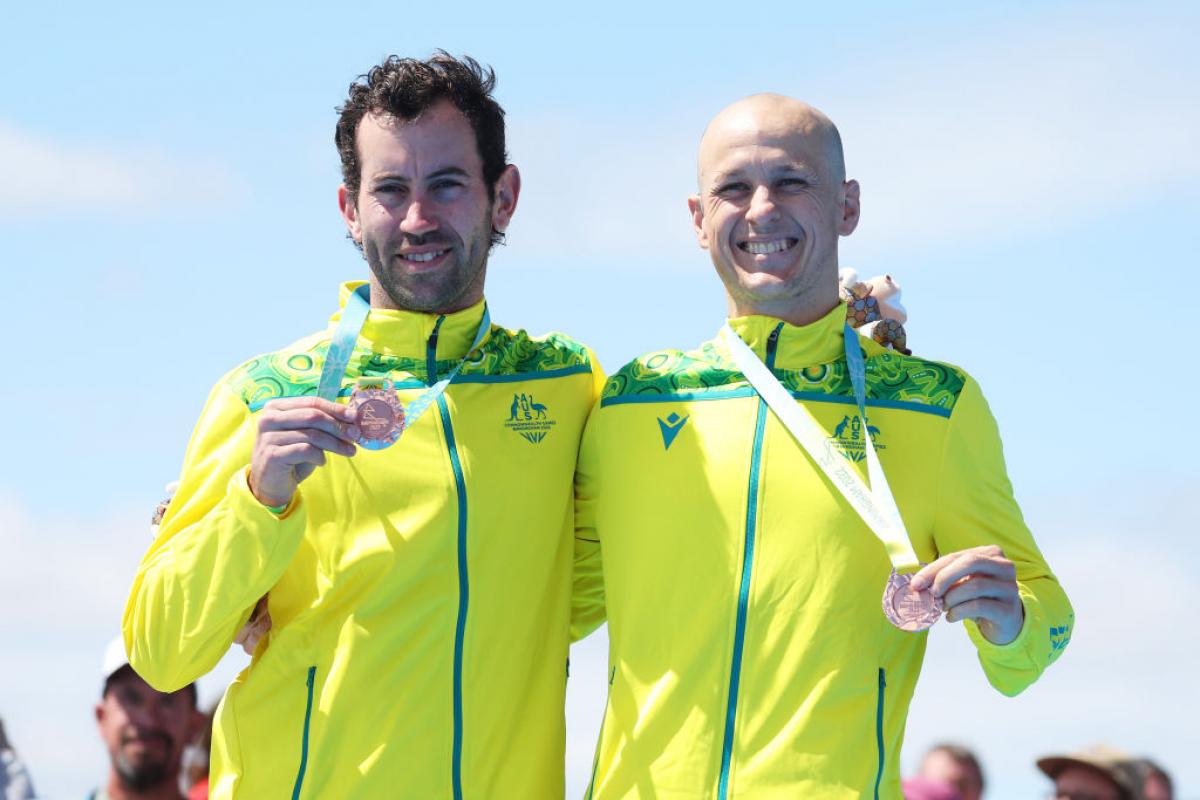 ⒸAl Bello/ Getty Images
By IPC
Australian Para triathlete Jonathan Goerlach would rather swim with sharks than dive into a well-maintained pool.
The 39-year-old Para triathlon medallist from the Birmingham 2022 Commonwealth Games can still recall the fear he felt more than three decades ago when he tripped into a garden pool and nearly drowned.
"The fear is still there. I was in a backyard pool when I was four years old, just playing with my siblings," said Goerlach, who was born with a vision impairment. 
"I was fortunate that one of my sisters was still there poolside as the others had gone inside. I just tripped into the deep end."
Overcoming fear
The accident was so traumatic that Goerlach refused to learn to swim throughout his youth and did not take part in any water sports.
When he took up Para triathlon at age 29, he was unable to swim the length of a full-sized pool.
"It's still latched into my memory. But I got to an age when I had to push myself through some of those fears, through the Post Traumatic Stress Disorder (PTSD)," Goerlach said.
"One of the ways of doing that was I wanted to be a Paralympian and a triathlete so I had to face those fears of swimming – and also learn how to swim fast to keep up with these amazing triathletes."
Goerlach, who competed at the Tokyo 2020 Paralympic Games, said he feels more at ease when he is swimming in open water compared to swimming in a pool.
"It's weird. Everyone says, 'it's open water, you'll never do it because of the sharks and you can't see the bottom'. But it's more relaxing than in the pool as I've got someone out there next to me whom I'm tethered to," the athlete said.
Winning bronze in Birmingham
Tackling childhood fears paid off for Goerlach when he finished third in the men's Para triathlon PTVI at the 2022 Commonwealth Games on Sunday, 31 July. The race consisted of a 750m swim, a 20km bike ride and a 5km run.
Goerlach and his guide David Mainwaring crossed the finish line behind David Ellis of England, who won gold with a time of 57:39, and fellow Australian Sam Harding, who took silver. 
"I left nothing out there. I had nothing left," Goerlach said. "I'm almost 40 now so I don't know if I can push myself that hard much longer, but we got there.
"It's been a long way since that four-year-old Jonno had that experience. Thirty-five years on I'm here with a medal from a Commonwealth Games."