Sport Week: 10 things to know about Para triathlon
Get ready for more action – and medal events – as the sport makes its second Paralympic Games appearance
15 Jul 2021
Imagen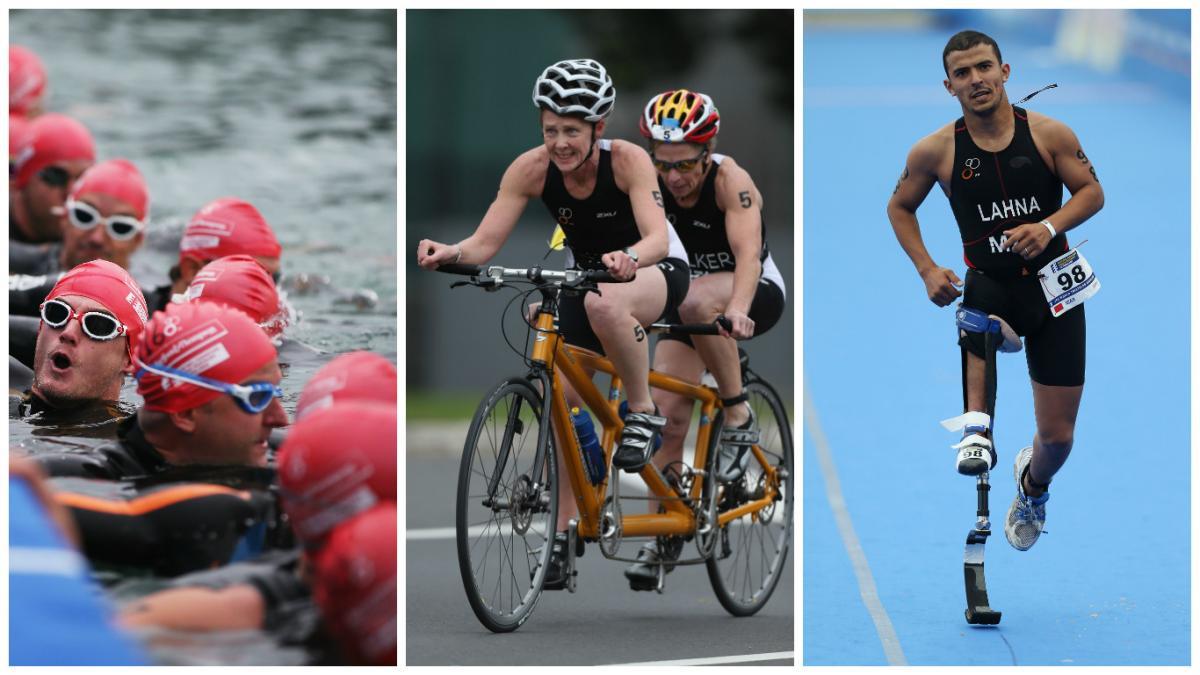 ⒸGetty Images
By Rob Howell | For the IPC
The Tokyo 2020 Games will be just the second outing for Para triathlon at a Paralympics. Here are 10 things you might not know about the sport:
1.    Para triathlon made its debut in the sea off Copacabana Beach at the Rio 2016 Paralympic Games. There were medal events (three men, three women), with the USA topping the medals table with two golds, a silver and a bronze. Grace Norman and Allysa Seely brought home the golds for the US.

2.    Para triathlon has nine sports classes:
PTWC 1-2: Athletes with limitations in lower (PTWC2) and upper limbs (PTWC1), using a handcycle for the cycling segment and a racing chair for the running segment.
PT 2-5: Athletes with limitations in lower and/or upper limbs (lower class number means there is more limitations) who compete in (regular) cycling and running. Assistive devices such as prosthetic legs and/or bike modifications are regulated by the International Federation. 
PTVI 1-3: Athletes with vision impairment, subdivided in three classes by severity of vision loss (visual acuity and/or visual field).
Athletes in the PTWC and PTVI classes compete in combined events, with an interval start system per sport class.
3.    The first ever Para triathlon Paralympic champion was Germany's Martin Schulz in the men's PT4.
4.    Events are held over the 'sprint' distance, half the length of the Olympic distance: 750m of swimming, 20km of cycling and a 5km run. Men and women compete separately.
5.    Para athletes can be supported when coming out of the water on completion of the first segment and also be assisted when collecting their equipment in a pre-transition zones. Support is also given in the form of help to lift athletes into and out of racing chairs or bikes, change out of wetsuits, and help to park bicycles after the ride phase.

6.    In the cycling segment, bikes used depends on the athlete's class. PTWC athletes use a recumbent handcycle, while PTVI athletes use a tandem bicycle with the pilot seated in front and the athlete behind. PTS class athletes use a road bike which can be modified if necessary, including by changing the shape of the pedals so they can be more easily pedalled using a prosthetic leg, changing the brake and gear levers so they can be operated with a single hand, or adjusting the position of the handlebars.
7.    In the running element, PTWC athletes use a competition wheelchair, while PTS athletes use assistive devices such as a prosthetic leg. PTVI athletes are accompanied by a guide.
8.    The transition phases are also called the 'fourth element' in the sport and are a key aspect of competition, as transition can significantly impact an athlete's total time. 
9.    Handlers specifically work with PTWC athletes to help in transition areas, for example by helping athletes change into and out of their competitive equipment. They too train regularly to work as a team and build trusted relationships in helping the athletes succeed.
10.    Guides for PTV athletes are not allowed to lead their athlete by more than 0.5m in swimming.