Sport Week: 10 things to know about sitting volleyball
Sitting volleyball first featured at the 1980 Paralympic Games in Arnhem, Netherlands
01 Jul 2021
Imagen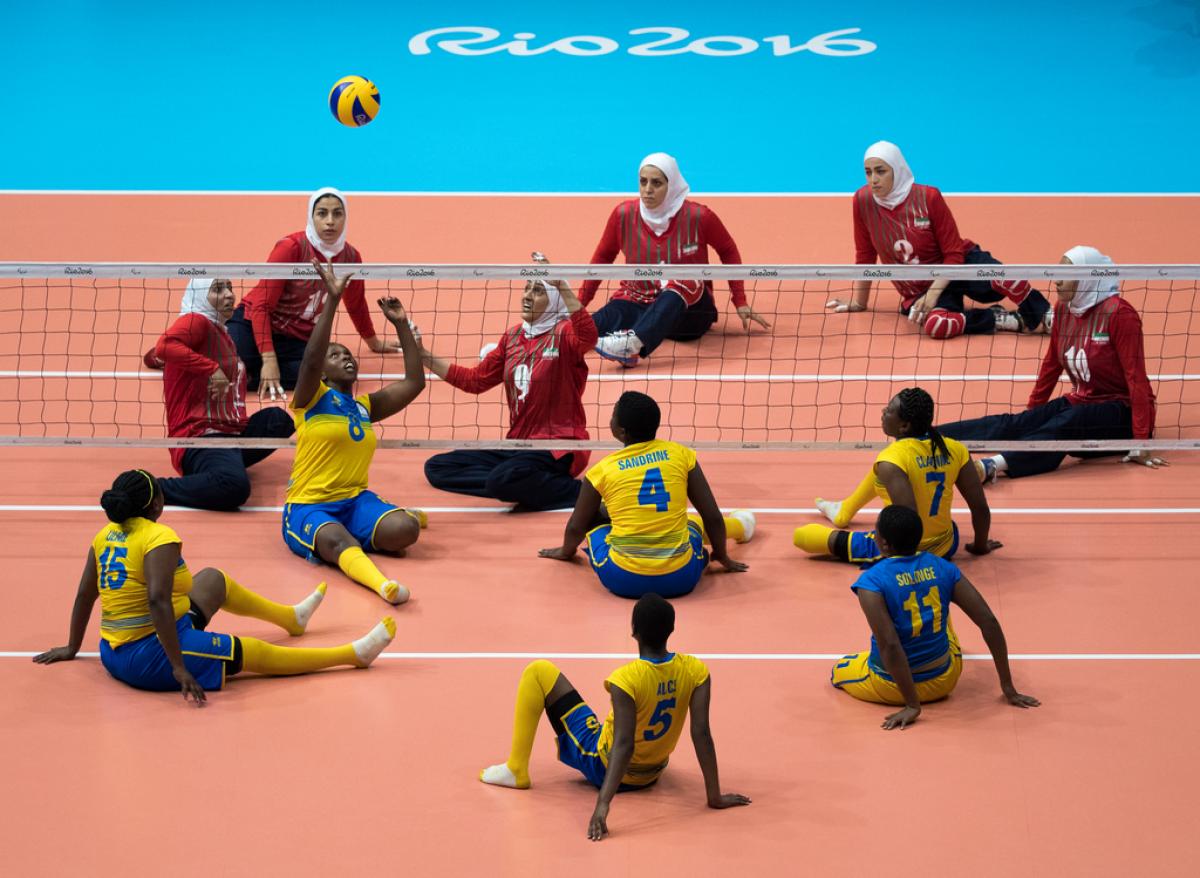 ⒸOIS
By Beau Greenway | For the IPC
Sitting volleyball is a thrilling team sport with exciting rallies, explosive spikes and jubilant cheers after a point. Before tuning into the Para sport at the Tokyo 2020 Paralympics, here are some interesting facts to know:
1. Sitting volleyball originated in the Netherlands in 1956 as a combination of volleyball and sitzball, a German sport with no net but seated players. It was introduced by the Dutch sports committee and saw its first international competition in 1967 in Flensburg, Germany. 
2. At first, "standing volleyball" (for athletes with a mobility impairment and can be played standing up) appeared at the Toronto 1976 Paralympics as a demonstration sport. Standing volleyball, along with sitting volleyball, officially became part of the Paralympic programme at Arnhem 1980. The Netherlands took the first gold medal in sitting volleyball, while Israel captured gold in standing. 
3. Standing volleyball was discontinued from the Paralympic programme after Sydney 2000. Women's sitting volleyball was added at Athens 2004, with China claiming the first Paralympic title. 
©Getty

4. The rules of sitting volleyball follow FIVB's abled-bodied version with a few modifications. Sitting volleyball is played on a smaller court (10m x 6m) and a lower net (1.15m for men, 1.05m for women). It is played in a best-of-five set format, and the first to reach 25 points (15 in the fifth set), with at least a two-point lead, wins the set.
Each team is allowed three touches of the ball (in addition to a legal block) before it must cross over the net. The key attacking move is the set and spike, in which a player sets up their teammate to hit the ball into the opposition's court.  
©Getty

5. An important rule in sitting volleyball is that players must be sitting and their torso must maintain contact with the floor when playing the ball. Athletes slide around the court using their arms, without leaving a sitting position. 
©Getty

6. Classification is a system in Para sports that ensures an even playing field for athletes with different impairments. In sitting volleyball, athletes are put into two sport classes – VS1 and VS2 (less impaired) – depending on the severity and impact on the core functions in sitting volleyball. Impairments can be either upper or lower limb, or both. Up to two VS2 athletes can be on a team's roster.
©Getty

7. There are two medal events at the Tokyo 2020 Paralympic Games, with eight men's and women's teams, respectively, aiming for the podium. Brazil, Canada, China, Italy, Japan, RPC, Rwanda and the USA make up the women's tournament. The men's event will see Bosnia and Herzegovina, Brazil, China, Egypt, Germany, Japan, Iran and RPC.
©Getty

8. Each team has six players on the court. The libero focuses on defense and wears a different uniform than the other teammates on the court. She or he makes sure the ball does not drop in any part of the court and cannot make an attack hit. 
©Lima 2019

9. Iran is the most successful country in men's sitting volleyball at the Paralympics with six gold medals. They have faced Bosnia and Herzegovina in every men's sitting volleyball gold medal match since Sydney 2000. China has won three of the four gold medals since women's sitting volleyball was introduced at Athens 2004. But the USA ended their winning streak by capturing gold for the first time at Rio 2016.
©Getty

10. Rwanda became the first Sub-Saharan women's team in history, in any sport, to compete at the Paralympic Games at Rio 2016. They have already qualified for their second consecutive Paralympics at Tokyo 2020. 
©Getty