Sport Week: 10 things to know about judo
The original Paralympic martial art, judo will return to its roots at Tokyo 2020
17 Jun 2021
Imagen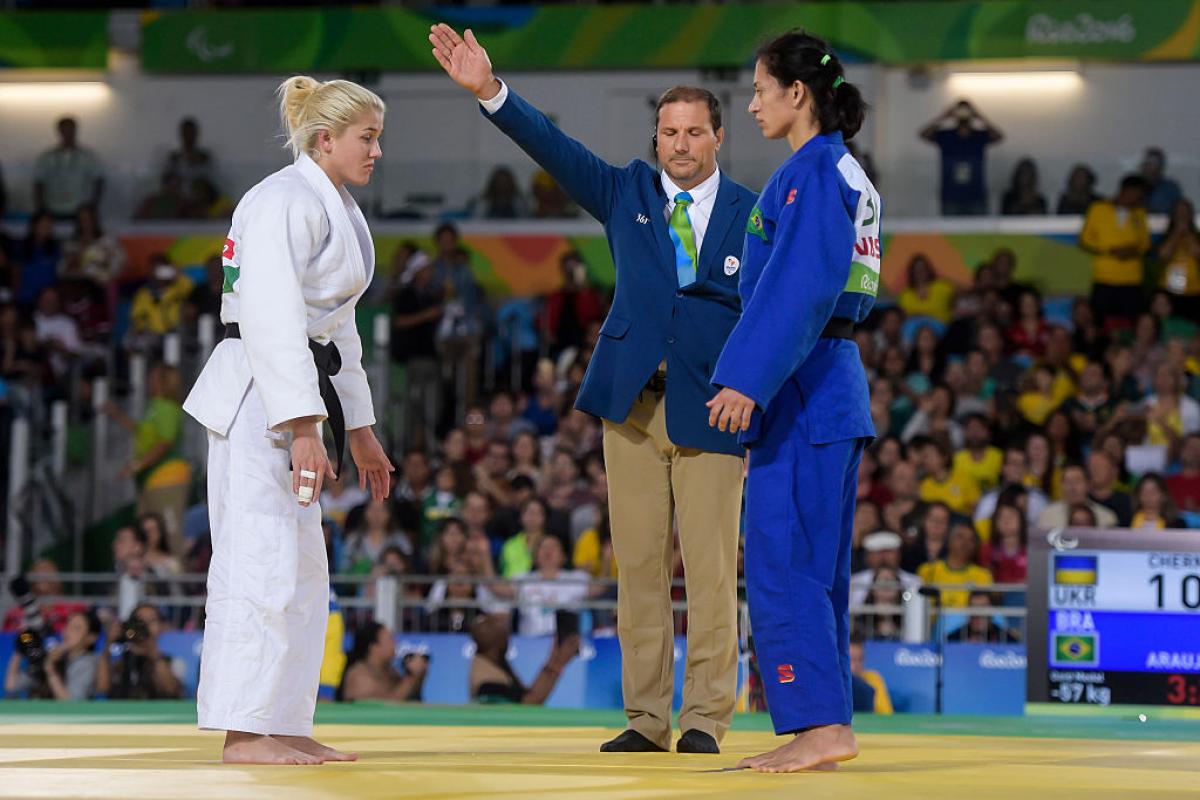 ⒸGetty
By Lucy Dominy| For the IPC
Judo has enjoyed the exclusivity of being the only martial art on the Paralympic programme until Para taekwondo debuts at Tokyo 2020. Find out more about the return of one of the world's oldest sports to its spiritual home:
1.    Paralympic judo is exclusively for athletes with vision impairments. They are classified as B1, B2 or B3. B1 athletes have the most severe impairment and wear a red circle on their uniform called judogi to ensure the referees are aware they may need guiding before, during and after a match. All athletes compete against each other regardless of their classification.
©Getty

2.    Athletes truly rely on their senses, tactics and instincts in Paralympic judo with only a few modifications to the rules for the sighted version. Judoka must begin with a grip on their opponent's judogi. They must keep it during the match and can be penalised for not making an effort to do so.
©Getty

3.    Judo became the first sport of Asian origin to be included in the Paralympic Games when it was introduced at Seoul 1988 with men's competitions. Great Britain's Simon Jackson took the first gold, competing in the men's up to 60kg.
©NPC Korea

4.    Six women's events were added to the programme at Athens 2004. France's Karima Medjeded was crowed the first female Paralympic champion by winning the up to 48kg.
Susanne Shuetzel (white), another Athens 2004 gold medallist ©Getty

5.    The scoring system awards an ippon (one point) for a conclusive technique that wins a match by its successful execution, a waza-ari (half point), and minor points (called yuko). In a modern match, a judoka will often play conservatively and work for a win based only on partial scores from minor points. This is a major shift from traditional judo, were judoka risk all in the attempt for an ippon.  
©Getty

6.    In the Para sport, no penalties are given to judoka for leaving the mat unless it is intentional. The referee helps to guide athletes by saying 'jogai' when they approach the edge.
©Getty

7.    Brazil's Antonio Tenorio is the most decorated athlete with four consecutive golds won between Atlanta 1996 and Beijing 2008 in the men's over 100kg. Tenorio added a bronze and silver to his collection at London 2012 and Rio 2016, respectively.
©Getty

8.    The inventors of judo, Japan, are unsurprisingly the most successful country at the Paralympics with 12 golds and 30 medals overall. Satoshi Fujimoto is Japan's most decorated judoka with five Paralympic medals, including three golds.
©Getty

9.    The sport was created in 1882 by Jigoro Kano as a physical, mental, and moral pedagogy in Japan. Kano developed judo from his knowledge of jujitsu and samurai, eliminating the most dangerous techniques and stressing the importance of randori (free practice).
©Getty

10.   The venue for Tokyo 2020, the Nippon Budokan, is an iconic Japanese martial arts venue. The Budokan was originally built for the judo competition in the Tokyo 1964 Olympics, hence its name, which translates in English as Martial Arts Hall.  The national championships of the different branches of the martial arts (judo, kendo, karate, aikido, etc.) are held annually at the Budokan. 
©Getty