Phil Eaglesham continues to inspire battling mental health struggles
'If you can help one person out, then that's what makes the difference'
22 Apr 2020
Imagen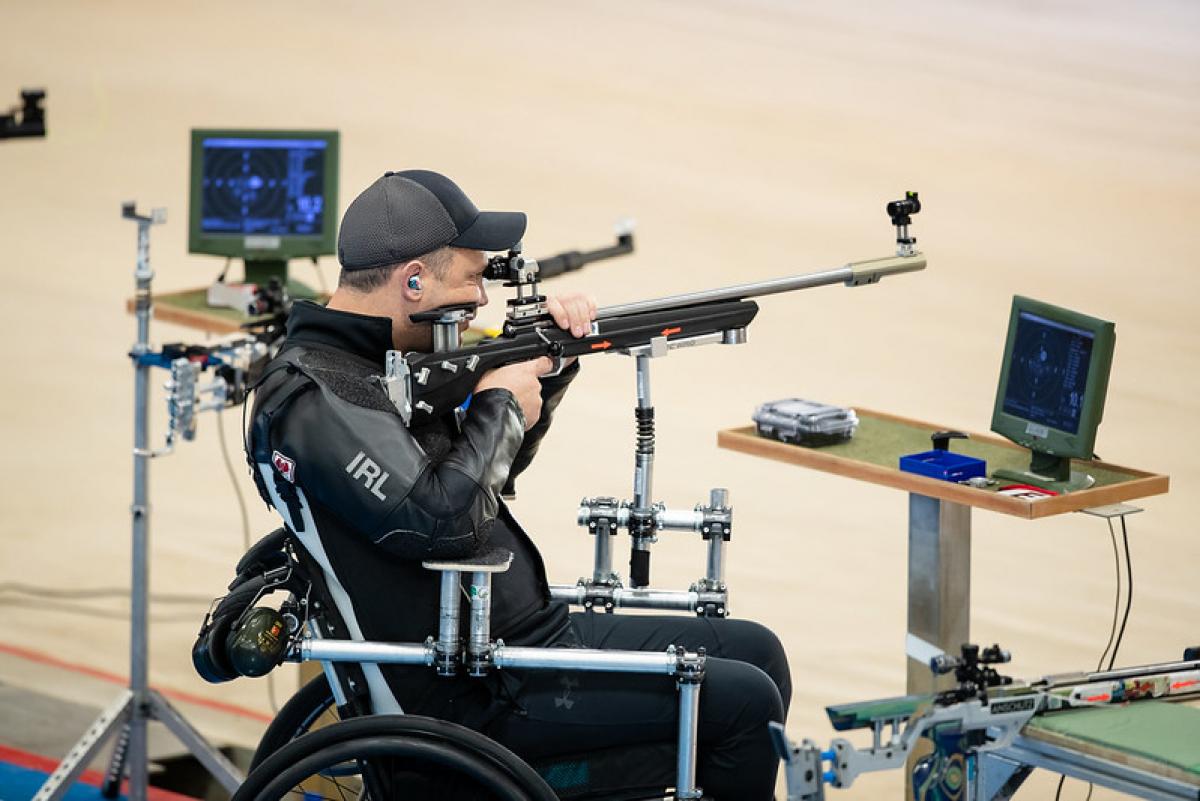 ⒸNarelle Spangher/Sydney 2019 LOC
By Ryan Wilson | For the IPC
Ireland's shooting Para sport athlete Phil Eaglesham has taken off his mask – or in other words – shaved his beard.
The beard had been a signature look for Eaglesham. But at the World Championships last October in Sydney, Australia, the Irishman entered the shooting range clean shaven, opening a new chapter before the Tokyo 2020 Paralympics, which were postponed to next year due to the COVID-19 pandemic.
Eaglesham surprised many not only with his new look, but his first World Championship and first major medal with bronze in the R9 (mixed 50m rifle prone SH2) in 2019. His wife Julie was overwhelmed with joy in the spectator stands.
Their journey since a life-changing experience in August 2014 saw a new turn.
Mental health struggles
It had been four years since Eaglesham contacted Q Fever – a disease characterised by chronic muscle weakness, fatigue, joint pain and breathing problems that also affects various organs in the body - while serving in Afghanistan as a Royal Marines Commando.
Eaglesham's physical and mental health worsened. He lost a great deal of physical abilities and used a power chair; people treated him differently; and he once had to sit in his house for six month after his wife injured herself trying to transfer him. In turn, it caused him to feel like a burden on his family.
"I'd look at myself in the mirror and did not see a physically strong person," the former marine said. "I'd see someone I didn't recognise."
Eaglesham said people speculated he might have struggled mentally by serving in a war. However, he said it was correlated with the loss of his own abilities. He added that there was pressure due to the stereotype that men should not have mental health problems.
So he wanted to hide, and grew his beard as a "disguise."
It would mask his mental health struggles, similar to how people wear hats or sunglass, or just avoiding the truth, he noted.
Revival through sport
Eaglesham was introduced to shooting Para sport in 2012 at a Warrior Trials in the USA. The Warrior Trials were designed to serve as a competitive sports event for wounded veterans.
Eaglesham was hesitant to try sport — his mind telling him he did not have the strength. But shooting sport was being adapted in a way that worked for him.
"That just made me think, 'Well, there is something here,'" he thought later.
He liked how the sport did not wear him out like other sports. He also enjoyed the community. Eaglesham returned to the Warrior Trials the following two years, and began to take it more seriously in 2015.
Still, the beard kept growing. No one was allowed to touch the mask, and he was afraid he would have to shave it all off, if someone messed up trimming it. Only his wife was allowed to trim.
That same year he underwent mental health treatment. The Irishman met with psychologists, and as his mental health improved, so did his shooting scores.
"For me, I needed that, because I could never understand mental health and how you cannot see when something is wrong," he commented on whether there was a correlation between his mental health improvement and shooting.
Raising awareness
Two years since that difficult period, Eaglesham was ready for the Rio 2016 Paralympic Games. He wanted to prove a point to himself and his kids that there is always a way out of tough situations.
He did not reach the podium, but reaching the Paralympics was the first step. He framed a photo taken after the Games of his kids kissing him.
"I could see how proud they were," Eaglesham said. "That for me was part of the turning point. … That was something then to drive me forward."
He started the hashtag #PhilsBeard as a platform to start a conversation around mental health. He wants people to feel comfortable sharing their struggles, and he is very open to doing the same.
Three years since Rio 2016, he sported a new look, won his first Worlds medal and hopes his story inspires others going through similar struggles.
"If you can help one person out, then that's what makes the difference," Eaglesham said.