Player-turned-coach Delagrave has high hopes for U.S. wheelchair rugby team
Joe Delagrave retired from competition after the Tokyo 2020 Paralympic Games and was named interim head coach of the U.S. wheelchair rugby team
29 Nov 2022
Imagen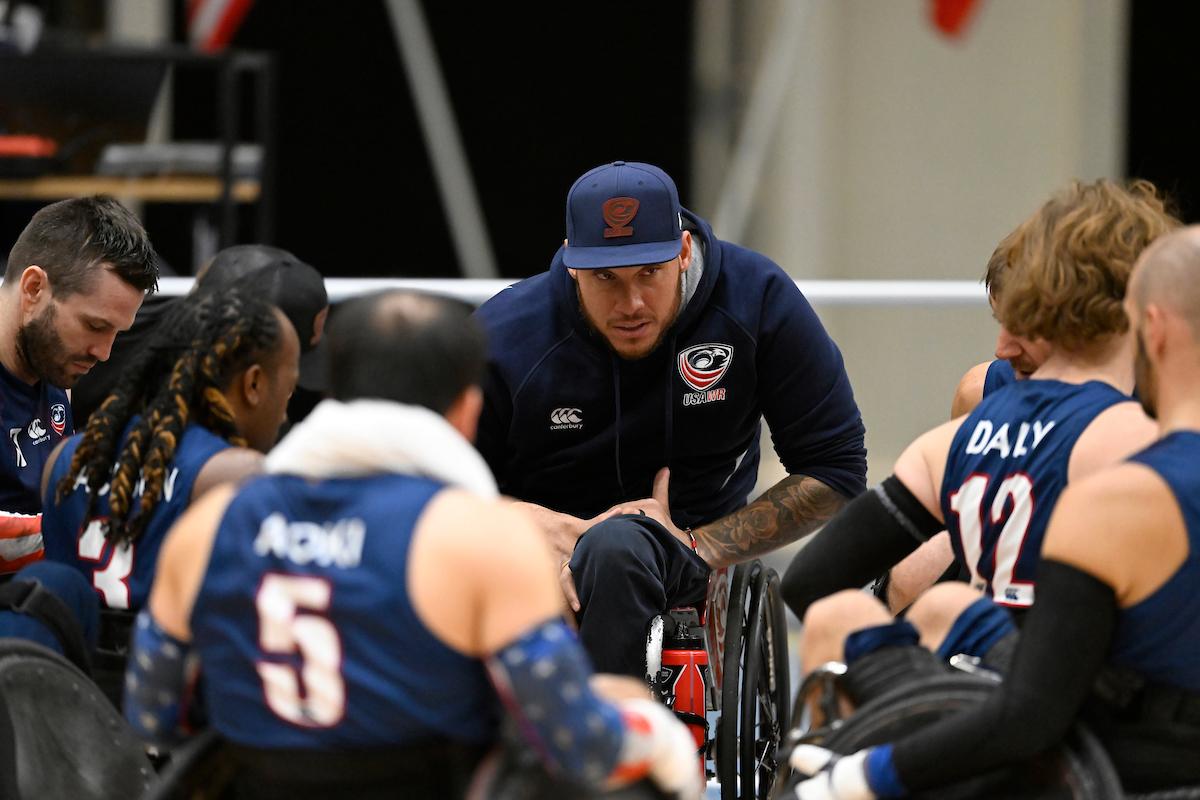 ⒸLars Møller for Parasport Danmark
By Ayano Shimizu | For the IPC
Two-time Paralympian Joe Delagrave may not be playing wheelchair rugby on the court with his teammates. But following his retirement from competition, the USA athlete opened a new chapter in his career as coach of the national team.
Delagrave was a member of Team USA that took the silver medal at the Tokyo 2020 Paralympic Games. A few months later, he was named interim head coach and has already led the team at international tournaments, including the 2022 World Wheelchair Rugby Championship that took place in Vejle, Denmark in October.
"It's been a whirlwind year and crazy that it's only been a year because it seems like we've done so much in that time, but I really felt at peace after the gold medal game (in Tokyo), which is kind of odd because we lost," said Delagrave, who served as captain or co-captain for eight years.
"And this opportunity came up. I loved being able to mentor and to lead and to coach when I was captain," he added. "I had support from a lot of my former peers that I am coaching now, so that was really important."
A beautiful journey
Delagrave, who loved sports growing up, took up wheelchair rugby after a boating accident left him paralysed from the chest down. While it took him several years to buy in on the sport, he says the journey he has taken since is a "beautiful" one.
Having played 13 years with Team USA, he was a member of the London 2012 team that took bronze and the Tokyo 2020 squad that finished behind Great Britain. He has also been at three World Championships as a player, winning one gold and two bronze medals.
As a novice coach, Delagrave is sharing with younger players the strategies that made him one of the most experienced players in the sport.
"My style of play as an athlete was very methodical and calculated because it needed to be. I wasn't as fast as some of these guys," he said. "But I'm giving some of those tips and tricks to players that probably have more function or faster than me so they'll have some really good athleticism along with some really good smarts as well." 
Sharing his techniques is not the only strengths Delagrave has as coach. He also has the relatability of being at the core of the national team for many years, and he is not scared of admitting it when he fails.
"For me, my strength is that I'm going to let the guys know when I fail and mess up. And whatever I say isn't the final word, it has to be a conversation," he said. "Hopefully, that starts a good fire with your culture and everyone doing that."
New role, new relationship
So what is it like transitioning from a player to a coach? 
Delagrave said the main change is how he interacts with the players that he played and travelled with for competitions.
"The biggest challenge for me was to put up the boundaries that I think are necessary in order to be a coach, and they're my players now and I almost grieve friendships that are no longer the same as they were before," the 37-year-old said.
As a player, Delagrave grew close with his teammates over the years, hanging out and talking about a lot of things, not just about sports. He has known some of them for more than a decade.
"It's different now, so maybe not talking to them as much outside the context of rugby, just to build that up a little bit," he said. "There are times when I'm learning new friendships with our staff. You grieve asking to go hang out with my buddies and talk about sports or whatever it would be."
Sports and more
At the Wheelchair Rugby World Championship in Denmark, the United States finished with a silver medal after losing 58-55 to Australia in the final.
With less than two years until the Paris 2024 Paralympic Games, the United States are aiming to finish one step higher on the podium and earn their first Paralympic gold since Beijing 2008.
To accomplish this Delagrave said it is necessary for the team to develop a deeper bench to keep players fresh in the later stages of the tournament. The coach also said he has a "six-year vision" in mind ahead of the LA 2028 Games that will take place on home soil.
"Growing our development base has been huge for making sure we're good in Paris 2024 and LA 28," Delagrave said. "There are a lot of teams that have some older players and I think there's going to be a turnover within the next five, six years that we've got to be ready for."
He also aspires to make the players more than good athletes, helping them to become "better men and women" by participating in wheelchair rugby.
Delagrave asks players to think about their purpose outside of sports because he believes that Para athletes can create positive change by their example.
"Of course, we want to go and chase medals and chase the top of the podium … but really helping them understand that being a Paralympian, or at least striving to be a Paralympian, is a pretty beautiful thing," he said.
"There's a platform. Whether it's big or small, some athletes have a bigger platform than others. But you can be a conduit for change, whatever you're passionate about."