Swiss wheelchair rugby player Mzee spreads love for sport as athlete, teacher
Mzee, a physical education teacher back home, played for Switzerland at the 2022 Wheelchair Rugby World Championship
27 Oct 2022
Imagen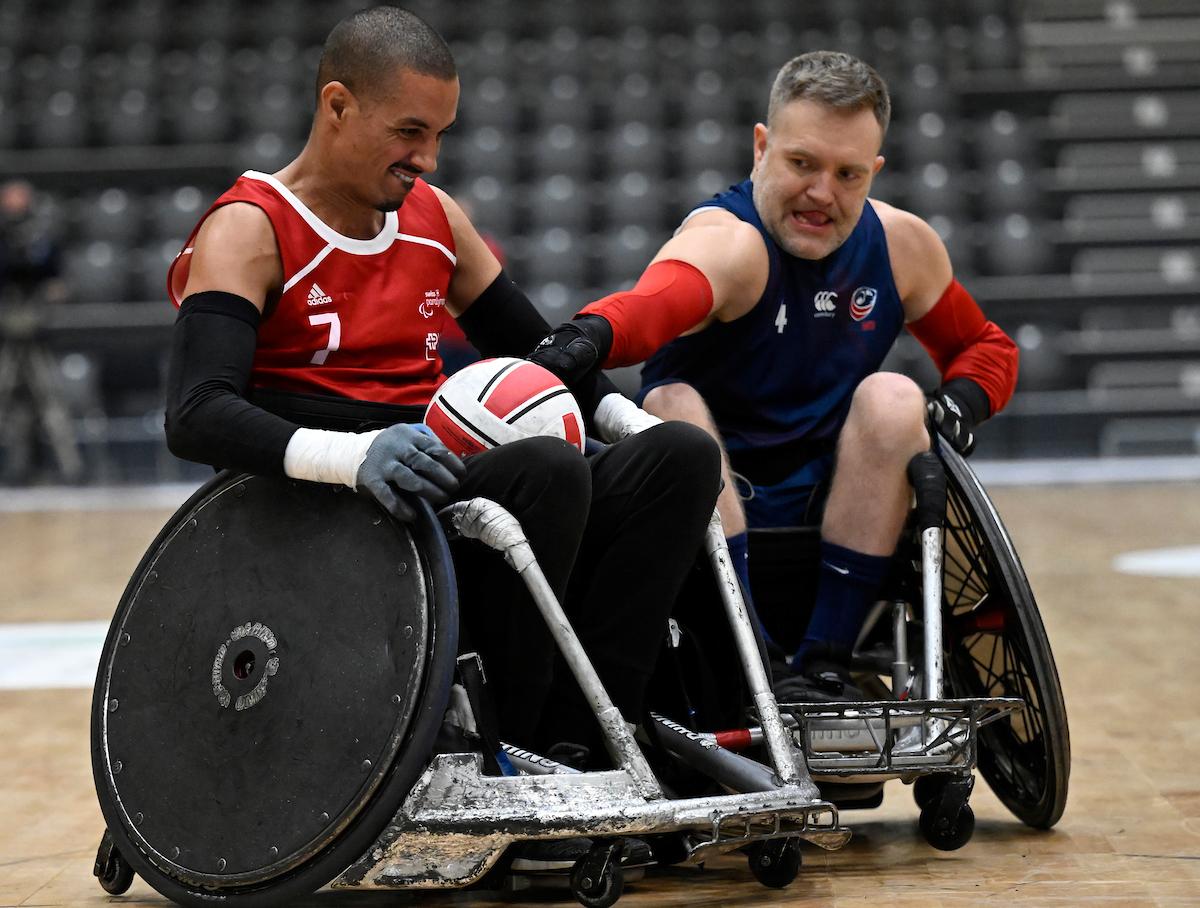 ⒸLars Møller for Parasport Danmark
By Ayano Shimizu | For the IPC
Dave Mzee, co-captain of Switzerland's team at the 2022 Wheelchair Rugby World Championship in October, has dedicated his life to sports.
In wheelchair rugby, he led a relatively young squad in their first World Championship since 2006. Off the court, he spreads his love for sport as a physical education teacher and helps young people stay fit.
A team sport
Mzee was introduced to wheelchair rugby after he injured his spine in 2010 during classes to become a physical education teacher. While he was undergoing rehabilitation at a Swiss clinic, Mzee went to watch a wheelchair rugby practice and was surprised by what he saw.
"I'm a guy who really likes team sports so rugby was the one," he said. "At first, I thought these guys are crazy. Most of them, they have an injury (at the) neck level. How can you crush each other that hard? And then I started playing it. I loved it."
Mzee started competing with the national team in 2012, which was 10 years before Switzerland returned to the World Championship stage.
While they were the lowest-ranked team at the 2022 World Championship in Denmark and finished without a win, Mzee is optimistic about the team's future.
"We're learning and we're happy to be here. I enjoyed a lot. For me, the big goal was coming to the Worlds," Mzee said before Switzerland's final match, which was a 48-44 loss to Brazil.
Since Switzerland does not have a high-pointer - a player with greater functional mobility - strategy plays a crucial part in their campaign, and that is what Mzee likes about the sport.
"You really need to know the tactics and, on the other hand, it's a lot of force that you need," he said. "I used to play handball and I really liked it as well because you can play physically, but you can also play with your head.
"It's the same in wheelchair rugby. You need to be smart and you need to go full power, so it's a good mix."
A creative process
Another passion that Mzee has is for teaching. He has been a teacher since 2018 and currently works at two vocational schools in Wetzikon, Switzerland.
Mzee teaches students between the ages of 16 and 20 how to play different sports, including volleyball, handball, and athletics. 
"I like young people, to teach them and work with them. Sometimes they have difficult life situations and every now and then, you're there. You might have a good influence on what's happening next," he said.
"It's also a bit about inspiration and helping get a next generation that is healthy, not only physically but also mentally," Mzee added. "If I can do a little part in it, it's amazing."
Teaching sports from a wheelchair requires being inventive and is a creative process, Mzee said. When he taught dancing at one high school, he told his students to imagine a nail going through the front of their shoe to make a certain movement with their legs.
"You need to draw pictures with your (words)," Mzee said about his teaching methods. "As soon as (the students) see the picture, we'll get moving. Actually, it works pretty well."
Teaching and playing
A week before the 2022 Wheelchair Rugby World Championship, which Vejle hosted from 10-16 October, Mzee told his students that he will be competing there.
"It's cool because many of the students, at first, they don't even know what I do," he said. "They were like 'Oh, what is that?' So it's one more thing you can talk about. And I think they realise that I'm serious about sport, that I love it, and I compete at an international level."
While Mzee said that playing wheelchair rugby is not directly linked to teaching, participating in a team sport does help him understand other sports as well.
"I did so many sports before my accident and I think the students feel it, so they often take me seriously," he said. "I try to tell them what I know and what I don't know, and we work from there."