Sam Schröder the newest wheelchair tennis star
Dutch athlete made headlines when he upset Dylan Alcott for the US Open title
20 Oct 2020
Imagen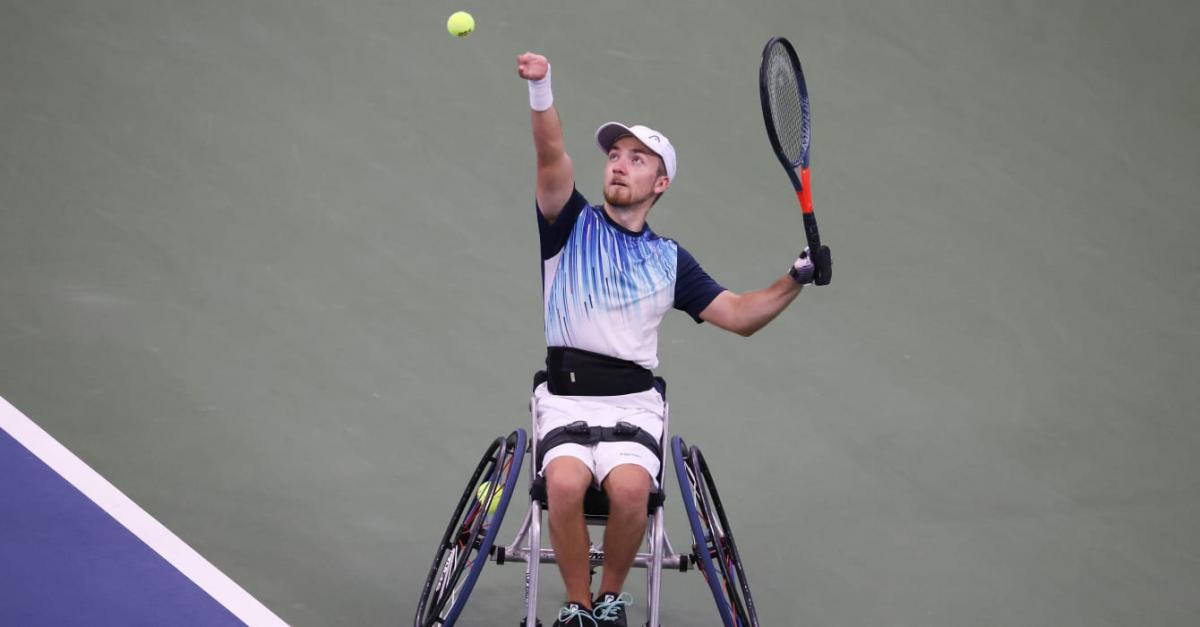 ⒸAl Bello/Getty Images
By Tokyo 2020
Wheelchair tennis is seeing a new generation coming up, and the Netherlands' Sam Schröder is among those leading the way, especially after securing his biggest career victory – the US Open men's singles title.
A month since the Schröder won the quad division title, he reflected on his journey, which has not been straightforward, yet made him the person he is today. 
"I've always been in the hospital a lot, so I'd always miss a lot of school," said the Dutch athlete, who was born with split-hand, split-foot syndrome and had 30 surgeries before his 16th birthday. "I think I had a pretty unusual life, but I was always happy.
"When I was going through cancer and the whole experience…I think it helped me as a person but also as a player when I'm on the court.
"It's helped me enjoy the experience a lot more then before. It's helped me stay calm and always keep fighting for every single point because when I had cancer and had to go through all the treatments I couldn't give up, and the same goes for when I'm playing a match."
Nothing stopping his love for tennis
Schröders' first brush with tennis came as an 11-year-old. He tried various Para sports from hockey to wheelchair basketball and even handcycling. But it was wheelchair tennis that stuck.
"After the first tennis lesson I kept going because it was so much fun for me and I really enjoyed it. So that's why I stuck to it after the first lesson and didn't look back," he said.
He started one-hour tennis lessons once a week with other players taught by Joop Broens, who saw a promising talent in Schröder. By 2014 he played his first international match - the 2014 World Team Cup - with the youth team, winning a bronze medal. And in 2016, Schröder had his first international tournament victory.
But just a year later, things changed.
In October 2017, the then 18-year-old, was diagnosed with colon cancer. The news came at the time when he was ranked world No. 1 in the juniors and No. 6 in the seniors.
His treatment plan saw him taking chemo tablets five times a week for five weeks, as well as receiving radiation therapy. Schröder also needed a feeding tube after it became increasingly difficult to eat, which had resulted in him losing 10 kg.
After chemo and radiation in March 2018, he got the green light to have surgery to remove his colon which led in the use of a stoma that was fitted to help him continue playing tennis. However, there was never a moment throughout his treatment that Schröder thought about giving up tennis.
"It was during the first consultation we had with my doctor, we said 'no matter what happens I'll bounce back from this and be able to play tennis.' It was the most important thing for me," he explained.
"I think it kind of kept me going as well during the treatment."
Four weeks after surgery, Schröder was back playing tennis for 15 minutes.
Grand Slam victory
With the world of sport thrown into disarray due to the COVID-19 pandemic, the US Open became the first tennis major played since January's Australian Open.
There was uncertainty if the wheelchair tournament would even take place this year after the US Tennis Association originally cancelled the event. But lobbying from players eventually saw the decision reversed.
For Schröder, who was ranked No. 4 in the world, he was offered a wildcard to participate at the event – his first tennis major. And well, he could not have made a better start.
Going to Flushing Meadows with the goal of reaching the final – a goal Schröder and his team saw as a high possibility – he won two of his three round-robin matches in the men's wheelchair quad division. It saw the Dutchman face world No. 1 and two-time champion Dylan Alcott of Australia in the final. Having previously lost to Alcott earlier that week in straight sets, the final saw a different story written.
After a thrilling three set encounter, Schröder, despite dropping the second, claimed his first career win over the Australian 7-6 (7-5), 0-6, 6-4 to lift the US Open title.
"That was an amazing experience. Just even being there playing at the US Open," he said.
"I think it's always special playing against Dylan – we haven't played each other that much. It's amazing when you beat the world No. 1 but especially against Dylan knowing how much he has won already and his legacy."
Unfortunately, he was not able to celebrate the way many winners do being just shy of his 21st birthday – vowing to 'celebrate the proper way' next time he wins. However, a call with his family back in the Netherlands, where it was midnight, was his top priority after getting off the court.
"Calling my family was one of the first things I did and all the things with the press, you're obviously very busy from that moment on," Schröder said.
"They were extremely happy for me; they were altogether watching it. It was amazing for them as well to see all the effort they've put in like driving me around when I couldn't drive myself yet."
Tokyo 2020 in sight
Securing a qualification spot for the Tokyo 2020 Paralympic Games has been a goal of Schröder's for the past five years. At the moment, he is on track to qualify being ranked No. 3 in the world – and needs to be within the top eight by June 2021 for the Netherlands delegation to select him.
"There is going to be playing a lot of tournaments, hopefully. With the situation now, we're not really sure yet. Hopefully, there will be more tournaments to come but just trying to get as many points as I can."
The Netherlands are one of the strongest - if not the strongest - nations in wheelchair tennis with 36 medals since Seoul 1988.
Rio 2016 saw the European nation win two gold and silver medals in the women's singles and women's doubles but in the men's competition, the last time a Dutch athlete won a Paralympic medal was Ronald Vink's bronze at London 2012.
"I think every player probably does that [thinks about winning gold], but I don't think it's anything you can imagine. Just hopefully I get to experience it myself one day," he said.
"I think for me it's just playing in a big stadium with so many people watching. I think the whole atmosphere is going to be amazing, well from what we've seen on TV."