Same coach, separate classes
Despite different impairments, Paralympians Evan O'Hanlon and Scott Reardon have become close training partners heading into Australian Nationals.
11 Apr 2013
Imagen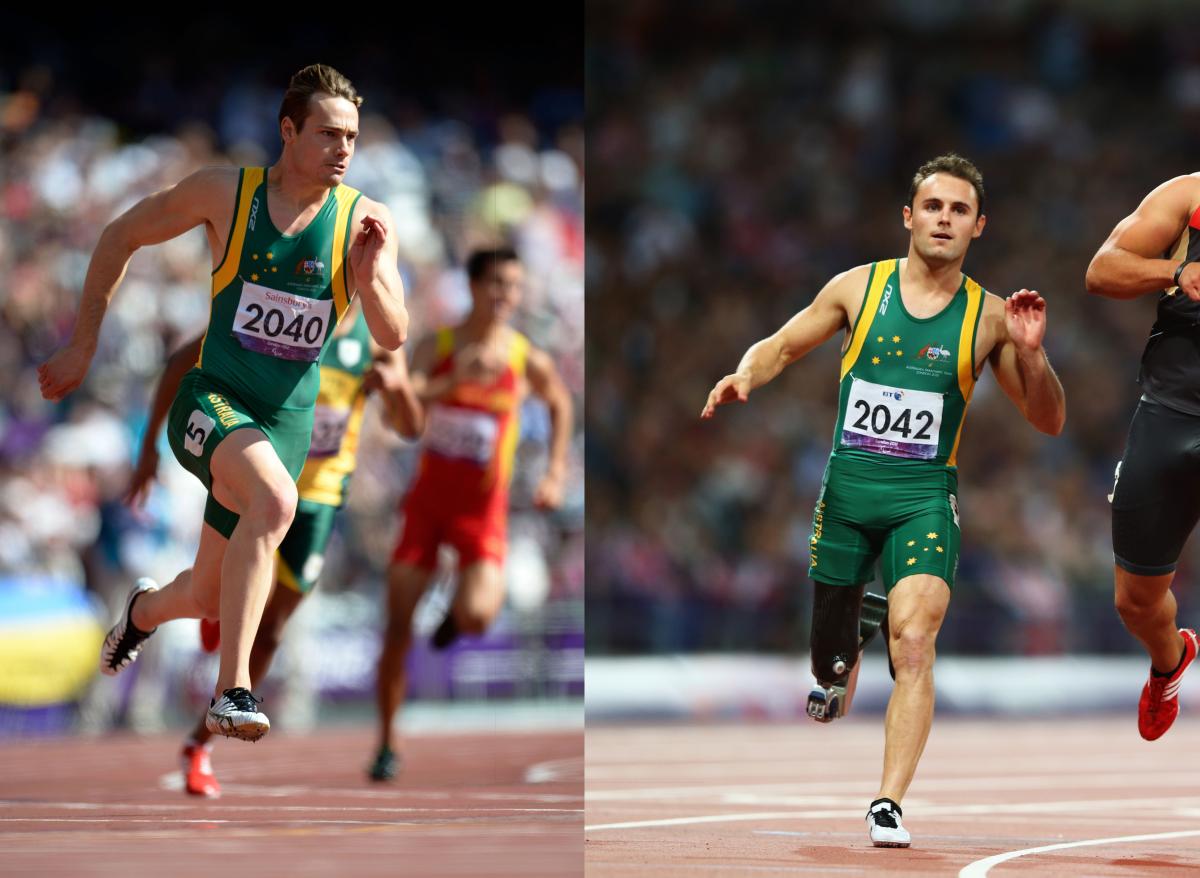 ⒸGetty Images
By IPC
"World Championships will be a good indication of what that field's like for the next couple of years and for Rio, to see who's pushed on and to see who will continue to push on."
Evan O'Hanlon and Scott Reardon, who are both preparing for Athletics Australia's National Championships this week (11-14 April), are at different points in their careers but have very similar mindsets on the track.
Perhaps it's because both sprinters train under the same coach, Iryna Dvoskina, who was named Coach of the Year in 2008 by the Australian Paralympic Committee.
"We're almost perfect training partners but never race," O'Hanlon said of the pair.
O'Hanlon has competed at two Paralympic Games and is the defending Paralympic and world champion in the 100m and 200m T38 sprints, setting world records in both distances at London 2012.
Reardon is coming off his Paralympic debut in London, where he claimed silver in the 100m T42, finishing in a personal-best 12.43, just three hundredths of a second behind Germany's Heinrich Popow.
Outstanding O'Hanlon
O'Hanlon and Reardon train alongside each other – but not together – in Canberra, although in Australia all competitions require combined-class races, so they see each other at the start line.
Dvoskina has had O'Hanlon focus on longer distances this season to get them in even better shape, and thus O'Hanlon will compete in the 400m, as well as the 200m, on Thursday (11 April) at Sydney's Olympic Park.
Why the change in distances for O'Hanlon?
The answer is simple – new goals.
"After Beijing, I was 21 and pretty much had done everything I could do in my sport. Or so I thought," he said.
"I wasn't running very fast for the next years because I probably just wasn't training well enough really. My head really wasn't in the game."
O'Hanlon said he completely trusts Dvoskina's judgement and that this could help extend his career as a Paralympic champion.
"She's the best coach for (athletes with an impairment) in the world in my book," O'Hanlon said. "We get on great. She's like my second mum. We're a team."
Riveting Reardon
Reardon, a single above-the-knee amputee racing the 100m and 200m this week, fully agreed with O'Hanlon about their coach.
"Her approach is probably second to none with everything she puts in and the attention to detail she gives to absolutely everything," Reardon said.
"If you had a coach that was more interested in the technology and not so much the way that you run, you'd probably get a little bit lost in that. We try to run technically right and don't worry about all the technology and stuff until we are actually running right."
At 22, Reardon has nearly run personal bests almost every time he's taken the track this season and said his consistency has taken him to another level.
In fact, he ran a 25.45 in the 200m at the Queensland Track Classic just a few weeks ago, which is the fastest time for a single above-the-knee amputee ever over the distance.
That was more than half a second faster than he ran the distance at the Paralympics.
"It's been a good season. I've actually surprised myself with how I've gone," Reardon said. "I kind of expected to run fast, but not that fast."
Leading into London, he only had three years of experience running on his Ottobock leg after he lost his leg in a tractor accident, so he was just working on the fundamentals at that point.
It's obvious he has now reached new heights with another season under his belt.
"I'm doing more strength stuff just because the first three years of my athletics career were starting from scratch, so I had to build up certain strengths in certain areas," Reardon said.
"Now, I can actually start working on more strength rather than just building a small foundation and getting the fundamentals right."
Looking ahead to Lyon 2013
Following their Nationals, both O'Hanlon and Reardon will be focused on the 2013 IPC Athletics World Championships, which are scheduled to take place from 20-28 July in Lyon, France.
Being that the Australians can feel isolated at times, it will be the coffee-loving pair's first opportunity to see their top international opponents since the Games.
"I'm not sure exactly what the rest of the world's doing, to be honest," Reardon said.
"World Championships will be a good indication of what that field's like for the next couple of years and for Rio, to see who's pushed on and to see who will continue to push on."
Reardon runs in one of the most competitive classes, which also includes Paralympic champions, Heinrich Popow (Germany), Earle Connor (Canada) and Richard Whitehead (Great Britain).
The Australian is actually the newcomer to the group.
"I really enjoy having all those guys around, and hopefully I'll enjoy beating them over the next few years as well," Reardon said.
The former water-skiing world champion remains humble about himself, but doesn't waste time playing up O'Hanlon's sky potential.
"I've seen a lot from behind. I haven't seen a lot from next to him," Reardon joked.
"Look out for Evan in Lyon. He's got some really good speed at the moment, and he's building up his endurance … so there could be a couple of records go for him in Lyon."
O'Hanlon's main competition will arguably be South Africa's Dyan Buis, who finished second to him in both events at London 2012.
But O'Hanlon has not wasted any time starting his next four-year cycle.
"I'm definitely in a much better position now than I was following Beijing," O'Hanlon said. "I'm really happy with where I'm at."
But, just like a certain other sprinter, O'Hanlon often insists on shifting the attention to his training partner.
"Scottie, he's going leaps and bounds at the moment," O'Hanlon said. "Every time he gets on the track in competition he's running faster and faster. He's getting a really good feel for how to use his leg and is understanding all of the physics behind it.
"I wouldn't be surprised if he comes out with a couple of medals at the World Championships."
Related Images