Skelhon hopes to dub-step his way to world title
British laid-back and hip shooter Matt Skelhon is confident of winning a gold medal as he returns to the range at the 2013 IPC Shooting World Cup.
17 Apr 2013
Imagen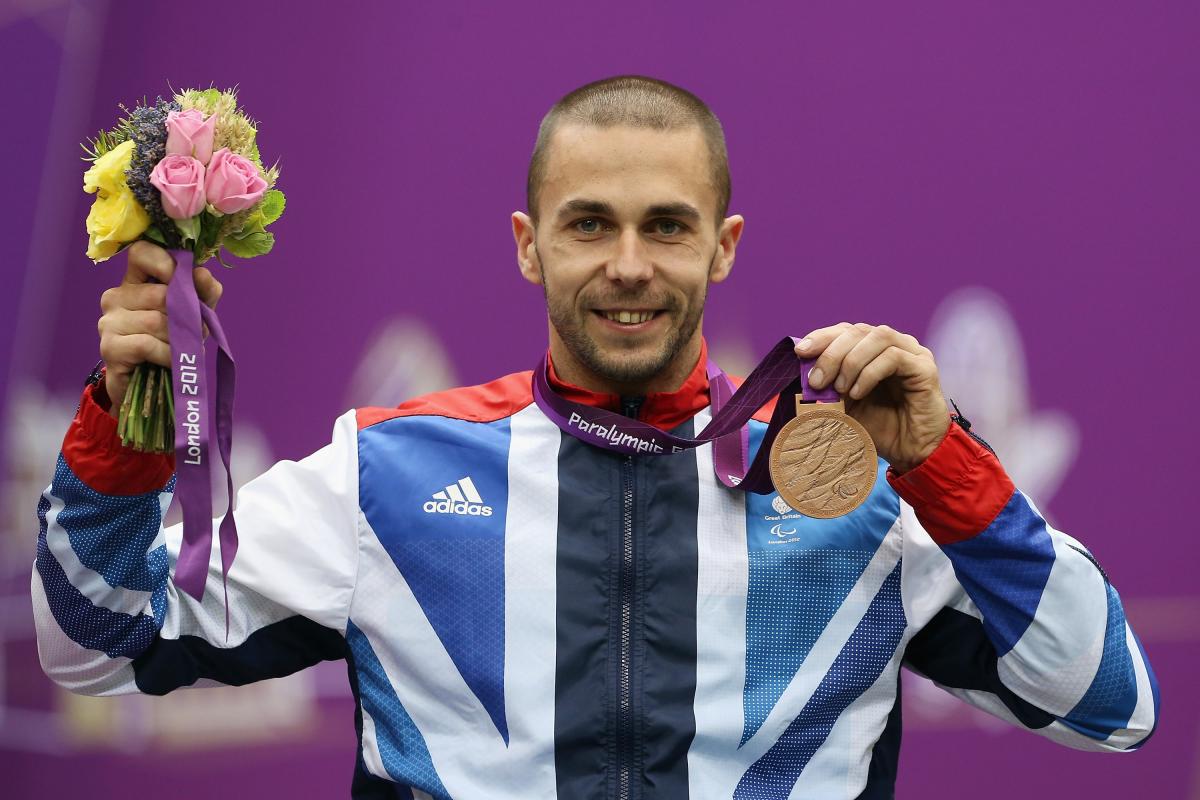 Ⓒgetty images
By Jake Wright | For the IPC
"It'll be interesting to see how the other top shooters fair, in that you never normally use the decimal scores so I have no idea what level they're at."
With the 2013 IPC Shooting World Cup starting on Thursday (18 April), Great Britain's Paralympic champion Matt Skelhon is eyeing gold in Szczecin, Poland.
Yet he's also looking ahead to October's IPC Shooting European Championships in Alicante, Spain, where he hopes to capture the 10m air rifle prone title, a feat that has thus far eluded him.
"(World Cup) aspirations are to win the air rifle prone event again," he said.
"I suppose it's just to go out there and get back into it after the games and see how the rest of the world is getting on. The rules have changed as well so it'll be nice to go out there and shoot under the new rules.
"The main plan (this year) is to win a medal in the air rifle prone at the European Championships. I'm shooting R6 as well, which is the 50m prone rifle, so hopefully win at least one of those; hopefully both of them. That's sort of been a goal since the beginning, to be European, world and Paralympic champion – I've done the Paralympic bit, now I need to do the European and the world champion bit."
Beijing's success, London's struggles
Nearly two years after he took up the sport of shooting, Skelhon shot a perfect score at the Beijing 2008 Paralympic Games to win gold for Great Britain in the 10m air rifle prone SH1.
At London 2012, Skelhon conceded his Beijing title to French shooter Cedric Fevre by just three-tenths of a mark, winning silver. He also won an unexpected bronze medal in the 50m rifle prone SH1 category.
After exploding onto the scene with a red Mohican and Paralympic gold in Beijing, Skelhon explained that added pressure of a home games meant he wanted to concentrate on the job at hand and not draw unnecessary attention to himself – which meant a very distinct change in hairstyle.
"When I went to Beijing I wasn't really expecting to come away with winning it. There wasn't really any pressure on me, I just went there to enjoy the Games and get the experience," he said.
"London, I went there with so much weight on my shoulders and pressure that I put on myself, to go there and win again, it was a completely different experience. "
"For me as fantastic as (London 2012) was, it was a little bit of a struggle. The nature of the sport means you've got to remain calm and collected and focused, so to have the home crowd, obviously it gets you going, gets the adrenaline going.
Trying to get on top of that and still be as relaxed as possible to shoot – it was quite difficult.
"The main reason I didn't have the Mohican in London was I put so much pressure on myself to go there and win and everything else I really didn't fancy the extra attention with the haircut, so I thought I'd stay a little bit shady."
Doing the dub-step
Skelhon said the new rule changes introduced by IPC Shooting at the end of February suit him fairly well, as he typically shoots good decimal scores.
"It'll be interesting to see how the other top shooters fair, in that you never normally use the decimal scores so I have no idea what level they're at," he said.
"It was time for a change; I suppose some people don't like the idea of starting again after they might have built a bit of a lead in the qualifying round, but it's going to be a lot more exciting."
Skelhon began to work with a sports psychologist last year to work on techniques that would allow him to compose himself better before competitions, and he noted his laid-back approach to dealing with the pressures of an event.
"Sometimes I listen to drum and bass and dub-step before I shoot," Skelhon said. "A lot of people think that isn't the sort of thing you need to be listening to, but it just works for me. Other times I'll listen to Mumford and Sons. I was listening to Magnetic Man before I competed in London every day on the way down to the range.
With 130 athletes from 21 countries competing in Szczecin this week, Skelhon will be easy to spot.
He'll be the one warming up with a smile on his face, providing comic relief with his dub-step.
"I just try and chat to everyone around me and have a bit of a laugh, not to sit there focussed, piling the pressure on," Skelhon said.
"I just try and chill out, and then get on the line and do the job."
Related Images