Small gains make huge impact for British cycling star Jaco van Gass
Former military man adapted and overcame a variety of challenges to become one of Britain's standout performers
30 Oct 2021
Imagen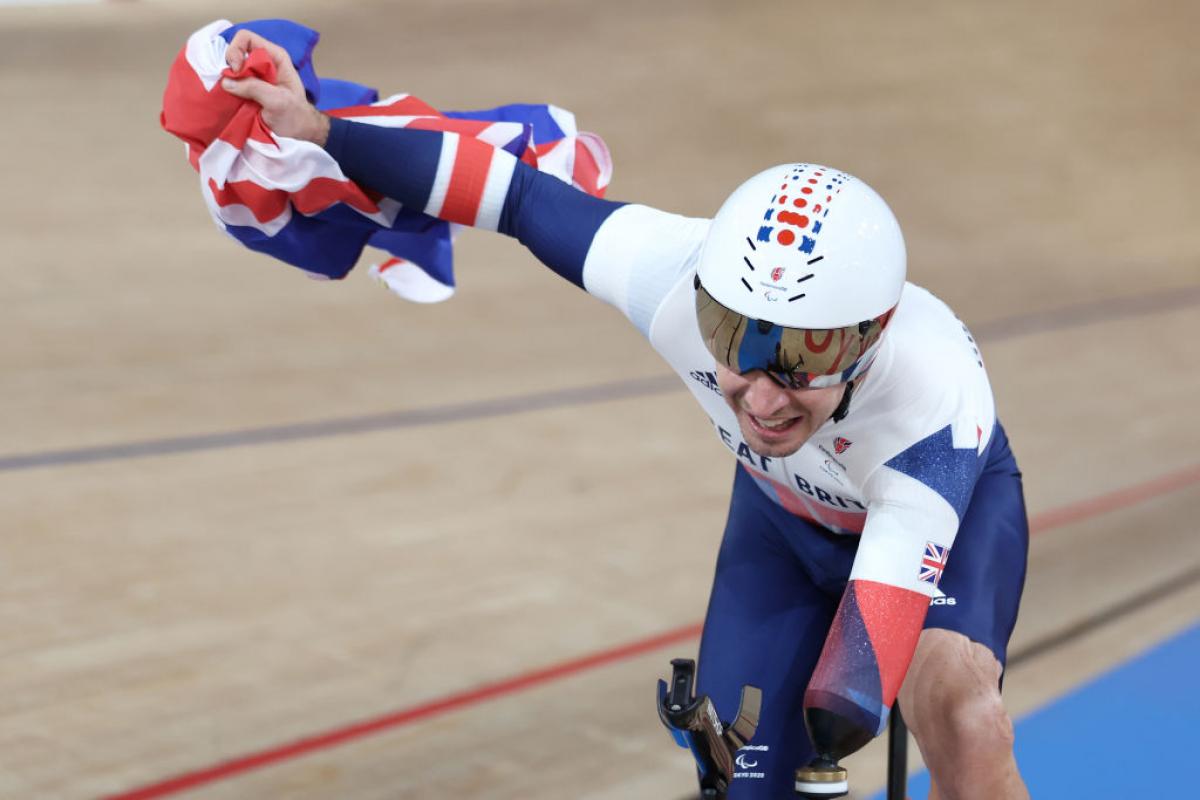 Ⓒ Kiyoshi Ota/Getty Images
By AMP Media I For The IPC
British cycling has long been known for identifying marginal gains for its athletes – small areas in which riders can improve their times. Jaco van Gass is a shining example. 
The Manchester-based cyclist, 35, originally from South Africa, used the postponement of Tokyo 2020 to find little areas where he could improve. It paid off in style when he won gold in the men's C3 3000m individual pursuit and the C1-5 750m mixed team sprint, plus bronze in the men's C1-3 1000m time trial, making him Great Britain's fifth-most-decorated athlete at the event. 
"I was in great form when the Games got postponed so I was disappointed," he said. "But eventually, after lots of calls with my coach, we decided to use the extra time to find some areas where I could really improve, like my position on the bike during the pursuit, and my prosthetics, which had become a bit outdated. In the end, it all helped."
Van Gass also drew on his military experience to help him over the line. He had served with the British Army's elite Parachute Regiment and was injured in Afghanistan in 2009 after being hit by a rocket-propelled grenade, losing his left arm above the elbow.
"My experiences helped because they teach you to deal with circumstances not going smoothly," he said. "At one point in Tokyo I was told that one of my new prosthetics had been disallowed. It might have bothered some people but I just went back to an old one and made some adjustments. It's like being on a military operation. They don't always go to plan."
Van Gass also had to acclimatise to the conditions in hot, humid Izu and Fuji, where the cycling events were staged – a world away from the chilly north of England.  
"The Izu Velodrome was amazing but it was extremely fast because of the air conditions," he said. "To suddenly be producing ridiculous speeds was a real adjustment. It gets quite technical but you need to figure out gearing systems and lap splits. I only realised on the day of racing the pursuit that I needed to revise my times down.

"But somehow it came together and all went well. I set off and got onto pace and held it. To come away with a world record and a gold medal was incredible."
GIVING IT ALL
Further improvisation was required for the mixed team sprint, however. Joined by British cycling Paralympic legend Jody Cundy, and the brilliant Kadeena Cox (who would also win two golds at the Games), they had been finding difficulty working as a unit.
"We were a fantastic team but we had our struggles going into the event," said van Gass. "We knew if it came right we would be unstoppable but it never did. It didn't come right in training and it didn't in the build-up or the qualifying rounds. 
"I really messed up and our gaps were too big. Even Jody was making mistakes. But in the final, after a lot of analysis, we somehow rectified everything and it all worked perfectly. The one time that it mattered more than anything, we produced the best ride we'd ever done."
Add in a further bronze and it ended up being a summer beyond his wildest dreams. "I'm still not sure I've put it in perspective," van Gass said. "I still pinch myself. I've been fascinated by, and dreamed of, being a Paralympian for a long time. When I look at the pictures of myself there now I think, 'that's actually me!' I'm forever grateful for the experience." 
EXPLORING NEWER REALMS
Van Gass already has enough life experiences to fill a book. Since his injury he has thrown himself into a variety of incredible challenges, including a trek to the North Pole with Prince Harry, an attempt on Everest, and a cycle down Route 66, with his activities being supported by, and raising money for, the charity Blesma (the British Limbless Ex-Servicemen's Association), among others. 
But he isn't ready to stop yet. "Doing the North Pole was such a great life experience and set me on my path," he said. "I thought, 'if I can do that, I can do a great deal more, too'. I will carry on to Paris 2024 as long as I enjoy the process. It's a big challenge to defend your titles and I'd love to see if I can do it."