Sochi 2014: Scandinavians shine in wheelchair curling
Sweden, Finland and Norway have all built up foundations for strong wheelchair curling programmes in the lead-up to Sochi 2014.
07 Mar 2013
Imagen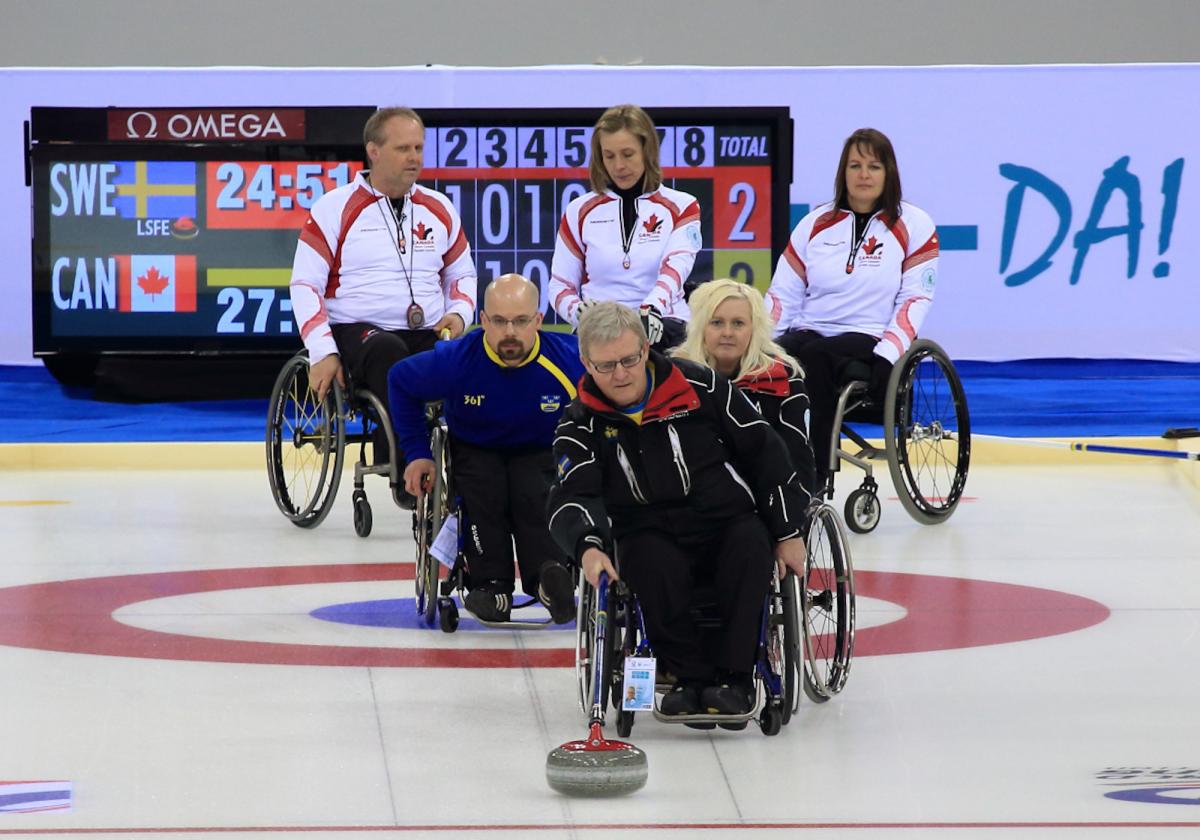 ⒸWorld Curling Federation
By Nate Williams | For the IPC
"That was our goal. The worse thing that could happen was that we have an open house and that we have nothing to do."
With just one year to go until the Sochi 2014 Paralympic Games, wheelchair curling has seen a rapid growth in the Scandinavian countries in terms of participation.
Most notably, fans have taken notice of Sweden's rise toward the top of the world rankings, as the team won the silver medal at February's World Wheelchair Curling Championships in Sochi, Russia, after losing to Canada in the final round by a score of 4-3.
Skipped by Jalle Jungnell, it was the second time Sweden won silver in the event's history, also having lost to Canada in the final round in 2009.
Sweden's second-place finish in Sochi bumped them up to No. 2 in the overall world rankings, just behind Canada and ahead of Korea.
"We gave ourselves an opportunity," Jungnell told World Curling afterwards.
"That was our goal. The worse thing that could happen was that we have an open house and that we have nothing to do. With my last stone we were so concerned about not hitting the stone directly. I could not jam it or (Canada's Jim Armstrong) would draw against it. I had to roll over, so we took a little more ice ... and ah, it was just too much."
Finland and Norway also both the Scandinavian region at the World Championships in Sochi, which in addition served as the test event for the 2014 Paralympic Winter Games.
Finland finished in eighth place at the event, with Norway coming in 10th.
Finnish head coach Lauri Ikavalko was pleased with his team's progress, however he thinks the team will finish even higher next year.
"Our goal was to be in the top eight so we could go to Sochi 2014," he said. "I was happy that we got that. We were one win away from playing in the medal games but we now have our chance again next year at the Paralympics. I think we could be top five or six next year and I will be happy with that."
Those teams who have qualified for Sochi 2014 will be announced later this spring.
In the meantime, has been a long journey for the Finnish team after they originally tried to set up a team in 2004 and then again in 2007, at which point they failed to reach the World Championships.
Ikavalko said: "We did try and start it earlier in 2004 when the Canadians came to visit and play but after that, nothing happened. We tried again in 2007 when seven players, who were outside Finland, came to teach us wheelchair curling.
"After that meeting, five players said they would like to learn more. We practiced twice a month and then we travelled to Inverness, Scotland to play our first-ever wheelchair curling game."
The first World Wheelchair Curling Championships were held in Switzerland in 2002, with the home team finishing as champions. The sport was introduced into the Paralympic Games programme in 2006.
But why now is wheelchair curling such a popular sport throughout the Scandinavian countries?
"I think we have a very good tradition of learning from each other," said Swedish curler Stefan Lund. "We have some very good teams and we are matching each other all the time."
However, Lund thinks wheelchair curling is not just growing in Scandinavia, but rather it's actually gaining a stronger appeal globally.
"I think curling is growing all over the world ever since it became an Olympic and Paralympic sport," he said.
"Of course, it is better now because we have more resources for training and practice. For the moment, curling is the fastest growing winter sport all over the world. We have had a lot of media so I think we our on the right way with this sport.
"Hopefully, it can grow even more than in the next few years and get more attention."
Related Images