Sochi 2014: Korea aim high as future Winter Games hosts
Ever since they were awarded the 2018 Games, Korea have greatly enhanced both their ice sledge hockey and wheelchair curling programmes.
07 Mar 2013
Imagen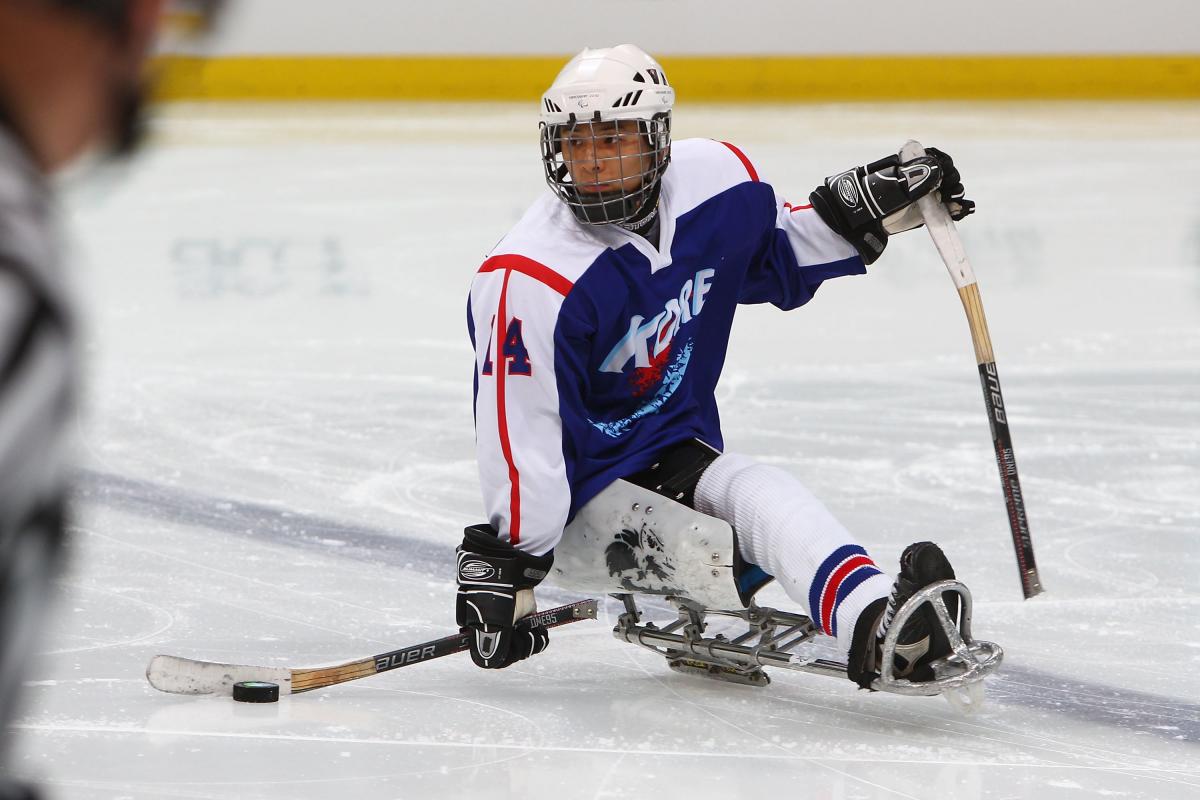 ⒸGetty Images
By IPC
"As we look to successfully to host the 2018 PyeongChang Games, Paralympic winter sports have got more attention from others, which has led the ice sledge hockey team to better results."
Since being awarded to host the PyeongChang 2018 Paralympic Winter Games on 6 July 2011, Korea have experienced a massive growth across their Paralympic winter sport programmes.
The most notable progress has come in their team sports, as Korea won surprise silvers at both the 2012 IPC Ice Sledge Hockey World Championships A-Pool and the 2012 World Wheelchair Curling Championships.
With the Sochi 2014 Paralympic Winter Games on the horizon, Korea now hope to use that as a stepping stone to long-term future success in winter sport
Ice sledge hockey
Since being awarded the 2018 Games, ice sledge hockey has slowly started to spread throughout Korea, with new club teams popping up and more and more athletes starting to take up the sport.
Korea's Jong-Kyung Lee has already noticed a major increase from the public in communities where ice sledge hockey exists as well.
"As we look to successfully to host the 2018 PyeongChang Games, Paralympic winter sports have got more attention from others, which has led the ice sledge hockey team to better results," Lee said.
Korean captain Min-Su Han said the increase in the number ice sledge hockey clubs and athletes in their country has quickly impacted the national team in a big way, making it much more competitive just to earn a spot on the squad.
That showed last April in Hamar, Norway, when the Koreans shocked their opponents by winning silver at the World Championships and showing they are medal contenders for Sochi 2014.
The team was led there by Seung-Hwan Jung, who proved one of the best in the tournament at finding the net and is now on the IPC's Ones to Watch list.
"We have many good players, but of course, Seung-Hwan Jung is the best," Han said. "His body is small, but he has firm strength, high speed, high competitive spirit, and is smart – the perfect player. He may have disadvantage when checking, but he covers it with speed."
With exactly one year to go until the Games, the Koreans are spending more and more of their time practicing together as a team on the ice, and don't want to leave Sochi next year without making it onto the podium.
We always practice with "This is the Paralympics" in mind," Han said. "Therefore, we all expect to get a medal at Sochi 2014."
Wheelchair curling
Despite finishing in a disappointing ninth place at this year's World Wheelchair Curling Championships last month in Sochi, the Koreans are still thriving from their silver-medal performance at the event in 2012 and remain No. 3 in the latest world rankings behind Canada and Sweden.
Korean team member Hak-Sun Kim said the squad intended to use these most recent World Championships as a chance to experiment with different strategies and lineups prior to the Paralympics.
Players swapped positions to see who was the best at what.
"During the process we tried to take some chances and experiment to see what worked," Kim said.
"Our team has a tendency to miscalculate the weight of the stone and push it too far. We're working on softening our touch. Also, we're trying to work on various strategies that are designed to apply to each team we face. We're trying to analyse each opponent and match our strategies to theirs."
Korea's wheelchair curling team currently trains an average of 15 to 20 hours per week, but will most likely increase that figure as the Sochi 2014 Games get closer.
Related Images