Sports community helps Japan's Para canoeist Monika Seryu regain hope
Opens up on her struggles through the pandemic and what is helping her get through
20 Jan 2021
Imagen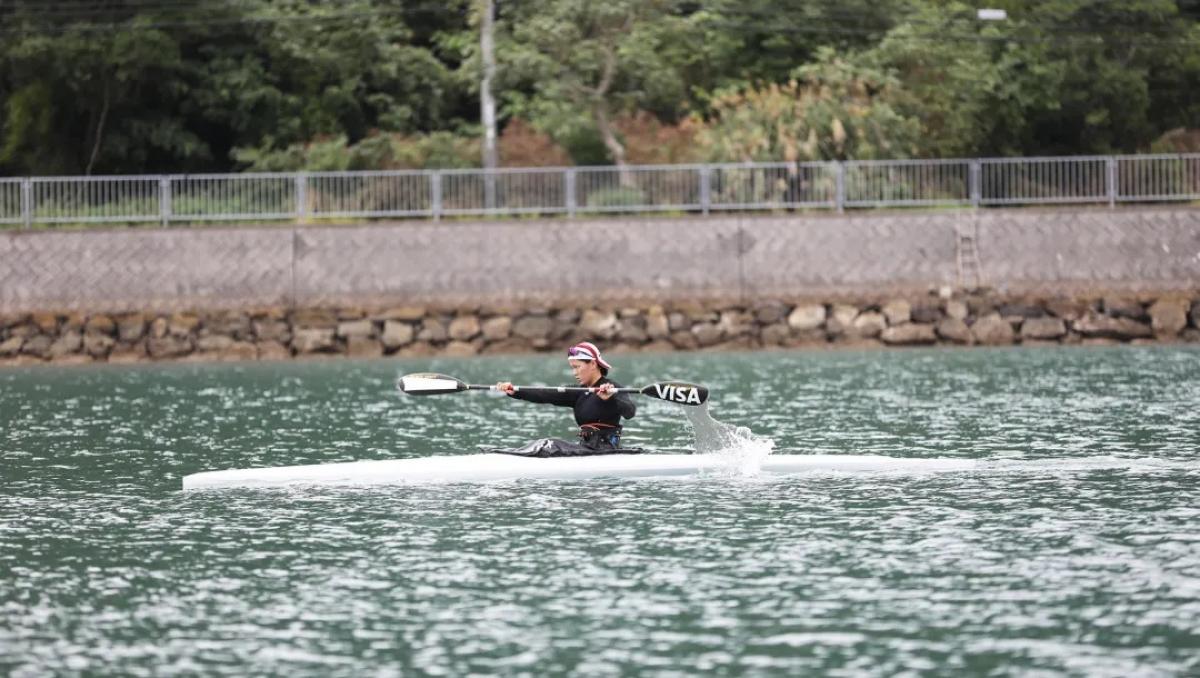 ⒸTokyo 2020
By Tokyo 2020 and IPC
Japanese Para canoeist Monika Seryu is open about her struggles with the COVID-19 pandemic and the postponement of the Tokyo 2020 Paralympic Games. But the key to keeping her spirits up has been her fellow athletes.
Through exchanges with athletes from other sports, Seryu was reminded about the importance of setting - and adjusting - her goals. It helped her resolve to push forward on her big goal - gold in the women's KL1 at Tokyo 2020.
ANXIOUS WAIT

Seryu learned of the Games' postponement while at a private training camp in Ogimi Village, Okinawa, whose population is around 3,000. The news made her anxious, especially after she barely snagged Paralympic qualification with fifth at the 2019 Para Canoe World Championships.
"At that moment, my coach and I looked at each other and said, 'What do we do?' I'm glad it was only postponed, because some athletes thought it might be cancelled. Since it wasn't, I was able to stay positive."
Although initially content with the additional time to prepare, other consequences soon surfaced. National competitions and the World Championships were cancelled. All scheduled events disappeared from her calendar. Just as people around the world suffered from the loss of social activities, the extra time created by the Games' postponement became a source of distress for Seryu.
"Little by little it started to hit me like small body blows. Tournaments were being cancelled, and I lost sight of what I was working so hard towards. Not having any competitions for this length of time was a first for me, and the focus of my training shifted to maintaining, rather than improving. Mentally, I was going through a tough time."
JOINING THE CLUB

Seryu's fellow athletes gave her hope again. Previously, athletes were limited to interactions with athletes from the same sport or affiliation. The Japan Institute of Sports Sciences (JISS) and the National Training Centre (NTC) provided a greater opportunity for athletes from various fields to connect, and through these encounters, Seryu and others also born in 1997 formed the '97 Club. Interacting with other top athletes of the same generation provided her with the support she was seeking to refocus on Tokyo 2020.
"There was plenty of time to talk online during lockdown, about things like when facilities might open again and training regimens. Sharing information was encouraging, and I realised that I wasn't alone in my struggle. I gained a lot of strength through those interactions… even though the connection from Okinawa was a bit unstable."
DAILY GOALS

Days passed as activities remained restricted, and Seryu was anxious like many others. But by setting daily goals, she was able to continue moving forward.
"What can I do today? What should I do tomorrow? By answering these questions and taking action every day, I felt fulfilled and a sense of ease. I've continued this method even after lockdown."
Originally planning to return home to Tokyo last April, she remained in Okinawa until June. The calmer setting of Okinawa helped her focus on her goals even as she monitored the situation at home in Tokyo.
"With far fewer people in Ogimi Village, there was no worry or stress about avoiding crowded, close-contact settings. It was mainly the coach and I, sometimes visited by the trainer or mechanic, and my mother on occasion when she felt like coming by. Even during practice, there isn't a need for physical contact. It was my third year in Okinawa, and I find it to be a really good environment for training with little distraction."
WATERMELON WEIGHTS

Her outdoor training went well. The most problematic issue was obtaining training equipment. With many people staying home, weight training dumbbells were in high demand and sold out online. At one point, she even used a watermelon from a farmer's market as a substitute.
"I found one that was the perfect weight, so I used that in place of a dumbbell. It lacked stability, so it required improvement. And of course we ate it after training. The lesson was, you shouldn't play with your food," she laughed.
In June, she relocated to the National Training Centre in Komatsu, Ishikawa, and took part in the Japan Para Canoe Championships last September. Although not in the best condition after suffering a costal cartilage fracture a week prior, she gained more momentum for the Tokyo 2020 Paralympic Games with a victory. She then returned to Okinawa to concentrate on her recovery.
"I'm reviewing the basics right now. The axes of the body and head positions. I'm training on an inland sea, so there's wind and waves. Last year, I focused on just withstanding those conditions, so my paddling was chaotic. But now, I can paddle steadily even with some wind. I can give a solid performance despite the conditions. I've even changed my canoe to one that is better for going straight. It's less stable, but once I've mastered it, I'll be able to improve my time."
GROWING UP NEAR THE WATER

The canoe sprint venue, Sea Forest (Uminomori) Waterway, is located in Seryu's hometown of Koto City where canoeing is popular. Utilising the rivers that run through the city, the ward founded a canoe club 10 years ago and provides many people with the opportunity to enjoy the activity.
"The venue is only a 20-minute drive from my home. I'm about the only athlete that can say that, so I have special feelings about it. Canoeing is very popular in Koto City. A middle school student won a national championship and seniors in their 80s enjoy it too. People wish me 'good luck' on the street or sometimes even from a bridge above, and I'm very grateful for that. I'd like to be a source of aspiration for those people."
Many fans are drawn to her bright personality. Her trademark 'Monika Smile' livens up her surroundings.
"I'm surrounded by very positive people, so they probably stamp out all the negativity around me. And mentally, I feel young. Even when I visit elementary schools, I have no problem fitting in. I become friends with the local kids in Okinawa quite quickly, and we race and play."
Seryu continued: "I've dedicated myself to Para canoe and have been preparing for this event since Rio. The Games provide the best stage to showcase those efforts. Although the global situation is still dire, I'd like for the Tokyo 2020 Games to be a symbol of hope and provide that much-needed light at the end of the tunnel."