Stefan Daniel: Inspired by a little brotherly love in Tokyo
The driving force behind triathlon star's quest for gold
04 Jul 2020
Imagen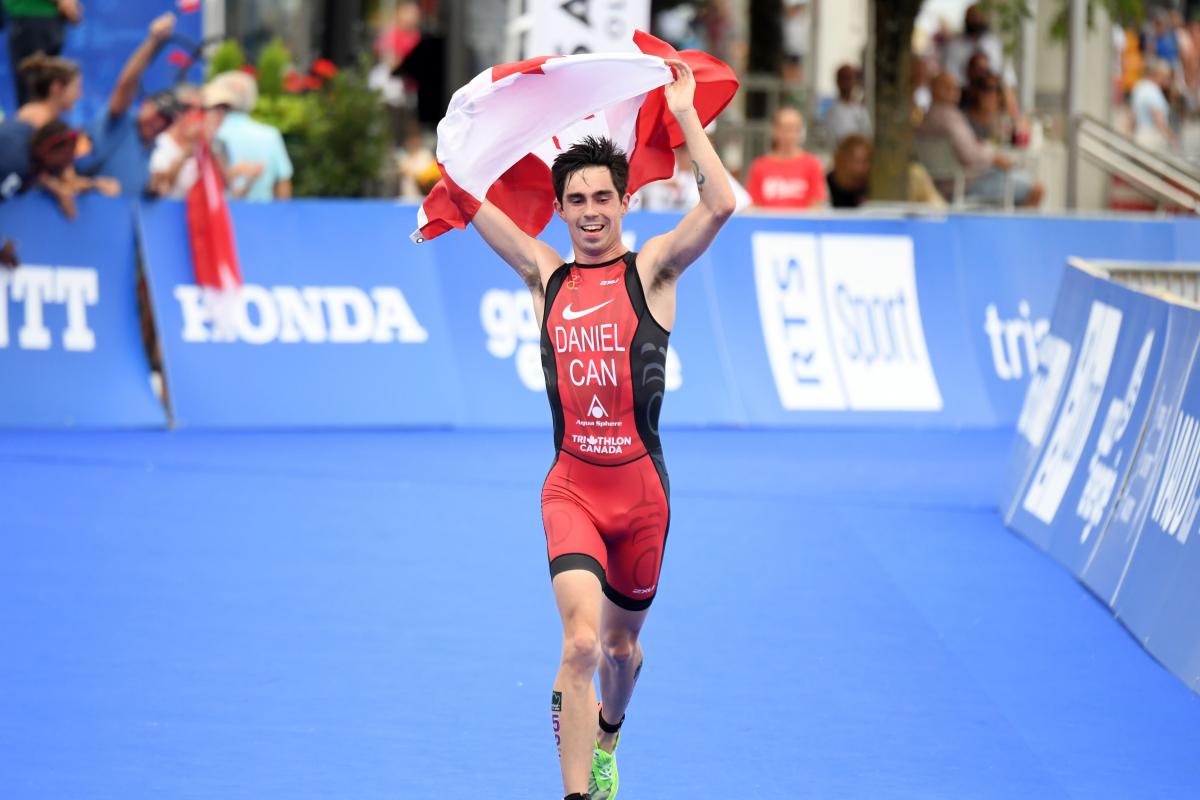 ⒸDelly Carr | ITU Media
By Teddy Katz | For the IPC
When Stefan Daniel takes to the starting line in the PTS5 triathlon final in Tokyo next year, he'll be looking to win gold for his brother Christian who has helped him achieve heights rarely seen before by a Para athlete.
"Tokyo will be one of his [Christian's] first races where he will see me compete, so I'm hoping I can put on a good performance for him."
Daniel had many good performances in 2019 when the 22-year-old went undefeated. Ever since he was a child, Daniel has never considered the fact that, missing a part of his right arm was a disability and he says, he has his brother to thank for.
Christian is four years older and has cerebral palsy. They started swimming together as kids.
"I was slower than my peers to start. He [Christian] was probably the slowest in the club but he would always be the hardest worker. He would always have a smile on his face and that really rubbed off on me. I thought 'You know if he can do that, so can I'."
Daniel has put in a lot of hard work in training and has taken the Para triathlon world by storm since he started in the sport as a teenager. He won the silver medal at the Paralympics in Rio and followed that up with three consecutive World Championship victories to make it four in his career. Daniel's success has also spilled over into able-bodied sport. His impairment makes it challenging to keep pace in the water.
Yet in 2015, he won the Canadian junior national triathlon championship competing against able-bodied athletes. "It was one of the most special moments in my life. I remember the last 100 metres. I thought I had miscounted a lap or something. I couldn't actually believe that I was about to achieve that," he says, adding, "It was such a cool moment to do that as a Para athlete and show that we're not limited."
Once again, he had Christian, who never let anybody tell him he couldn't do something, going through his mind. "I give all the credit to my brother. He doesn't see his disability as a disability and his is more severe than mine. If he didn't teach me that, I wouldn't be able to do this. There'd be times when I'd be competing in able-bodied racing where I'd think to myself, I shouldn't be here."
Daniel also competes in cross country running at the University in Calgary where he's a student athlete. Here, too, he has won national championships going head-to-head with able-bodied athletes. His experience has given Daniel a unique perspective on Para and able-bodied sport.
"I know there's always a kind of belief from the outside that Para sports is not as competitive as able-bodied sport, but I don't think that's true."
He adds, "I think there are some really special athletes on both sides and I think in a few years maybe, the Paralympics will be as popular as the Olympics."
In Tokyo, Daniel is expecting a real challenge for gold in his event. Defending Paralympic champion Martin Schulz will be in the hunt as will George Peasgood of Great Britain, Chris Hammer from the United States and Jairo Ruiz Lopez from Spain.
Finishing second in Rio has left Daniel with extra hunger for Tokyo.
"Second is probably the most motivating position to be in. There was nothing more I could do on the day. I'm super proud of that medal but I went into that race wanting to win and I think that definitely fueled the fire."
The other big motivation in Tokyo will come from seeing his brother Christian, who just missed out on making the Canadian Paralympic swim team in 2012, cheering on his every move.