Suigimura Hidetaka hopes boccia gold will spark Japan interest in the sport
Joy too for David Smith, Adam Peska and Samuel Andrejcik while Grigorios Polychronidis targets Paris 2024
01 Sep 2021
Imagen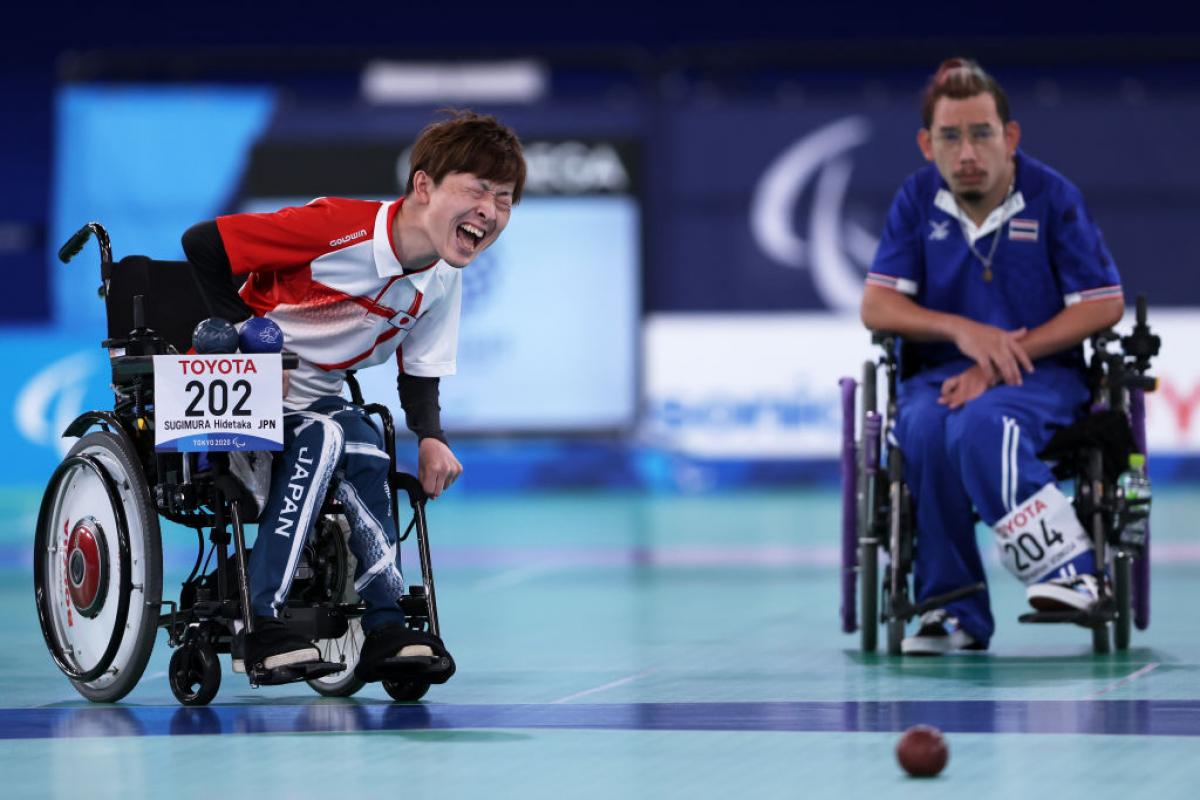 ⒸKiyoshi Ota/Getty Images
By Ruth Faulkner I For the IPC
There was delight for home fans as Japan's Suigimura Hidetaka secured his first Paralympic gold medal in the boccia individual BC2 final on Wednesday (September 1).
Throwing two in the first end and holding one point for each subsequent end Suigimura overcame Thailand's Watcharaphon Vongsa 5-0. Brazil's Maciel Santos took bronze beating Thailand's Worawut Saengampa.
Suigimura, silver medallist at Rio 2016, hopes that his feat will build awareness and interest in the sport in Japan.
"With the Games here, there are many people in Japan watching boccia on TV so I hope that people with or without disability will think that the sport of boccia is wonderful and that there are many cool and great players playing boccia. I hope that boccia will spread in Japan," Suigimura said.
 "After Rio, looking towards Tokyo, I did all that I could to prepare for this as the challenger, not as the leader. Finally all my efforts became realised with the gold medal. So I am very happy." 
Smith celebrates despite being 'rubbish'
Great Britain's David Smith won his second successive individual gold medal but admitted after beating Malaysia's Chew Wei Lun in BC1 he was not sure how.
"There was something weird going on on that court, but it was in my favour. I appreciate whoever upstairs was moving the balls for me because I was rubbish," Smith said.
Perhaps his signature Mohawk hairstyle helped, coloured with blue sides and a red centre. "I know that red is lucky in Japan, so I wanted to do something with that. I did a poll out on Instagram to see which colour they would prefer and it went kind of 50:50 so with the 50:50 I was like 'Oh I might do something with both' then I saw the RAF had the roundel with the blue on the outside and red in the middle so I thought I do something like that."
For Chew just reaching the final at his first Paralympic Games was a surprise. "It is unexpected. I never thought (about it). I came here to promote the sport in Malaysia, to let other people in Malaysia know about this sport," he said.
Meanwhile, Slovakia's Samuel Andrejcik kept up the noise in the Ariake Gymnastics Centre as he scored 4-0 in the BC4 final match, with straight points in each end to take gold ahead of Thailand's Pornchok Larpyen. 
Andrejcik, silver medallist at Rio 2016, shouted with joy as he won. "When I feel that the match is done and I'm a winner, I shout loudly. This time it was very close until the final end, final balls. So I tried to concentrate and then I shouted loudly only in the last end, when I bowled the last balls."
 Tie-break thriller settles BC3
The BC3 event saw a close competition between Czech Republic's Adam Peska and Grigorios Polychronidis of Greece with Peska winning in the tie-break. After a three pointer from Peska in the first end, Polychronidis had to fight hard to secure points in each subsequent end to force the tie-break finish.
"I know that a tie-break is always 50-50. So I felt, would I lose it or not? I feel amazing. The medal is heaven for me. I feel excellent," Peska said.
Having debuted at his home Paralympics at Athens 2004, Polychronidis has competed in each Games since, winning gold in the pairs at London 2012. But he has never been able to secure the individual title. Now he has his sights set on Paris 2024 for the elusive individual gold.
"This is my third time that I lose a final. But I know already that during the two first times the day that I lost was the day that all day I cried. But on the next I felt happy because I knew that I had done something very special. 
"This time I believe that I learnt, that I don't feel so sad and I feel great because this is my fifth Paralympic medal and this proves that with the work Katerina and I do that we are very stable on the top and we will just go to Paris to win another medal, hopefully gold," he said.
Polychronidis' assistant is his wife Katarina Patroni and they also brought four-month old baby Valentina with them for a full family affair. "I think she (Valentina) will be proud for this medal. She will come again with us to Paris, hopefully, when we go to Paris we will target to win gold.
"What I told to Greg, after the game, was 'Come on, we go to Paris, Valentina will be older so she will understand better what is happening around her, so it will be better to win gold in Paris then in Tokyo'," Patroni said.