Super Bowl creates friendly tension at home for US Para sprinter David Brown
It is said that all is fair in love and war, but what about football? Paralympic champion David Brown is set to find out
07 Feb 2021
Imagen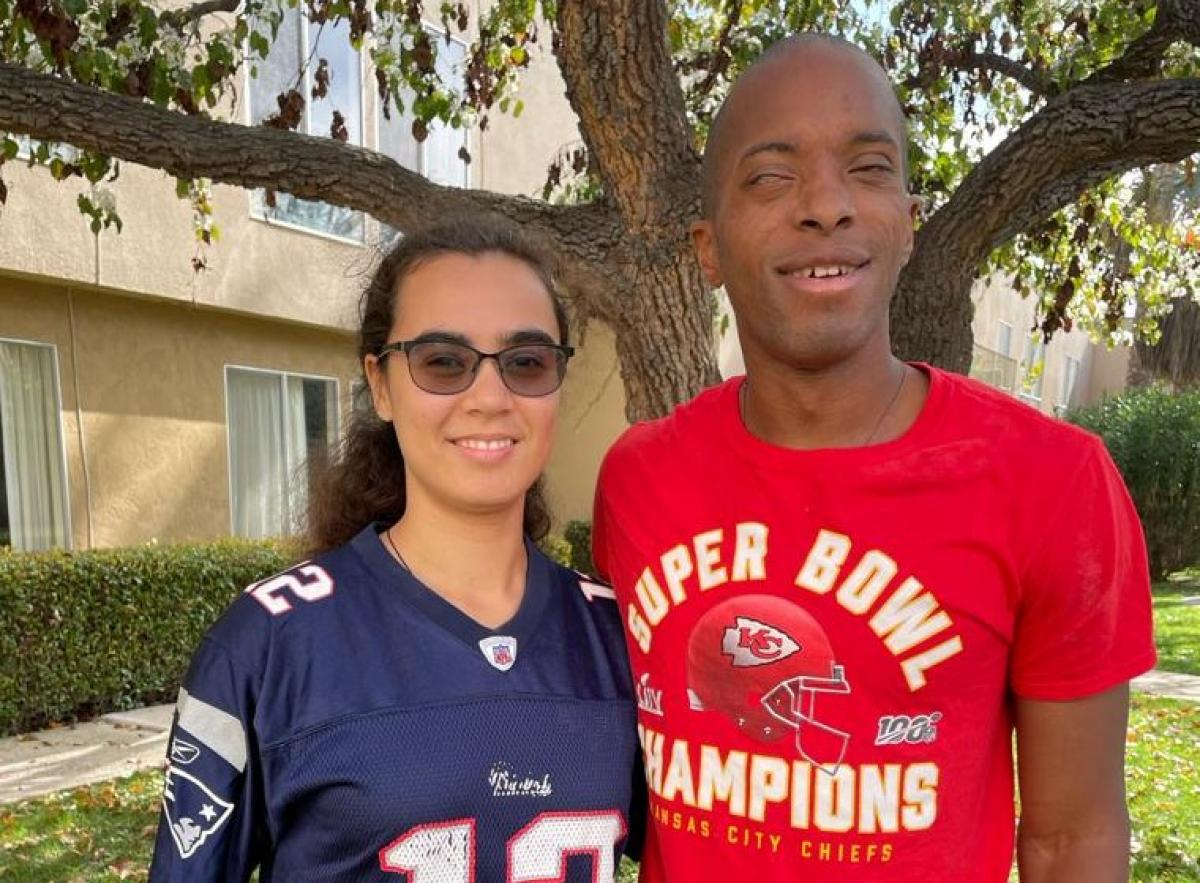 ⒸDavid Brown
By AMP Media I For The IPC
On Sunday, the men's T11 100m Paralympic champion David Brown, will sit – well, perhaps stand mostly – and cheer on his team the Kansas City Chiefs as they go for their second successive Super Bowl crown. The issue? The person next to him on the sofa, his equally beloved girlfriend, will be loudly supporting the opposition.
"The only problem is my girlfriend going for the other team, but hey, she's a Brady fan," said Brown, howling with laughter. The Brady his partner idolises is of course Tom Brady, arguably the greatest-ever quarterback and a man who will be going for a record-breaking seventh Super Bowl ring when he leads out the Chiefs' opposition, the Tampa Bay Buccaneers.
"I think she has a Brady something but I'll be decked out in more Chiefs stuff," Brown added. "I have a Chiefs shirt, my mum made me a Chiefs mask. She actually made me a Chiefs hat, knitted me a Chiefs hat."
Mrs Brown senior is undoubtedly the big figure here. A 'huge' Chiefs fan, not only will she be watching in a Kansas living room bedecked from ceiling to floor with Chiefs memorabilia, she will also be making sure her son is on-point throughout the game.
"She'll definitely be calling me and saying stuff like, 'Did you see that? We got this going on over here, we got our food'," Brown said, before breaking off into yet more giggles.
A home boy at heart, Brown will be thousands of miles away in California, his focus 'always on training'. The now 28-year-old, who ran the 100m in 10.92 seconds in 2014, the fastest time ever recorded by a totally blind athlete, has always been fast. So fast that his school friends only ever had one thought during playground football.
"Of course I couldn't catch the football but they put me at running back and they were like, 'OK, so what's the plan?' and they were like, 'Give the ball to Dave, just let him go loose'," he recalled.
"I was that guy, where they would give me the football and I would take off running and nobody could catch me."
His rise through the sprinting world has been almost as swift. Diagnosed at 15 months old with Kawasaki disease, a condition which causes swelling in the lymph nodes, Brown had completely lost his sight by his 13th birthday. Having played a lot of basketball – as well as playground football – as a young child he moved on to athletics when he enrolled in the Missouri School for the Blind.
Four years after witnessing the action at Beijing 2008 from the stands in the Bird's Nest stadium, Brown was on the track at the London 2012 Paralympic Games.
"A lot of crazy things started happening for me," Brown explained. "Two years after I started [he became a professional athlete in the spring of 2012] I broke the world record and two years after that it's a gold medal [at Rio 2016]. I don't even know what's going on."
Looking ahead to Tokyo 2020, it is all about one thing and one thing only: "Honestly I don't think any athlete will go in not thinking of gold for a medal." But before he attempts to defend his 100m Paralympic title, he will be hoping for a win closer to home.
"Score predictions?" he said, returning to the Super Bowl. "I don't know. I want it to be a good game but honestly if the Chiefs catch wind it may be a high-scoring game."