Takamasa Nagai: There's always a chance for victory
A leading medal hope for Japan, the Paralympic judoka is hoping to showcase his brand of judo to the world next year
29 Nov 2020
Imagen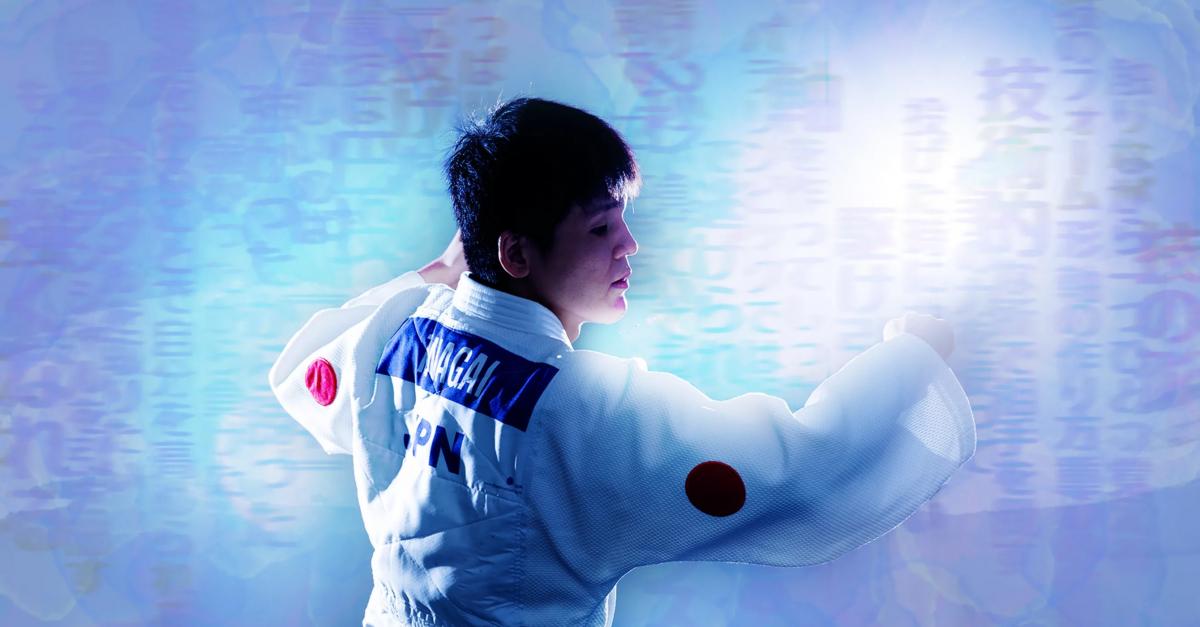 By Tokyo 2020
Takamasa Nagai, who has been informally selected for the Tokyo 2020 Paralympic Games men's judo -73kg, is one of Japan's leading young stars and a gold medal favourite. He spoke at length on his fascination for judo and how he got hooked on the sport.
Unlike the Olympic Games, judo at the Paralympic Games begins with both competitors gripping each other's sleeve and lapel, holding until they can start. If both hands lose grip of the opponent midway through the match, the referee will call a "mate" (wait) to temporarily stop the contest and return them to the gripping position.
When a competitor leaves the mat, they are returned to the centre to get back in the gripping position to resume the match.
"You start out by gripping each other so you don't compete for the 'kumite' (grappling hands). Therefore, you can go right into attempting a 'waza' (technique). There are times when you can be awarded an 'ippon gachi' (win by ippon) in just a matter of seconds," Nagai explained shyly.
"Judo is contested by athletes with a vision impairment, it's not uncommon for a competitor to go on the defensive with five seconds left in the match, but in Paralympic judo, the opponents are always holding one another so you can't escape.
"Even if you are losing, with two seconds left in the match, there's still a chance for a victory. To me, I think one of the appeals of judo is that it is possible to pull off a great upset at any time."
Feeling the movement of judo
Nagai lost his vision at the age of two, and was unable to see light. Nevertheless, since he was a young he has loved playing outside whether it was with a ball or just running around. However, since he often bumped into things and got hurt, his parents started looking for a "place where he could move his body safely and freely". So when Nagai was in the first grade, his father brought him to a dojo to try judo.
In the beginning, the practices were extremely tough and he struggled to just keep up. He didn't think it was "fun" and having not been able to see for most of his childhood, Nagai had never seen what "judo" was. He had no idea what kind of sport or form of martial arts the discipline was, or what you were supposed to do.
"I started without knowing what the forms of techniques were. It's difficult to learn by imitation, so I was taught each waza by having them done to me so I could learn them while feeling them with my hands. It took a really long time to learn them," he said.
Judo started to become more fun
Around the time he was in junior high school, he first started wanting to go to the Paralympic Games. And while he had a chance to compete at Rio 2016, Nagai ruptured his knee's anterior cruciate ligament (ACL).
He set his mind on competing at the next Paralympic Games, scheduled to be held in Tokyo, and along the way won a bronze medal at the 2018 Asian Para Games. Although he was at a level where he could to deliver good results in world tournaments, he still didn't feel a "sense of enjoyment".
However, in the past year, this has started to change.
The severity of vision impairment ranges from total blindness (B1) to low vision (B2, B3), but the matches are divided by weight rather than the degree of impairment, so athletes of all vision impairments compete alongside each other.
"Generally, there are more B1 athletes who don't completely understand their movements and have trouble establishing their position compared to athletes with low vision," he explained.
"I tried to avoid these myself and went at it feeling like I had to simply work hard and train my body as much as I could in order to cover up my weaknesses with strength and win that way. However, with this mentality, I wasn't able to win at world tournaments. So I started to think..."
Realising his limitations, Nagai went back to basics by working to develop his techniques and core. He wanted to achieve a level similar to competitors without a vision impairment, and incorporated methods unique to a B1 athlete.
With this new approach, judo started to become more fun.
"I began learning the forms and shapes of the techniques, how to find my core and centre of gravity and made them my own. If I could improve techniques, I knew I could increase their success rate. I changed my mentality to focus on defeating my opponents with [improved] techniques."
"Perhaps it's because I use the opponent's force, but I began not feeling my strength when I attempted throwing techniques, or in other words it stopped feeling like I was forcibly throwing my opponents, and the sensation I felt when I was able to throw them with this kind of timing was great. And also having strategies. This is something that I practise the most, and I think that it's really enjoyable."
The battle against the "fear" of the unknown
While this made him enjoy judo, he also faced challenges due to his impairment. One of those was the fear of not being able to see.
"For me, there are two major things that scare me. One is the fear of not truly knowing the opponent's posture, and the other is not knowing if I am in a position to be able to react properly," Nagai explained.
These fears are not easy to overcome, but the key is in the techniques which he is constantly honing.
"If I develop my centre and stand firmly, my reaction is much faster. When I became more conscious about my own posture, I started to be able to feel the opponent's movements and imagine how they would attempt a waza. Slowly, I became less afraid. At the Tokyo 2020 Games, I hope to get to a state where I'm no longer afraid."
Wanting to win gold at the home of judo
Japan's men's team started showing success from the Seoul 1988 Games where judo was officially adopted for the Paralympic Games. However, in the past three Paralympic Games, only MASAKI Kento (London 2012/men's judo -100kg), has won a gold medal.
Nagai wishes to restore this lost prestige at a home Paralympic Games.
"It will definitely be sad if Japan don't win any gold medals in judo, and there's part of me that wants to win the gold medal for everyone," he said.
"I also personally want to win the gold medal for myself. Being at home soil, it's really great to have so many people cheer me on, and it would be even better if more people become interested in judo or aim to participate in the Paralympic Games by winning a gold medal myself."
In everything he does, Nagai always wants to win and "strives to go above and beyond others". These traits are the reason he loves the sport of judo.
"A sport where you grab each other and compete one-on-one is fairly easy to understand. It's very simple, you win because you were stronger, and you lose because you were weaker. It's really refreshing. By competing in judo you can elevate yourself, and it gives you an opportunity to look back at your mistakes."
"I don't think I've reached the maximum level that I can reach in the Paralympic Games, and depending on my effort, I think I can bring out my true potential and become even stronger. If I can do that, I might be able to get closer to the level of Olympic athletes."
Nagai lists the "speed of his waza" as his strongest point and he hopes to show this style.
"Winning a match with a 'newaza' (grappling technique) and winning with 'coaching' are things that I keep in mind, but 'wanting to throw my opponent' is something that I am always conscious of the most. My signature move is the tomoe nage. It's easy to attempt a waza in Paralympic judo and there are many opportunities to pull off techniques, so the rate of earning an ippon is very high. Of course the 'ippon' is what I want to show the crowd, because 'ippon' is synonymous with judo."