Two continents, multiple ambitions: Para swimmer Rodrigues thrives on packed agenda
Eight-time Paralympic medallist, Phelipe Rodrigues of Brazil, mixes training for major international competitions with media work, studying, giving motivational speeches and sports clinics, all while commuting between South America and Europe
27 Dec 2022
Imagen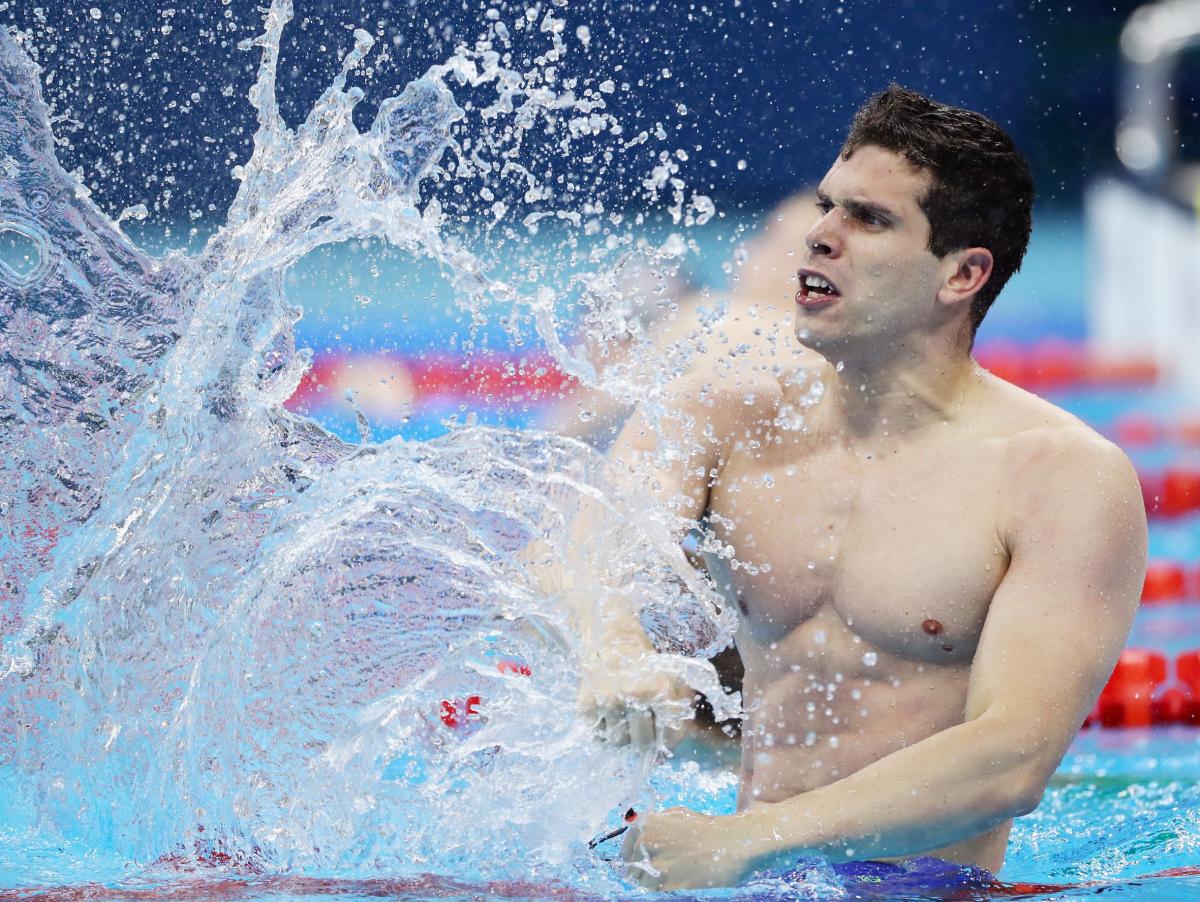 ⒸBuda Mendes/Getty Images
By Lena Smirnova | For the IPC
Are you struggling to finish everything you wanted to accomplish in 2022 before the clock strikes 12? 
In that case, some inspiration from Para swimmer and multi-tasking extraordinaire, Phelipe Rodrigues, may be just what you need. 
In addition to being one of the world's best Para swimmers, the eight-time Paralympic medallist from Brazil is a Proud Paralympian, media entrepreneur, student, and motivational speaker, and he does all this while regularly commuting between two continents.
He's making a list
Rodrigues lists his December plans with a flourish: Para national championships in Sao Paulo, followed by the "super nationals" where only the top eight from the country are entered in each race, and the able-bodied nationals in Rio de Janeiro. 
Next year – the Para Swimming World Championships in Manchester, Great Britain and the Parapan American Games in Santiago, Chile. And if he has not retired after those, the Paris 2024 Paralympic Games.
The agenda, while packed to the brim, is not unfamiliar territory to Rodrigues who has been competing internationally for more than 15 years, including at four Paralympic Games where he collected five silver and three bronze medals. 
Given that ample medal collection and a home Paralympic Games checked off the list as well, Rodrigues was intent on retiring from swimming after Tokyo 2020.
And he would have, if not for the outcome of those Games.
"I wanted a gold medal and I said to myself, if I get a gold medal in Tokyo, I would retire. And unfortunately - but fortunately - I got third place," Rodrigues said. "I'm still very happy that I got into my fourth Paralympic Games and I got a medal. Four Paralympic Games within 16 years and you are still able to get a medal among the elite of the Paralympic Games, for me, it's a big achievement. But there is still that thing that is missing now, which is to be a Paralympic champion."
That unsated hunger for gold is what led Rodrigues into his current lifestyle of multitasking between training, family, work and speaking engagements. 
While the Para swimmer has a degree in sports science, he does not want to become a coach and is eager to tackle new challenges instead. For Rodrigues, that meant delving into media-related work, such as website development, videography and photography. He is also studying to be a gaming developer.
Some of the media work involves helping his wife, Paralympic and world swimming champion Liz Johnson, with the website of a recruitment community she helped launch. 
Married for two years, Rodrigues and Johnson commute between Brazil and Wales, where she is based, as often as they can.
"We try not to stay apart for more than three weeks," Rodrigues said. "It's an 11-hour flight and we try to spend at least two weeks together when we fly to each other."
Resolutions for 2023
Once he retires from competitive swimming, Rodrigues expects to make a permanent move to Great Britain. Until then, however, his travel destinations continue to revolve around his race targets: Manchester for the World Championships, Santiago for the Parapan American Games, and Paris if he decides to go for his fifth Paralympic Games.
"I said to my coach in Tokyo, I don't want to go to Paris, but at the same time, I don't want to commit myself not to, so that's why we decided to go year by year. If I'm swimming well, why not carry on one more year?" Rodrigues said.
"I love competing. Competing is what every athlete trains for, and two or three competitions in a month is just fun, especially right now. I want to make the most of it while I still can and then see where I can go."
In order to maximise his competition experience, Rodrigues races in both Para and able-bodied events. 
Born with a right clubfoot, Rodrigues swam with able-bodied athletes until he learned he was eligible to compete in the Paralympic Games in the S10 class, reserved for swimmers with the lowest level of impairment. He continued taking part in those races even after joining the Paralympic circuit.
"Since I started Para sport, I never actually got myself out of the able-bodied competitions because I can still swim as fast as them, therefore why not? I train myself to compete against them," the freestyle specialist said.
"In Brazil right now I'm the fastest one, by quite a difference, so I have no challenge. That's why I normally take part in the able-bodied nationals as well, so I have someone else to compete with who is quicker than me."
Finding the passion
While a desire to win medals is what propels Rodrigues in the pool nowadays, he admits that sometimes even that is not enough to embrace high performance sport.
There was a period after the London 2012 Paralympic Games when the swimmer hit a slump and did not want to train anymore. 
"I wasn't really enjoying swimming at all because I put myself in a position where I needed to earn money more than I enjoyed swimming," he explained. "That was the main reason (for swimming) and if anything happened with my sponsorships, I would be directly, mentally affected and because of that, my old coach used to put a lot of pressure on me as well."
Part of the pressure that Rodrigues felt stemmed from the belief that, as the oldest child from his father's second marriage, he had the responsibility to provide for his family.
"My family, they were never very rich. We had good conditions. We never had food missing on our table but at the same time, we didn't have much luxury. Now that I get my own money, I understand what money is and I have no idea how my parents used to give me and my sister the life we had when we were younger," Rodrigues said. "The only thing I wanted was to help my parents any way I could and that put a lot of pressure on me as well."
The pressure reached its peak after London 2012, where Rodrigues won a silver medal, but fell short of what he had hoped to achieve.
He considered retiring after the Games, but after his last event there, a coach from the British team came up to the swimmer and offered him an alternative solution.
"He was like, 'Why don't you come to Manchester to train with us for three or six months and see how it goes?'" Rodrigues recalled. "I was like, 'Are you sure?' He went, 'Yeah'. 'When can I come?' He was like, 'You can come tomorrow if you want to'." 
Within three months Rodrigues had moved to Manchester. There by himself and with limited English language skills, he faced a steep learning curve training alongside British able-bodied swimmers that he eventually grew brave enough to tease and challenge.
"In Brazil I used to be quite spoiled. Everything I wanted, I had it. Whatever I needed to swim, I had it," Rodrigues said. "I think that's what made me not enjoy the sport as much because I had everything so much easier, and then when I was in the UK, I realised I was just one more person there and I was like, all right, I'm going to change."
"My coach was like, 'I'm here to give you the sessions. It's up to you if you want to swim or not'. And that made me change my mentality straight away and that's how I actually came back to enjoy (swimming), when I had a squad, some people to challenge me day by day."
 
In 2014, Rodrigues returned to training in Brazil at the request of the new national coach, Leonardo Tomasello. 
After so many years in the sport, it now has a new meaning for him and the fact that Rodrigues combines it with other endeavors makes it more enjoyable. 
"I enjoy swimming the most right now, honestly, of all the time in my career apart from Rio 2016," he said. "I'm taking swimming so much better right now, with a different mentality. I have to swim - yes, I have to commit – yes, but I also have to live my life.
"A couple of years ago, I didn't think about my life. I used to think about swimming and that's it. Everything I did was about swimming. And as you get older and you get a lot of competition, a lot of training, done you start seeing that it is important to do the training and the routine, but it's more important to have your own life. That's why I'm enjoying swimming a lot more right now."