Alex Enderle eyeing exciting return to Ostrava
From newcomer in 2019 to a mainstay of the national team, Italian hopes for a top five finish and qualification to the Winter Paralympics
02 Jun 2021
Imagen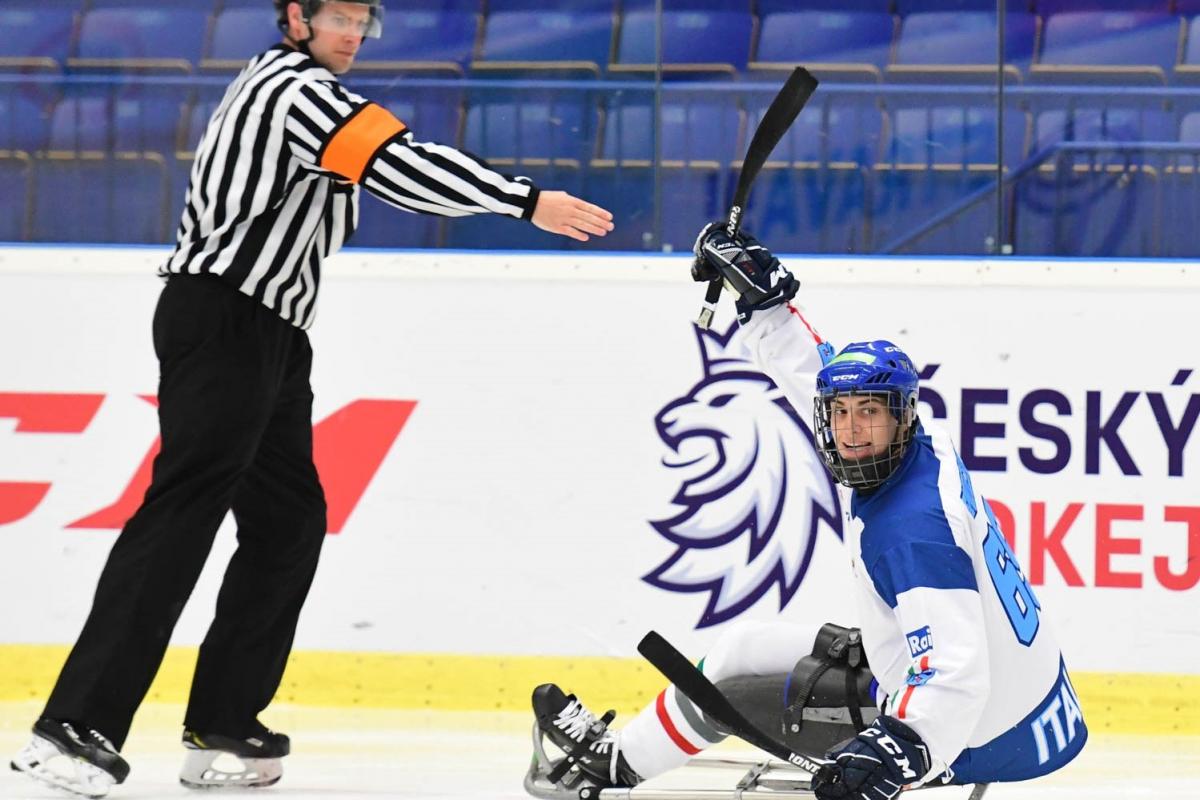 ⒸOstrava 2019 LOC
By Stuart Lieberman | For World Para Ice Hockey
Last weekend, Italy swept Germany in a three-game friendly series as a final tune-up for this month's World Para Ice Hockey Championships.
Italy has finished in either fifth or sixth place at every World Championships it has competed in, dating back to 2008, including sixth place most recently in 2019. 
Most years, there is not a major difference in finishing in fifth place versus sixth at the event. But this year, with the top five finishers earning automatic qualification spots to the Beijing 2022 Para-lympics, there is a lot more on the line.
One of the athletes to watch who is hoping to help Italy finish among the top five is former handball player Alex Enderle. He took up Para ice hockey in 2016 during his rehabilitation after having his left leg amputated when his motorcycle was hit by a car that year.
"I'm really excited about the upcoming performance of all of the A-Pool World Championship teams," Enderle said. "After all, it's been a while since we were last able to play against each oth-er."
In his World Championship debut two years ago, Enderle was one of four Italian youngsters who showcased the future of the programme. Together with Nils Larch, Christoph Deapoli and Ales-sandro Andreoni, the group combined for six goals and five assists in that tournament. 
Now, he is already considered one of the mainstays of the national team and will be playing on a defensive unit in Ostrava made up of a trio of veterans, including Andrea Macri, Gian Luca Cava-liere and Gianluigi Rosa. 
"I'm very grateful to have inspirations like Gigi [Rosa] on my own team. I try to learn as much as I can from him, and I often get very competitive when playing against him in practice. Sometimes, I think he triggers that on purpose, so I can get as good as I can."
Enderle, whose mother tongue is German and is also fluent in Italian and English, resides in Alto Adige, the northern Italy region known for its medieval castles and where most of the national team players live. In addition to training, he works as a marketing manager at a car dealership in the small town of Bolzano. 
While he does not ride motorcycles anymore, anyone who has peeked at Enderle's Instagram feed knows he is obsessed with cars. Nothing beats a good drive, he often says.
"I really love cars. It all started with my father collecting toy cars as a hobby and showing them to me," he explained. "I must have been a year and a half old, when I already knew most of the car's brands and models by name. To this day cars are still what take up most of my time and cash, not trying to complain though! My favorite cars are the Ferrari F40 and the Lancia Delta Integrale, which are both expensive and manual cars, so big no-nos for me."
During the pandemic, practice opportunities for Enderle and his national teammates depended on where they lived and which local club team they played for. Fortunately, he was able to practice regularly over the last year and without any major pauses. 
Next up, he is headed to Ostrava, Czech Republic where the World Championships will take place from 19-26 June. Italy will begin play in Group B alongside Norway, RPC and Slovakia. The team's first game will be a rematch of the fifth-place game from the last edition of the event, at which Norway squeaked out a 1-0 overtime victory.
Yet this time, the difference between fifth and sixth place, remember, has major implications.