Arizona Grand Prix a dress rehearsal for London 2017 says Martin
The T52 athlete will line-up for his first track meeting at this week's World Para Athletics Grand Prix in Arizona.
08 May 2017
Imagen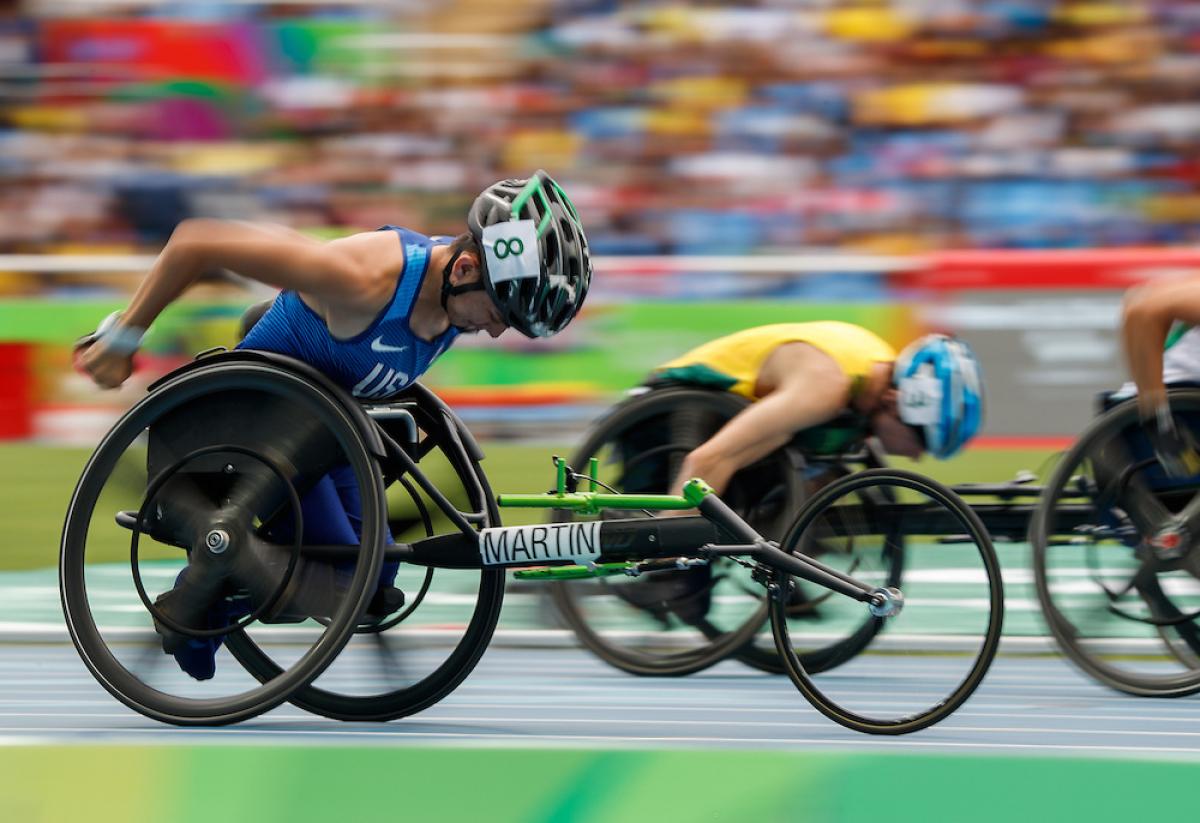 ⒸSimon Bruty for OIS
"I want to get a feel for where I am in terms of track performance."
Multiple Paralympic champion Ray Martin believes this week's World Para Athletics Grand Prix in Arizona, USA (12-13 May) will be a vital dress rehearsal for July's World Championships.
Martin, who competes in the T52 class, will line up against a world-class field in Arizona, including three of his rivals among the medals at last year's Paralympic Games in Rio.
Fellow American Gianfranco Iannotta beat Martin to the 100m T52 gold – although Martin turned the tables in the 400m with Iannotta winning bronze.
The 100m T52 bronze medallist from Rio, Mexico's Salvador Hernandez Mondragon also lines up in Arizona.
Japan's Tomoki Sato was beaten into second by Martin in the 400m and 1,500m T52 and Martin believes the 27-year-old is a real threat to his aspirations this summer.
Sato's teammate Hirokazu Ueyonabaru is also on the start list in the two-day event, which doubles as the Desert Challenge Games.
The Japanese duo finished first and second over one lap at the 2015 World Championships, a race that Martin missed – having already won two gold medals in Doha - as he returned home to the US to prepare for the New York marathon.
"I'm actually really excited about it," acknowledged Martin.
"I wish the Japanese athletes would go to other meets like Arizona and Switzerland every year, because ever since I started in 2012 I've only been able to race with them at the Games or at a World Championships where there are very high stakes.
"I race with (fellow American and Lyon 2013 medallist) Steven Toyoji all the time and we race well together and I have a great idea of his strengths and weaknesses. So the fact that (Sato and Ueyonabaru) are going to Arizona is a big deal.
"It's good to know I get a little bit more face time with them and see how the races go. It's also good to get a better feel of their race style and things like that - to get a feel for their strengths and weaknesses."
In April, Martin notched up his third consecutive victory in the London marathon; the Arizona Grand Prix will be the 23-year-old's first track meeting of the year and he's hoping his success out on the roads translates back to the track.
Martin explained: "I want to get a feel for where I am in terms of track performance. The Worlds are coming up in a couple of months and I just did my first starts on the track last Wednesday (3 May) – my first starts since Rio 2016."
The American may hold the world record in the 100m, 400m, 800m, and 1,500m T52- but he will take nothing for granted this week.
In fact, he's keen to show he is still the man to beat, although he admits that the 100m is the toughest of the three distances he will contest.
"More so that I don't particularly train for the 100m," he added.
"It's very difficult to train for marathons and for 1,500m and also get the training in for the 100m. I definitely enjoy the 1,500m significantly more than the 100m, and that's what my training centres around.
"We are looking at the 1,500m for sure. I don't know about the 100m – I think the stars aligned for that race (when he set the world record). But hopefully I can test my fitness in the 1,500m.
"It's a great motivator knowing that Sato will be there. He's really good in the 1,500m. Steven will be there too so it will be a good dress rehearsal for London."