Bassem Yahia and shooting start something new
Tunis hosts first international competition in the African region
23 Nov 2018
Imagen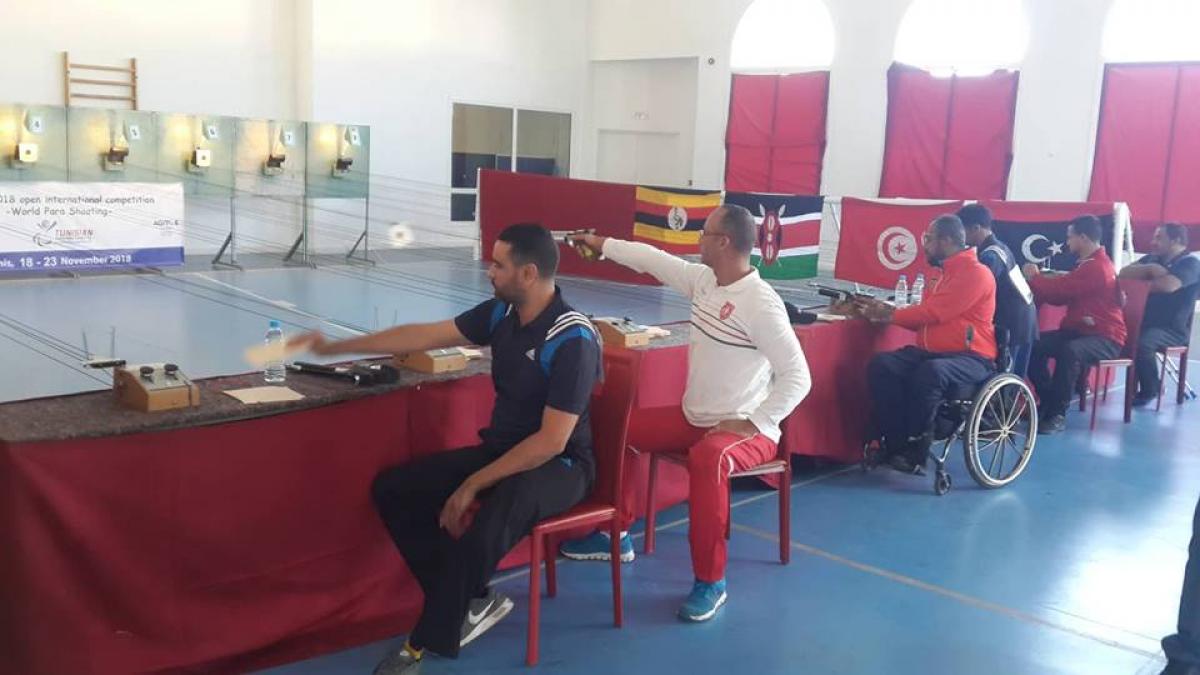 ⒸNPC Tunisia
By World Shooting Para Sport
"I dream of bearing the flag of my country at the next Paralympic Games. I also dream of bearing the white flag as symbol of humanity and peace"
This week Bassem Ben Hadj Yahia officially became an international Para athlete.
A lieutenant of the Tunisian army, he lost his leg during a terrorist act in his country five years ago.
Now he is a member of the shooting Para sport national team and made history competing at the first international competition to take place in Africa, the Tunis 2018 Shooting Para Sport Open International.
"I dream of bearing the flag of my country at the next Paralympic Games. I also dream of bearing the white flag as symbol of humanity and peace," Yahia said.
"This way, I would give a lot of hope and say that despite the difficult times we're living in, the world has not reached the end. Humanity has always succeeded in overcoming epidemics, wars and famines. Today, it will defeat terrorism," he added.
"I fought terrorism in the heart of the mountains with weapons. Today, I fight terrorism with sport."
For Yahia and for shooting Para sport, the Tunis Open International represented the start of something new.
Twenty athletes from four National Paralympic Committees (NPCs) took part in the competition which also included a coaching development course.
"We hope that this event is just the start of launching shooting Para sport in Tunisia and in Africa," said Salah Riahi, a course participant and member of NPC Tunisia.
Four countries and 20 athletes
NPC Tunisia, with the support of World Shooting Para Sport (WSPS) and the Agitos Foundation, organised a coaching development course conducted by three educators Miro Sipek, an experienced coach with WSPS; and Goran Maksimovic and Marko Sokis who are International Shooting Sport Federation (ISSF) certified educators.
Twenty-one trainees from Libya and Tunisia participated in two-part sessions. The first was a theoretical session about shooting Para sport rules, classification, and coaching techniques. The other was a practical part with four athletes of the Tunisian Club that included basic drills.
"We learned many things from this first edition, and for sure, it will be beneficial for the popularisation of shooting Para sport in Tunisia and African region," Riahi said.
"In this sense, one of the most important targets of this tournament is to ensure a visibility for this new sport. That is why we invited the media to cover the event. We also invited local associations which care about people with a physical impairment. Additionally, we invited the secretary of state for sports to assist with the final and the medal ceremony," Riahi added.
The Open International Competition followed from 19-23 November that saw 20 athletes from Kenya, Libya, Tunisia and Uganda compete in the historic event. For three of these countries, it was their first exposure to shooting Para sport.
"Over the past two weeks, we witnessed enthusiasm and passion from the African region to take up shooting Para sport. When the course participants and athletes were given the opportunity to practice the sport, they were eager to build off what they had learned," Tyler Anderson, World Shooting Para Sport Manager, said.
Following the week in Tunis, the region has more shooting Para sport athletes than ever.
"Thirteen athletes successfully underwent classification, which means after this one classification we have more athletes in Africa than ever before. This is not a one-and-done event, but rather the beginning of more to come," Anderson said.
"We plan to host more shooting Para sport competitions in Tunisia and thank NPC Tunisia, its president Mohamed Mzoughi, the Agitos Foundation, and all those that made this historic event possible."