Off the beaten track: Germany's Markus Rehm
The long jumper who holds the Paralympic, world and European titles, as well as the world record, talks about jumping off a 10m diving board for German TV show.
05 Mar 2016
Imagen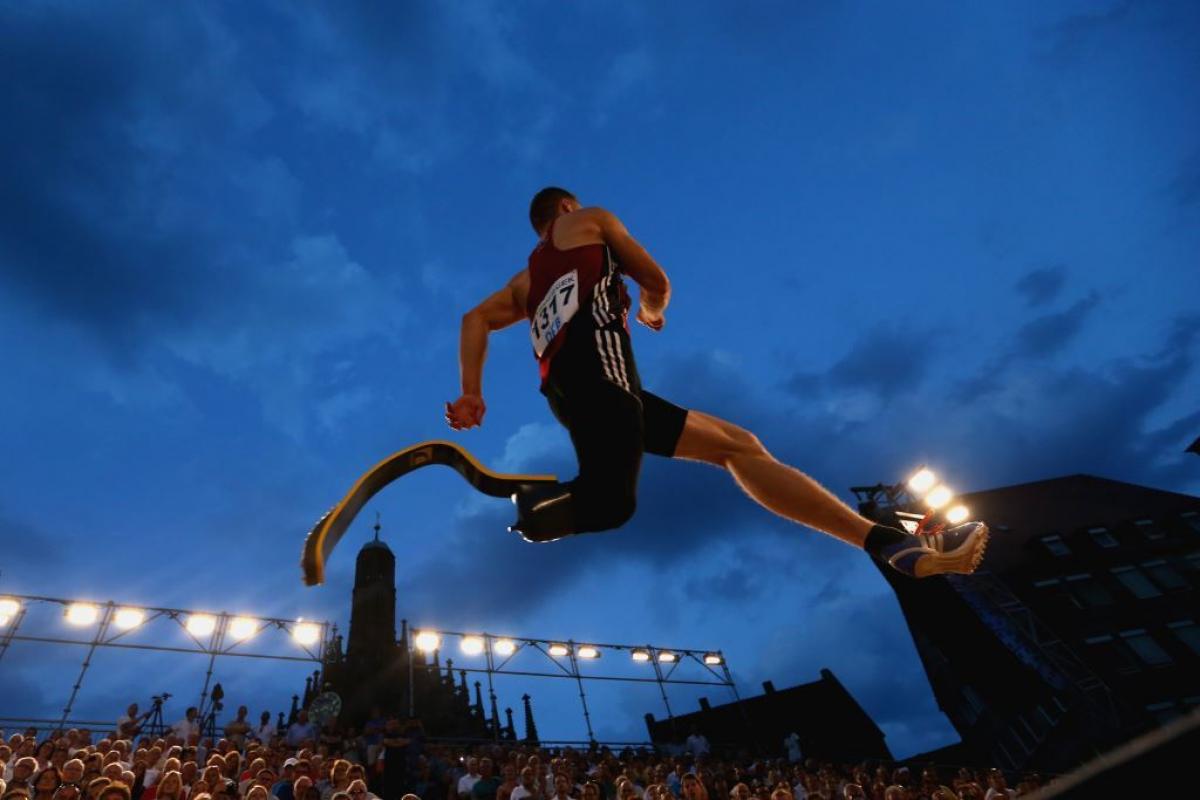 ⒸGetty Images
By IPC
"I like to do a lot of sports around athletics because it always helps. You learn how to use your body."
It's time to delve in to the lives of our 'Ones to Watch' athletes once more for the second in our 'Off the Beaten Track' series.
This month we find out what Germany's Markus Rehm likes to get up to when he's not setting world records in the long jump pit.
---
Standing on the edge, looking down at the water, Markus Rehm was in his element.
The 27-year-old was about to dive off the 10 metre board for the German television show 'TV Total Turmspringen' (TV Total Diving), a celebrity competition in single and synchronized high diving.
It was only six weeks since Rehm had won gold at the 2015 IPC Athletics World Championships in Doha, Qatar; but for Rehm, the quest for thrills never stops.
A handstand on the edge of the diving board, a spin and a synchronised dive gave Rehm and his partner, the German Olympic beach volleyball gold medallist Jonas Reckermann, first place in the competition. The win earned Rehm another trophy for his cabinet – albeit not in the discipline he's been most used to lately.
Rehm has dominated the long jump T44 in recent years, and currently holds the Paralympic, world, and European titles. He smashed his own world record when he leapt a phenomenal 8.40m in Doha last October – but the prospect of diving off the high board, and testing himself yet again, was something he couldn't resist.
"There was the possibility to take part in the show and I thought 'Yeah, this would be nice, I like stuff like that. I like water, I like jumping, and it was fun,'" admitted Rehm, who first tried out diving as a youngster when his cousin showed him some tricks.
"It was nice to find out where is the point where I am getting scared, and to see what I can do. It was interesting from that perspective too - to see if I am brave enough to go over 10 metres and jump with a flip and stuff."
And was he brave enough?
"Well I think so yes, it worked out quite well. We did a good job. I made a handstand and a front flip from 10 metres - and in synchro - and we won, so it was fun. It was something different from being on the track and I enjoyed it."
Rehm, who also took part in the televised competition in 2014 finishing third in the individual event, had trained only a handful of times with Reckermann; finding free time that suited them both was always going to prove difficult.
Still, his competitive edge prevailed – he also considered using a special foot on his prosthetic that would point his toes as is required by divers when they enter the water, although in the end he stuck with his usual waterproof prosthetic.
Of course it's was no big surprise that Rehm took to diving like the proverbial duck to water. The Leverkusen-based para-athlete has been a keen sportsman since childhood. It was an accident while wakeboarding aged 14 that led to the loss of his right leg.
Rehm readily admits that he thrives on adrenaline sports, and still wakeboards when he can; he likes to snowboard in the wintertime too. In fact, he believes taking part in such sports can only help him become a better athlete.
"The wakeboarding and snowboarding does help me because you need a lot of power to keep the line and to hold yourself; to keep balanced. You need good coordination if you do any flips or spins," he explained.
"I like to do a lot of sports around athletics because it always helps. You learn how to use your body. I'm definitely not going to run a marathon, but all the other sports I like to do and I think it helps as well."
In fact, forget the long jumping – Rehm is still as competitive as ever when it comes to wakeboarding.
"My little cousin is doing wakeboarding as well," explained Rehm.
"This summer he challenged me quite a lot because he is really good. He showed me some of his tricks and I am the older one, I was always better, so I thought I have to prove that I am still good! So I had to try out some new tricks to show him that I am not getting old, and that I've still got it," he laughed.
The world number one is also well aware of any risks involved – but he is determined to continue to enjoy doing what he loves.
"I still do it, you have to live your life as well a bit. I think I know where the limits are," he added.
"It just keeps my mind free because that's what I like to do apart from athletics, which I love to do as well. But it's just something different. You can go wakeboarding with a friend, have a drink after or a barbecue or whatever – it is good for the mind and to calm down a bit after a busy week."
Sport fans from around the world can now buy their Paralympic tickets for Rio 2016 from authorised ticket resellers (ATRs).
The IPC's Global ATR is Jet Set Sports, and Rio 2016 tickets and packages can be purchased on the CoSport website.
Residents of Brazil can buy 2016 Paralympics tickets directly from the Rio 2016 website.
Related Images