Off the beaten track: The USA's David Brown
The T11 world champion tells us about his life away from athletics and his love of music.
06 Feb 2016
Imagen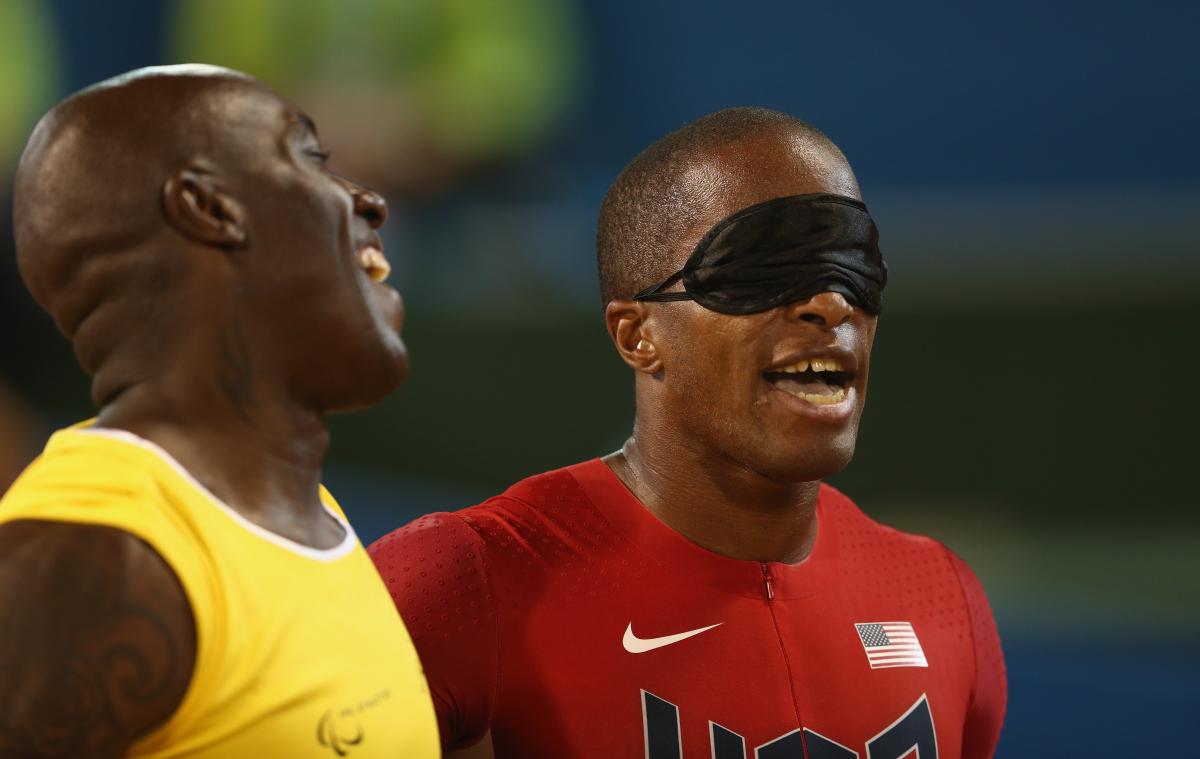 ⒸGetty Images
There is no doubt they are talented on the track, but what else do world class para-athletes get up to when they are not training or competing? In our new monthly series, 'Off the Beaten Track', we find out. First up is the USA's 100m T11 world champion, David Brown.
For sprinter Brown, it all began when he was just 5-years-old.
But his passion wasn't just running around the school playground and racing against his friends - it was music too. As a youngster growing up in Kansas City, Brown learnt to play the piano, inspired and encouraged by his Grandma.
"My Grandma got me into playing the piano, my family is not really a musical family, but growing up around my Grandma, watching her play the piano - and she was a great singer as well - I really looked up to her," explained Brown, who was diagnosed with Kawasaki disease when he was 15 months old, which caused glaucoma and led to the loss of his sight.
Then, when Brown was nine years old, his Grandma passed away; it was a loss that hit him hard.
"After that I pretty much stopped trying to play," he said.
"In that period of time between aged six and nine my playing was on and off, because she was sick, and then she died…I was taking lessons, but that wasn't really consistent either."
But by the time Brown reached his teens he was playing the piano regularly again, as well as learning the clarinet and trombone. That first taste for music quickly developed until before long his repertoire included piano, saxophone, bass guitar and drums.
Brown's enthusiasm continued in high school – he attended Missouri School for the Blind - playing in the school jazz band and learning to write his own music.
"I started getting a little more serious when I was 16 or 17-years-old. We played different genres of music - it always varied. But one thing I got heavily involved in was the jazz band when I started playing the sax.
"Me and a couple of friends started playing some jazz and blues and some up tempo hip-hop sounds. One time we played Michael Jackson's 'Beat It'. We jammed out on it, it was awesome!
"I did a lot of covers of jazz songs and some combinations - playing a song on the piano, recording it, then playing my saxophone over it. School would bring in people to come watch us play – even the local newspapers."
Brown was given the chance to read braille music but preferred to teach himself.
"A lot of the things I did I played by ear. I just heard the melody then played it. They tried to teach me how to read braille music and I'm like 'Just tell me what the notes are and I'll memorise them!' so that's pretty much how I did a lot of my music – just tell me, or let me hear it, and then I got it."
Four years ago Brown moved to the US Olympic Training Centre in Chula Vista, California. But despite training full time as an athlete, he still finds time to play the keyboard and record new tracks.
"I've been making music throughout the years and am still doing it to this day, I just love it," said Brown, who won 100m gold at the 2015 IPC Athletics World Championships.
"Now I'm able to make beats on my keyboard and my computer. I usually like to listen to it for a couple of days, analyse it and see if there is anything that needs to be added or taken away. I might publish a beat one day, and then won't publish another one until three weeks or so. I'll just sit back for a while and wait for inspiration to hit again."
There's no doubt Brown, who holds the world record in the 100m and 200m T11, is a talented athlete, and passionate about his sporting career. But did he ever consider music as a profession?
"If I had continued with the piano when I was young I feel I could have had a career in music, just because of my work ethic and how I am," he admitted.
"I feel like 'Yeah I could actually do something in this,' but you know, God has different plans and I'm here running track. I love music in general, it's always been something I've been interested in. There's a lot of friends and family members that have heard my music, whether it be on Facebook, YouTube or Twitter. They can feel my emotions when I make my beats, it's like another way to express myself."
As for releasing his own album, watch this space.
"Right now I don't have the door shut on that idea. I just love doing the music and I'm just putting it out there. If the opportunity comes for me to put it on a CD or make an album I'd love to do it. But right now it's just for the love of it, it's a hobby."
Good news for all Brown's track and field fans, but for his rivals – maybe not music to their ears.
---
You can listen to some of Brown's tracks here:
Sport fans from around the world can now buy their Paralympic tickets for Rio 2016 from authorised ticket resellers (ATRs).
The IPC's Global ATR is Jet Set Sports, and Rio 2016 tickets and packages can be purchased on the CoSport website.
Residents of Brazil can buy 2016 Paralympics tickets directly from the Rio 2016 website.