Berlin 2019: Rosters released for Para Ice Hockey Worlds B-Pool
Six teams hope to have winning combination for A-Pool promotion
01 Nov 2019
Imagen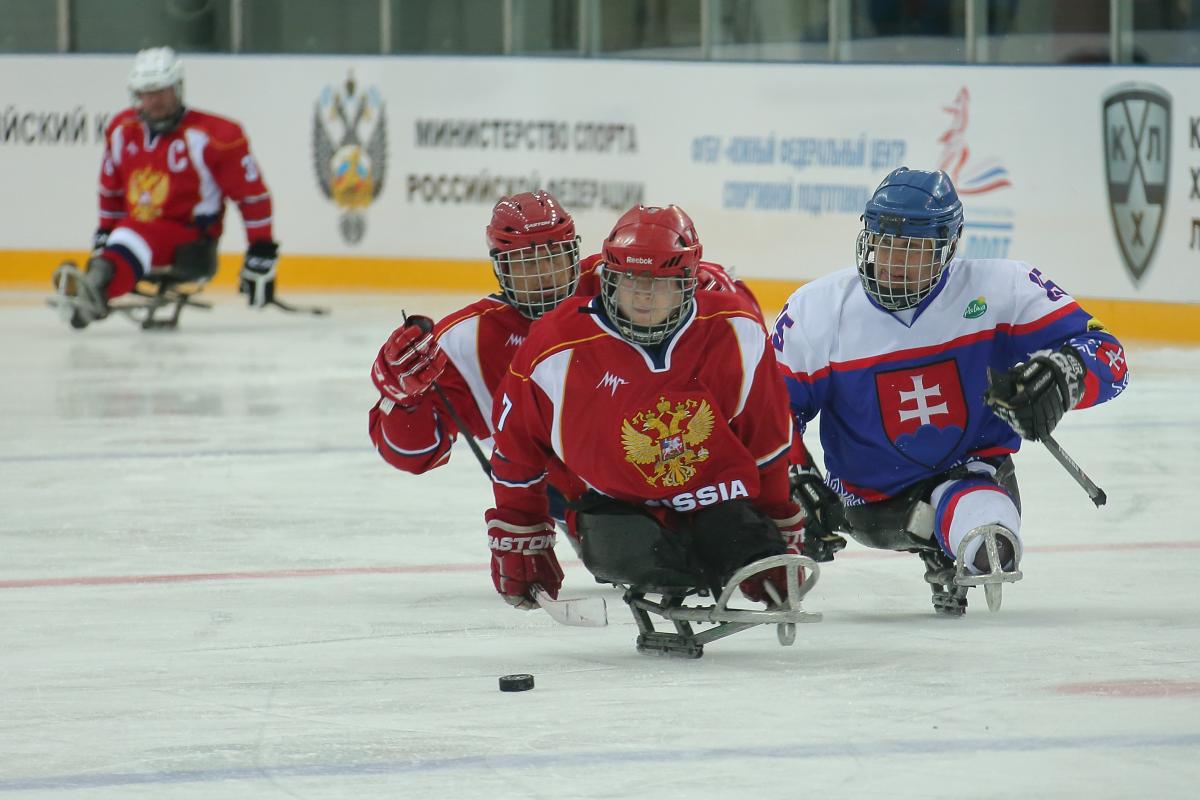 ⒸKHL
By World Para Ice Hockey
Team rosters have been revealed, as each of the six teams hope to have put together a winning combination for the 2019 World Para Ice Hockey Championships B-Pool set from 17-22 November in Berlin, Germany.  
The Worlds B-Pool will decide which two teams will move up to the 2021 World Championships A-Pool, and one team that gets relegated to the 2020 Worlds C-Pool,
Tournament favourites China return most of their players from the squad that went undefeated at the 2018 Worlds C-Pool, which took place in Vierumaki, Finland.  
Forward Che Hang scored a pair of goals in the last match against Finland and is expected to lead the offence on the 17-person roster.
Host Germany will introduce three new talents, including Finn Bentzen. The youngster attended the 2015 World Para Ice Hockey youth development camp in Langenhagen, where he started as beginner and will debut on the national team.
Poland will try to make the most of their nine-player team. It will be their first major World Para Ice Hockey competition since the 2015 Worlds B-Pool in Ostersund, Sweden.
Great Britain will field a team for their first major competition since the 2016 Worlds C-Pool in Tomakomai, Japan. 
While Russia's roster may seem new, it will not for Slovakia. The two nations faced off earlier this year in June at the Continental Cup, with Russia trouncing on Slovakia. 
More information on the Berlin 2019 Worlds B-Pool is available on the event website.
Berlin 2019 Worlds B-Pool rosters
China
BAI Xue Song, CHE Hang, CUI Yu Tao, GUO Xi Zhu, HU Guang Jian, JI Yan Zhao, LI Zhen Yang, QIU Dian Peng, SHEN Yi Feng, SONG Xiao Dong, TIAN Jin Tao, WANG Ju Jiang, WANG Wei, WANG Zhi Dong, XU Jin Qiang, ZHANG Zheng. ZHU Zhan Fu 
Coach: Nikolay Sharshukov
Germany
BENTZEN Finn, BRZOSKA Klaus, DISVELD Bas, HERING Bernhard, JASTER Christian, KRUEGER Nils, KUHLI-LAUENSTEIN Ingo, KUNST Simon, MUEHLHANS Veit, PABST Robert, PILZ Christian, RAEDLER Hugo, SCHRADER Felix, SKLORZ Lucas, WEDDE Joerg, WOLFF Jacob
Coach: Andreas Pokorny
Great Britain
BOOTH Anthony, CHRISTOPHER Tyler, CLARKSON Matt Sheffield, COLQUITT Mark, HACKWORTH Bryan, LAHAN Dean, LE GALLOUDEC Jonathon, NICHOLSON Karl, QUINN Martin, TRIGG-TURNER Scott, WOOLLIAS Matt
Coach: Ian Offers
Poland
CIULA Lukasz, DRAPALA Radoslaw, FLIS Sylwester, HEBDA Marcin, KARTOSZ Sebastian, MLYNARCZYK Andrzej, MURAWSKI Mateusz, SEKULSKI Krzysztof, ZIELINSKI Mariusz
Coach: Tomasz Wozny
Slovakia
FERENCIK Slavomir, FOJTIK Erik, JOPPA Martin, KARDOS Miroslav, KASCAK Peter, KORMAN David, LEPACEK Eduard, LIGDA Marian, PASTUCHA Miroslav, STASAK Miroslav, STIT Peter, TURIC Robert, VECEREK Milos
Coach: Radoslav Bielecka
Russia
EREMIN Aleksei, GALKIN Dmitrii, KAMANTSEV Vladimir, KHAMZIN Airat, KUZMINYKH Maksim, KUZNETSOV Ivan, LISOV Dmitrii, MALETSKIY Igor, MIACHIN Mikhail, PETROV Evgenii, PLOTNIKOV Evgenii, SEVERIN Roman, SHIKHOV Konstantin, SOKOLOV Andrey, TERENTEV Nikolai, VARLAKOV Vasilii, VOLKOV Ilia
Coach: Ruslan Batyrshin