Russia triumphant at Continental Cup
Ice hockey team shows intent for international return
05 Jun 2019
Imagen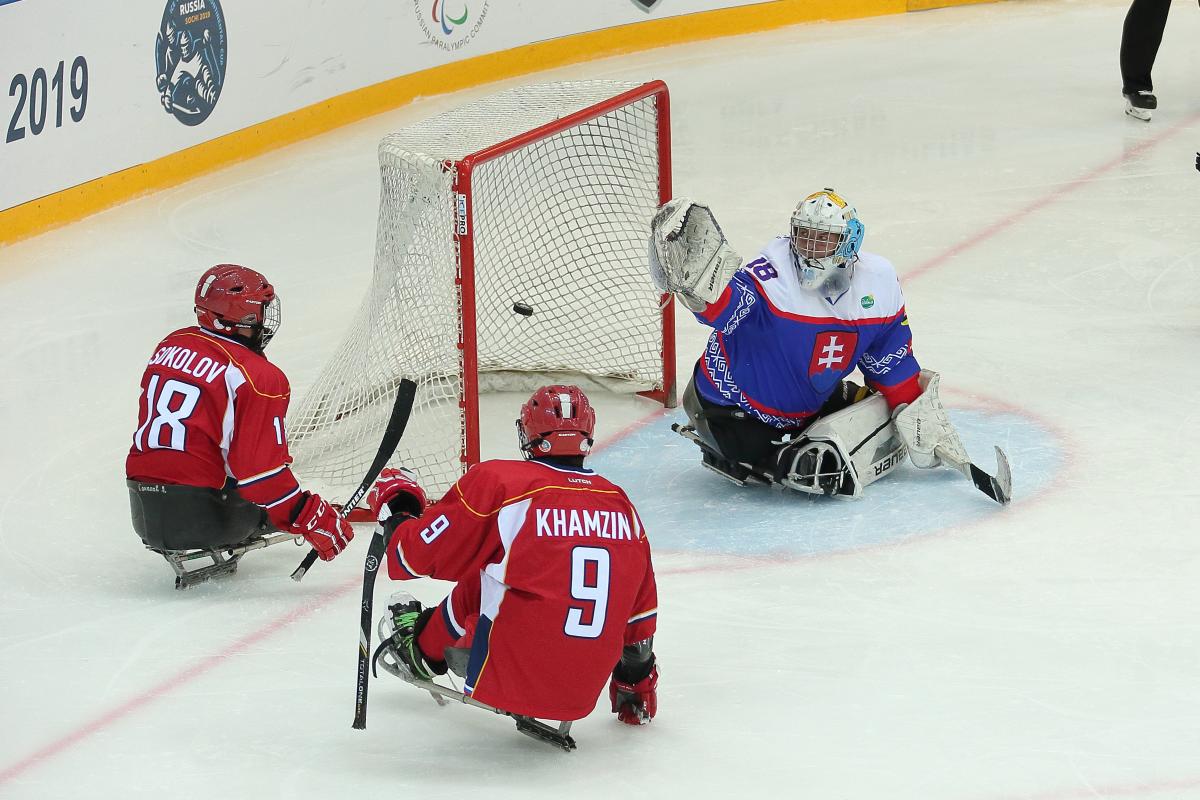 ⒸKHL
By KHL and World Para Ice Hockey
"We have our tasks, we need to prepare, to get our lines working, to find that chemistry"
Russia celebrated emphatically on home ice after the conclusion of the Continental Cup on Tuesday in Sochi.
The four-team tournament saw Russia's 'A' team celebrate first place with another victory to complete their three games without allowing a single goal. Their 'B' team, comprised of reserves for the national team, secured second place with an 8-1 victory over Germany earlier on Tuesday.
For Russia, the results were telling of their intent to return to the big stage after years out of international competition.
Russia 'A' pounce on Slovakia
Russia 'A' netted 17 unanswered goals against Slovakia to win the tournament in front of a supportive crowd.
Russia's first team came into their final match with the title already assured and took on a Slovak team with just one point from their shoot-out loss against Germany.
In the third period, Russia was rampant, scoring almost at will to finish off Slovakia.
"Yes, today went really well," said Russia's Ilya Volkov. "We couldn't really feel sorry for them, though. We have our tasks, we need to prepare, to get our lines working, to find that chemistry. We'll need all of that later, when we have tougher games.
"In short, we tried to do what the coaches asked. There was no requirement to score so many goals, but there was a need to get used to playing together. I hope we achieved that."
Russia 'B' tops Germany for second place
Tuesday's first game saw Russia 'B' take on Germany, with the winner destined to take second place in the tournament. The Russians had a slight advantage entering the game – they had beaten Slovakia in regulation, while the Germans needed a shoot-out.
A few small changes to the line-up brought Sergei Makarov into the first line and Dmitry Kozlovsky back in goal. From the opening exchanges, Russia took the game to Germany to escape with an 8-1 win.
The third goal particularly caught the eye: a great combination between two 19-year-olds, Mikhail Voronchikhin and Vladimir Rychkov. The latter, who recently celebrated his 19th birthday, proved they are rising talents.
"This tournament was at a really high level and I especially enjoyed playing against Russia's first team," Rychkov said.
"Those are experienced players and going up against them taught me a lot even if we lost the game. I've never had a game on my birthday before and then to score in a tournament like this was even more special. Hearing those congratulations in the arena was something I could never have imagined. Thanks to the organisers and the team, it's been really emotional."
Dmitry Lisov (Russia 'A') was nominated best forward, Alexei Lysov (Russia 'B') won the best defenseman prize and Germany's Simon Kunst was chosen as best goalie.