Bowden: Our USA clash won't be the same story as Sochi
USA goaltender Steve Cash also predicts a 'good tilt' at the 2015 IPC Ice Sledge Hockey A-Pool Worlds in April.
06 Dec 2014
Imagen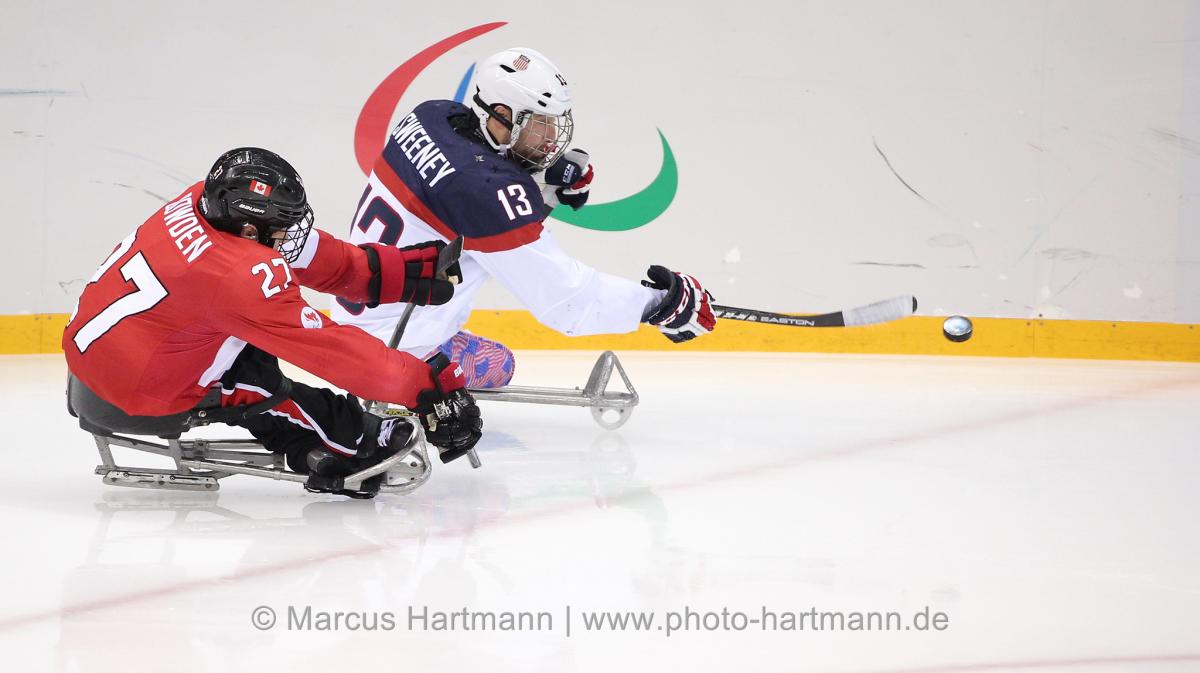 Ⓒwww.photo-hartmann.de
By Kim McGreal | For the IPC
"We just know that no matter what happens it will be a good tilt."
Canada's Brad Bowden and the USA's Steve Cash have spoken of their mutual belief that their team's clash at the 2015 IPC Ice Sledge Hockey World Championships A-Pool in Buffalo, USA, could be the best yet.
"A few [of the USA] guys have retired so I have no idea what their team dynamic is going to be like," said Bowden. "But whatever it is, I have so much faith in our Canadian programme that I think next time we meet it won't be the same story as Sochi."
The two sides last met at the Sochi 2014 Paralympic Winter Games, with the USA beating Canada 3-0 in the semi-finals. The USA went on to win gold against Russia with Canada winning bronze.
Meanwhile Canada are the reigning world champions heading into Buffalo 2015, which runs from 24 April-2 May at the HARBORCENTER, New York.
Bowden's recollections, certainly of Sochi, are clearly not the best memories for him. "When we faced them [USA] in the semi-finals in Sochi things were different for us. I feel as if that whole tournament was a little bit different for our whole first line, but I don't think we did anything really different except miss capitalising on our chances."
Despite their win, Cash also remembers how intense the competition was. "The environment on the ice was pretty tense throughout the game and both teams seemed hesitant to make a mistake, so it was pretty unique to say the least.
He thinks that when they meet Canada in Buffalo, everyone can expect another legendary face-off. "Playing them [Canada] could lend numerous results and that's why we play the games in the first place. We just know that no matter what happens it will be a good tilt.
"I think every game has a different feel to it," he added, "However going up against the Canadians always seems like a game that calls for a little more preparation than usual."
There will be a lot of changes to both teams this time around, most notably due to the retirement of USA regulars Andy Yohe and Taylor Lipsett, and Canada's Graeme Murray, who was the only goal scorer in a nail-biting gold medal game in the 2013 World Championships in Goyang, South Korea.
While the rosters may be changing, one familiar face for Bowden will be between the pipes at the other end of the ice. He and Cash have faced each other numerous times over the years, and Bowden is under no misconceptions about his opponent's skill level.
"Steve is one of those goalies who you can tell has studied many of the shooters he faces, so he makes it really hard for us goal scorers to do our job. His glove is lightning quick and the holes he shows are deceptive, so he is definitely one that is quite tricky."
In turn, Cash know exactly how good Bowden is and appreciates the extra work he has to put in against him. "Brad is a great player and I'm lucky to have been playing against an athlete of his calibre for so many years as it only forces me to get better," he said. "He adds a whole new element to the game and as a goalie I have to be on my toes at all times."
There is no doubt that when the two teams meet again in April the games will be as intense and as exciting as ever. Although USA will have the home advantage, there will be no shortage of Canadian support at the rink and the ongoing rivalry will be as strong as ever.
And Bowden cannot wait for it to start. "I am more excited and more passionate about hockey now more than ever," he said. "I think I speak for our whole team when I say I can't wait to keep pushing this sport forward, and to meet the United States again in the near future."
The 2015 IPC Ice Sledge Hockey World Championships A-Pool will feature Paralympic champions the USA, Russia and defending world champions Canada. Norway, Italy, Germany and Japan will also line-up.