Brent Lakatos hopes Toronto 2015 can have huge impact
The Canadian world champion wheelchair sprinter believes the upcoming Parapan American Games can deliver a "London 2012 legacy" for his home country.
04 Aug 2015
Imagen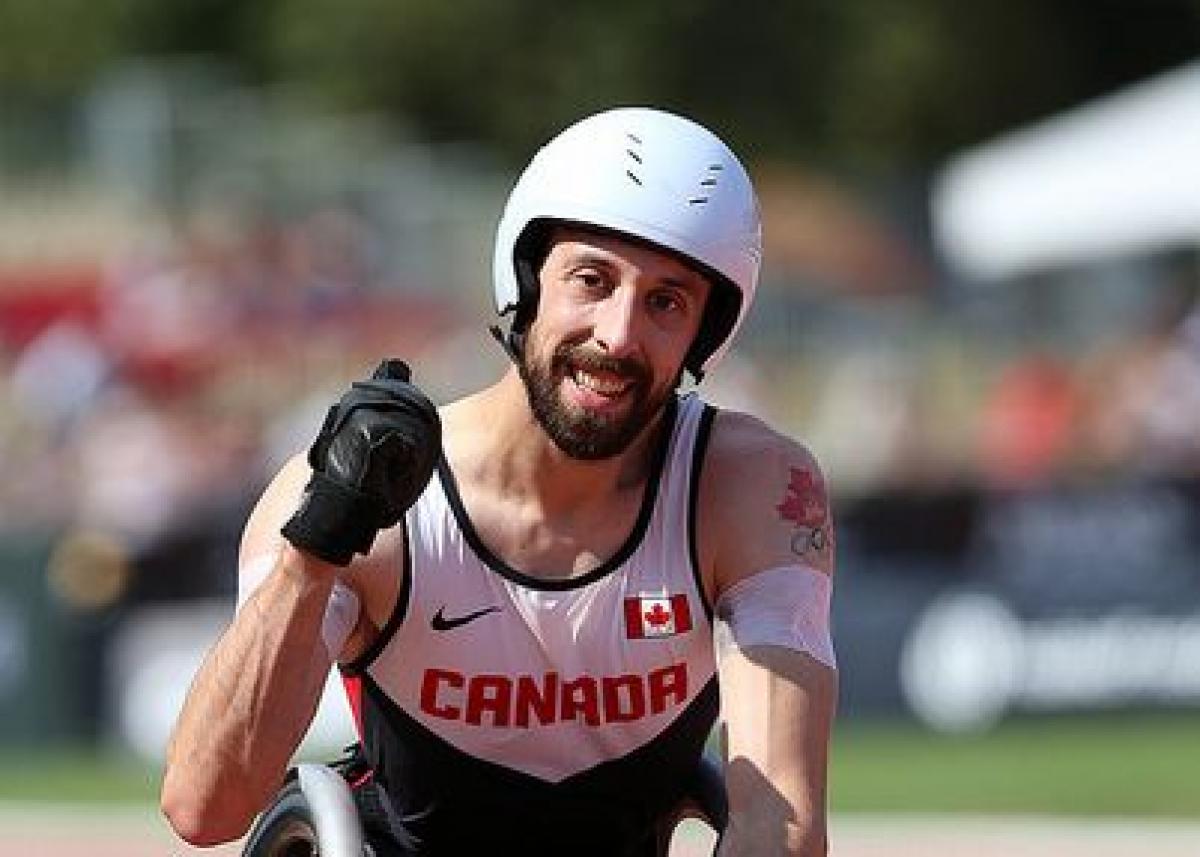 ⒸLyon 2013
By IPC
For Canada's four-time world gold medallist Brent Lakatos, this week's Parapan American Games in Toronto will present the opportunity of a lifetime.
One of the world's most respected para-athletes for over a decade, Lakatos has yet to experience a major para-athletics competition on home turf. Until now, that is.
In fact for the Quebec-born wheelchair racer, the Parapan Am Games – which take place from 7–15 August - are the highlight of his year. And in a year that also sees the World Championships in Doha, Qatar, that is saying something.
"I know I'm more excited about [the Parapan Games] than the World Championships – I'm much more excited to go and compete in Toronto in a Canadian stadium," admitted Lakatos who in 2013 won world titles over 100m, 200m and 400m.
"My family and friends are going to be there, my extended family, my cousins and my aunts and uncles, as well as lot of people I've known just from competing in Canada at local meets.
"It's not a warm up for Doha – I'm treating this as a World Championships during the summer: the Parapan Games are their own thing, it's going to be amazing."
Of course it is not just about personal ambitions and patriotic pride. Lakatos also sees a bigger picture; an opportunity for Canada to embrace para-athletics even more.
In July, the 35-year-old raced in Great Britain at the IPC Athletics Grand Prix Final in London's former Olympic Stadium, winning the 100m T53 in front of a 20,000 strong crowd.
Lakatos has had first-hand experience in London of just what a major para-athletics meeting can do for a city, and for a nation. He is hoping that the same rings true for his own country.
"I'm really excited about the opportunity for Canada," he explained. "You look at the London legacy and the Anniversary Games - they wouldn't be there if it wasn't for the Paralympics, and the focus on para-athletes that Great Britain now has.
"I hope that Canadian athletes do well, and the fans really get in to it, and Canada gets behind their para-athletes. Then we will have a generation from Canada with young kids excited about it.
"Canada doesn't host so many international events - this is something that Toronto got really excited about and the country really liked, so hopefully the Parapan Games can build on that and move the Paralympic movement forward also."
Lakatos takes on the 100m, 400m and 800m (T53) in Toronto, and there is no doubt he lines up as the favourite for gold in each event. Top ranked in the world in the 100m and 200m, and second over one lap behind Frenchman Pierre Fairbank, he acknowledges that he will be the man to beat. Brazil's Ariosvaldo Fernandes Silva - ranked fifth in the world over 100m after clocking 15.01 at the Sao Paulo Grand Prix earlier this year – could pose the biggest threat.
"I feel fairly confident as long as I can stay healthy," said Lakatos. "Last time I raced [Silva] was in the US last year and I think I got him by a front wheel. He pushed faster than he'd ever done before – he had me for most of the race and I had to come back on him. So if he is there the 100m will be very close. I think it gets a bit easier after that."
Lakatos has good reason to take nothing for granted. So far, 2015 has not gone as he had hoped, and big targets remain on the horizon.
"This season has not gone as planned – I was hoping to 'pb' in Switzerland in the sprints; I haven't had a chance to do that.
"It's been difficult as I had a little bit of an illness going on since the first competition in Switzerland, so the Anniversary Games were a great opportunity to get back and get a race under my belt. It wasn't perfect conditions but the time was good enough so I think I am going strong again and I'll be ready.
"I don't know what the Toronto track will be like but hopefully I'll have a chance to get some personal bests there and go from there in to the Worlds."
Of course a personal best in the 100 metres has a more significant meaning – Lakatos holds the world record in the event, having clocked 14.17 in Switzerland last year.
A sub-14 second race remains his target – and he believes if the home crowds get behind him in Toronto his goal is a realistic one.
The track and field competition at the Toronto 2015 Parapan American Games will feature 377 athletes competing in 114 medal events between 10-14 August.
To buy tickets, please visit Ticketmaster.
--
Brent Lakatos espera que Toronto 2015 tendrá un gran impacto
El corredor en silla de ruedas y campeón mundial Canadiense cree que los Juegos Parapanamericanos pueden dejar un legado similar al de Londres 2012 para su país
Para Brent Lakatos, el ganador mundial de oro cuatro veces, los Juegos Parapanamericanos en Toronto representaran una oportunidad muy especial.
Uno de los para atletas mas respetados a nivel mundial por mas de una década, Lakatos todavía no ha tenido un logro principal en competiciones para-atléticas en su propia casa. Hasta ahora, por su puesto.
De hecho, para el corredor de silla de ruedas nacido en Quebec, los Juegos Parapanamericanos, los cuales serán de agosto 7 al 15, representan el evento mas destacado de su año. Y en el año en el que también ve el Campeonato Mundial en Doha, Qatar, esto dice mucho.
"Se que estoy mas emocionado sobre los [Juegos Parapanamericanos] que los Campeonatos Mundiales — estoy mucho mas emocionado de ir y competir en Toronto, en un estadio Canadiense," admito Lakatos quien en el 2013 gano títulos en 100m, 200m, y 400m.
"Mi familia y amigos estarán presentes, my familia extendida, primos, tías y tíos, y también muchas personas que he conocido durante competencias y reuniones en Canada.
"No es un calentamiento para Doha — estoy tratando esto como un Competencias Mundiales durante el verano: los Juegos Paraparamericanos serán increíbles."
Desde luego que no es solo sobre ambición personal y patriotismo. Lakatos también tiene una vision: una oportunidad para Canada donde el para-atletismo sea aun mas aceptado.
En julio, Lakatos, 35, compitió en el Reino Unido en la final de los IPC Athletics Grand Prix en el Estadio Olimpico de Londres, ganando los 100m T53 en frente de 20,000 espectadores.
Lakatos ha tenido experiencia de primera mano en Londres sobre lo que un encuentro principal de para-atletismo puede aportar a una ciudad y para una nación. El espera que lo mismo sea posible para su propio país.
"Estoy muy emocionado por la oportunidad para Canada," el explico. "Si miramos el legado de Londres y los Juegos de Aniversario - estos no existirían si no fuese por los Paralimpicos, y el enfoque en para-atletas que el Reino Unido tiene ahora.
"Espero que le valla bien a los atletas Canadienses, y que los fans participen, y que Canada apoye sus para-atletas. Así tendremos una generación Canadiense con jóvenes emocionados en esto.
"Canada no es anfitrión de muchos eventos internacionales - esto es algo por lo que Toronto se emociono mucho y a el país le gusto, por lo que espero que los Juegos Parapanamericanos puedan continuar con esa emoción y fortalecer el movimiento Paralimpico."
Lakatos participara en los 100m, 400m, y 800m (T53) en Toronto, y no habra duda que el sea uno de los favoritos para el oro en cada evento. Altamente clasificado a nivel mundial en los 100m y 200m, y segundo tras el francés Pierre Fairbank, el es consciente que este sera la persona a batir. El brasileño Ariosvaldo Fernandes Silva - quien ocupa el quinto lugar en el mundo de 100m con un tiempo de 15:01 en el Sao Paulo Grand Prix a principios de este año - podría ser la mayor amenaza.
"Me siento ciertamente confidente desde que permanezca saludable," dice Lakatos. "La ultima vez que corrí [contra Silva] fue en los Estados Unidos el año pasado y le gane por un poquito. El correo mas rápido de lo que ha corrido antes - me tuvo detrás durante la mayoría de la carrera y tenia que adelantarlo. Entonces si el estará allí, los 100m estarán muy duros. Creo que sera un poquito mas fácil después."
Lakatos tiene buenas razones para no tomar nada en vano. Hasta ahora, el 2015 no va como el lo tenia planeado, y grandes metas están en su horizonte.
"Esta temporada no ha salido como estaba planeado — estaba esperando 'pb' en Suiza en las pruebas de velocidad; no he podido hacerlo.
"Ha sido difícil porque he estado un poquito enfermo desde la primera competencia en Suiza, por lo que los Juegos de Aniversario fueron una gran oportunidad para regresar con una carrera en mi record. No fueron condiciones perfectas, pero el tiempo fue suficientemente bueno, por lo que creo que me estoy mejorando y estaré listo.
"No se como sera la pista en Toronto pero espero tener la oportunidad de tener buenas marcas personales e ir desde allí a los Mundiales."
Desde luego que una buena marca personal en los 100 metros tiene mas significado — Lakatos posee el record mundial en el evento con un tiempo de 14.17 en Suiza el año pasado.
Una carrera sub-4 sigue siendo su meta - y el cree que si los fans en casa lo apoyan en Toronto, su meta sera una realidad.