Browne wins gold as world records continue to fall
The US sprinter stormed to gold in the 200m T44.
25 Oct 2015
Imagen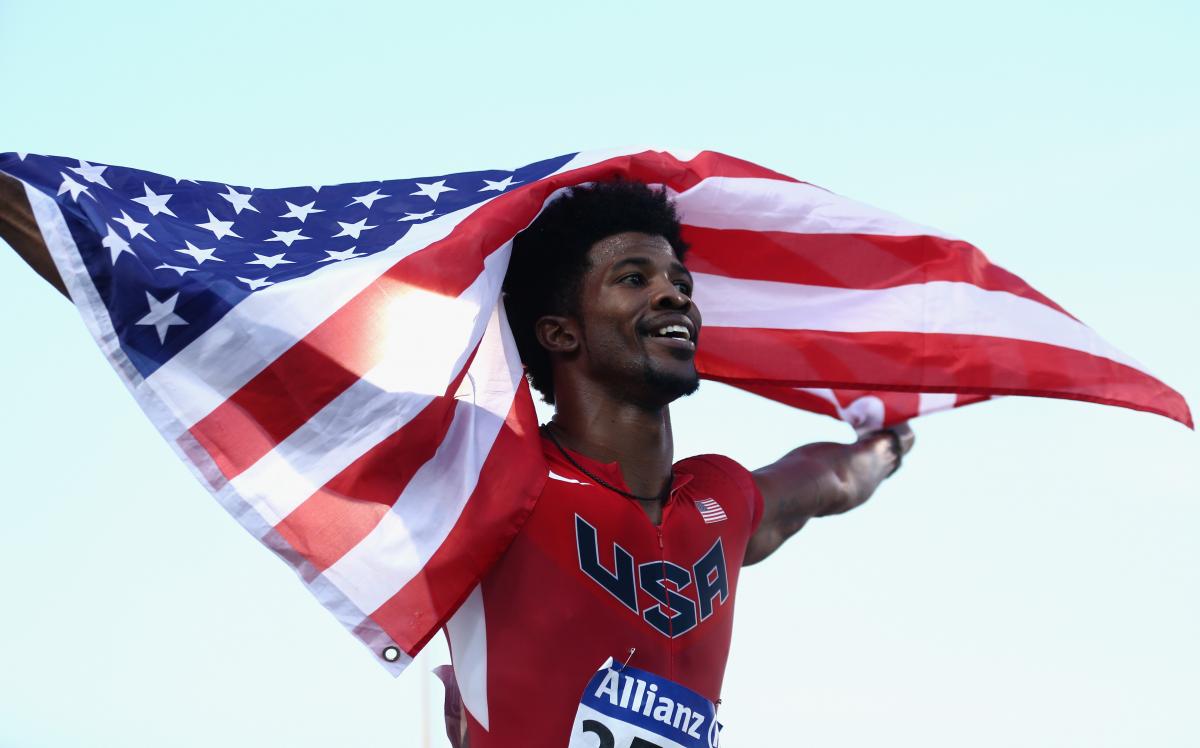 ⒸLOC Doha 2015 | Getty Images
By IPC
The USA's Richard Browne stormed home to take his first individual world title as multiple world records fell on the fourth day of competition (Sunday 25 October) at the 2015 IPC Athletics World Championships in Doha, Qatar.
The 24-year-old secured victory in the men's 200m T44 in sublime style, coming off the bend with a commanding lead which he held on to right to the line, breaking the world record he set last year in the process.
Browne's time of 21.27 knocked 0.35 seconds off his previous mark although the American believes he still has a lot more to give.
"I ran 21.2, not as fast I wanted to go but hey I can't complain about that," said Browne. "I really wanted to see 21.0 come across the clock but in my back 50 (metres) I kind of tightened up because I thought I had Alan on my back. I should have just relaxed and trusted my form and gone on to the line, but you know, rookie mistake.
"I've been hearing it for a long time that I don't have that gold medal, so one down two to go, it definitely feels good," added Browne, who still has the 100m and the 4x100m relay to come.
Brazil's Alan Oliveira came through to claim silver in a season's best 22.04 with Browne's teammate Hunter Woodhall clinching bronze on the line (22.09).
Cuba's Omara Durand already has one world gold medal and a world record in the bag in Doha, and she did it once again, adding the 200m T12 title to her collection as she lowered the world record she set in the heats to take gold in 23.03.
"I am so very happy, I am surprised myself. I feel like a new woman, I think what I have done is exceptional," she said.
Ukraine's 2013 champion Oxana Boturchuk (23.98) had to make do with silver this time around whilst bronze went to Azerbaijan's Elena Chebanu (24.54).
There was a new world record too for Great Britain's Georgina Hermitage who never looked in doubt in the women's 400m T37.
Running in the inside lane, the Briton kept her form well as she rounded the bend with 150 metres to go before powering down the home straight to claim her first world title in 1:02.01.
"I'm so happy, it's more than what I ever expected. Today was all about just running the race and seeing where we ended up and not pushing it too much," said Hermitage, who knocked nearly half a second of the mark she set at the IPC Athletics Grand Prix Final in July.
"Coming off that final bend, I felt in really good shape and felt there was quite a bit in the tank, so that's when I pushed."
Silver went to France's Mandy Francois-Elie with a new personal best (1:05.55) and Russia's Evgeniya Trushnikova (1:07.16) took bronze.
Next up on the track was the women's 400m T38 and Russia's Margarita Goncharova did not disappoint as yet another world record fell.
The European champion went out hard and built up a significant lead - it was just as well as she battled down the home straight visibly tiring with every step.
The 24-year-old's hard work paid off though as she crossed the line in 1:02.18 to get the better of China's Junfei Chen (1:03.65). Torita Isaac of Australia won bronze (1:06.06).
"It was my dream to come here and win, but I knew it was going to be tough, especially with the Chinese – but I have trained well and worked hard, and I am extremely happy to be crowned world champion," she said. "I am so happy to have broken the world record in difficult windy conditions tonight."
China's Cuiqing Liu continued her rise to the top of the T11 sprint class as she claimed the scalp of her chief rival Terezhina Guilhermina once again with a stunning victory in the 200m T11.
The pair were neck and neck down the home straight but it was Liu and her guide Donglin Xu who pulled cleared as the Brazilian, guided by Guilherme Soares de Santa, valiantly dipped over the line before tumbling to the ground.
Liu's time of 24.75 lowered the Asian record she had set in the morning's heats whilst Gulhermina had to settle for silver in 24.95. Her compatriot Jhulia Santos took bronze (26.24).
Finland's defending 100m T54 champion Leo Pekka Tahti also had to make do with silver as he was beaten to the line by the man who claimed silver behind him at London 2012, China's Liu Yang.
Yang set a new Asian record of 13.77 to take the gold with Tahti (13.84) then the Netherlands' Kenny van Weeghel (13.92) winning silver and bronze respectively.
The men's 200m T47 was a thriller as defending champion Yohansson Nascimento and European champion Michal Derus battled to the line. The Brazilian London 2012 gold medallist came out on top with a new personal best (21.90) as Derus took silver (21.96) and China's Hao Wang (22.15) clinched bronze.
Canada's Brent Lakatos remains on course for his tally of four individual gold medals in Doha as he successfully defended his 200m T53 title (25.79). Silver went to Thailand's Pongsakom Paeyo (26.97) and Great Britain's Moatez Jomni (27.03) took bronze.
Australia's Scott Reardon held off Russia's Anton Prokhorov (12.24) to take gold in the men's 100m T42. Two years ago Reardon tied for gold with Heinroch Popow but this time the win was all his own in a championship record 12.13. Denmark's Daniel Jorgensen won bronze (12.47).
Gold in the women's 400m T53 went to Australia's Angela Ballard (57.47), her second world title in Doha, as China's Hongzhuan Zhou (57.97) and Lisha Huang (58.45) took silver and bronze respectively.
Russia's Elena Sviridova enjoyed a convincing victory in the women's 200m T36, leading from the gun to set a new European record of 29.67. Germany's Claudia Nicoleitzik (30.53) took silver and Argentina's Yanina Martinez (31.04) won bronze.
There was another win for Russia on the track as Dmitri Safronov cruised to victory in the men's 200m T35. The 2013 champion never looked in doubt as he eased up over the line (25.07), clearly saving his energy with the defence of his 100m title still to come. Russia's Artem Kalashian (25.38) took silver and Ukraine's Iurii Tsaruk won bronze (25.96).
The USA won the final event on the track, the men's 1,500m T20. Michael Brannigan hit the front with 70 metres remaining and held off Iran's Peyman Nasiri Bazanjani (3:56.53) to take gold in a championship record 3:56.50. Bronze went to Russia's Alexander Rabotnitskiy (3:58.23).
Out in the field, Russia's European champion Evgenii Malykh won the men's shot put F33. A personal best of 12.36m in the third round was enough to take gold ahead of his teammate Aleksander Khrupin (11.52m) as Germany's Daniel Scheil (10.93m) secured bronze.
Just four centimetres separated gold and silver in the women's long jump T20 as Poland's defending champion Karolina Kucharczyk made it to the top of the podium once again with 5.67m in her penultimate attempt. Croatia's Mikela Ristoski won silver (5.63m) and bronze went to Ukraine's Olena Rozdobudko (5.22m).
Greece picked their first gold of the championships thanks to Manolis Stefanoudakis who won the javelin F54 with a best of 28.45m.
"I feel very proud because the Greek national anthem will be heard in Qatar," said Stefanoudakis. "The organisation here is very good with very high standards, for us it is an honour to participate in such events. Rio is now my focus and I hope to win gold there as well."
Brazil's Jose Rodrigues won silver (28.33m) and Russia's 2013 silver medallist had to settle for bronze (27.56m).
China clinched gold and silver in the women's discus F44 as Juan Yao broke the world record with a 43.39m throw. Yue Yang sealed silver with 41.61m and the USA's Natalie Bieule won bronze (29.61m).
Jianwen Hu added another gold for China in the men's long jump T38, breaking his own world record with a third round leap of 7.13m. South Africa's Dyan Buis leapt 6.30m for silver and Russia's Andrei Poroshin managed 6.12m for bronze.
Not to be outdone, China's defending champion Dong Xia safely retained his shot put F37 with a throw of 15.94m. Silver went to Lithuania's Mindaugas Bilius (15.35) and Uzbekistan's Khusniddin Norbekov won bronze (14.57m).
Russia's Vitalii Telesh improved on his silver medal from two years ago with gold in the men's javelin F11. The 27-year-old managed a season's best 41.93m to take gold ahead of Ukraine's Roman Mesyk (40.80m) and Colombia's Jose Belizario who won bronze (40.19m).
Download rights free images from the Championships here, credit: Doha 2015/ Getty Images
For broadcast footage, please email Jose Manuel Dominguez
Watch all the action live and find live results here.
The lastest IPC Athletics updates on Twitter can be found here.