Doha 2015: Mixed zone flashquotes day four
Find out what athletes had to say after comeptition on Sunday at the 2015 IPC Athletics World Championships.
26 Oct 2015
Imagen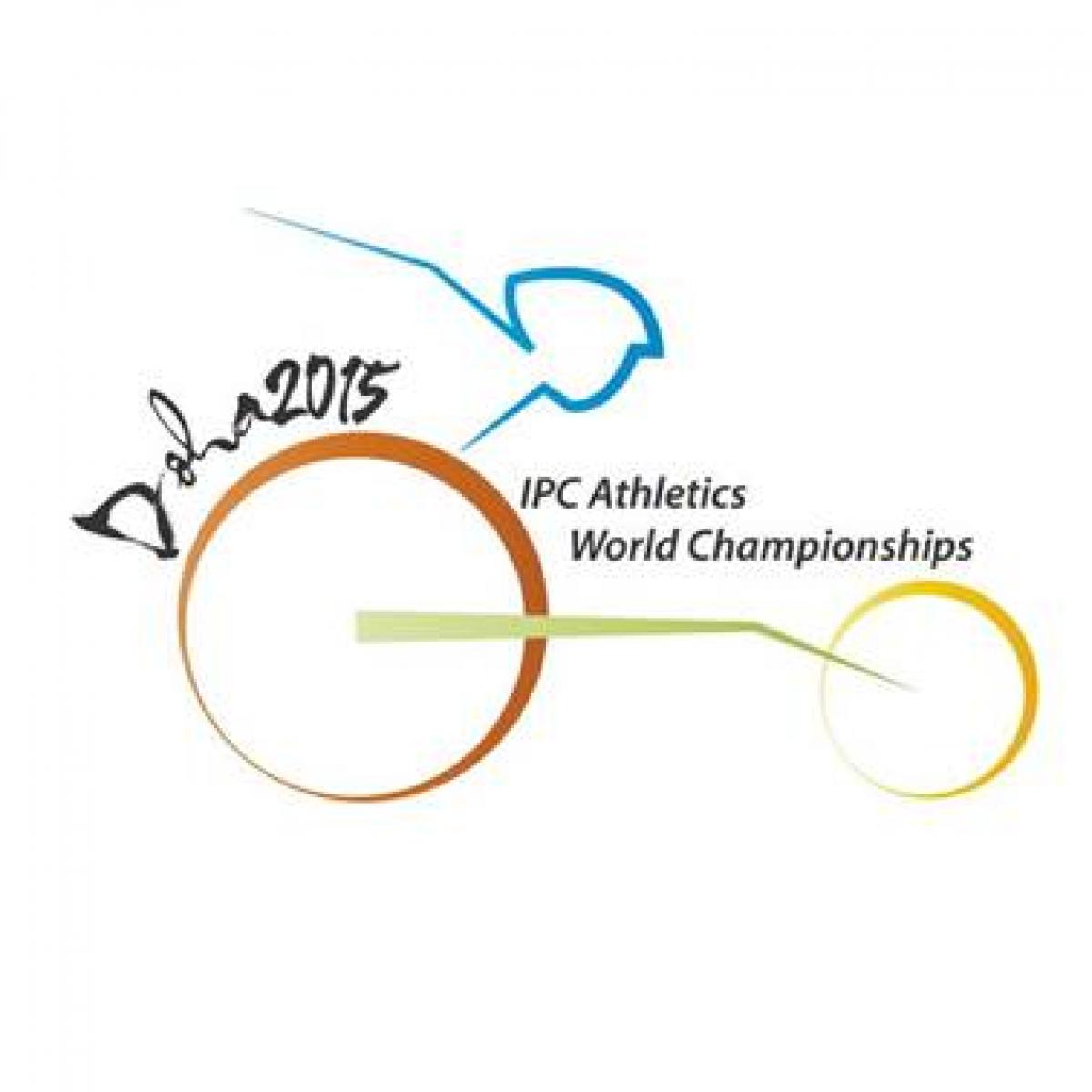 By IPC
Men's Shot Put F35
Silver: Edgars Bergs (LAT):
"I feel good, I am happy for the prize, but not satisfied with my results. I am aiming to get to Rio and I will perform better there."
Men's Discus Throw F52
Bronze: Velimir Sandor (CRO):
"This is my first world championships, I am very satisfied with the result, I will be heading home to train harder and be prepared for Rio 2016 where I aim to do better."
Women's Shot Put F54
Bronze: Elizabeth Gomes (BRA):
"I would like to thank my coach and family for all their support and I know they will support me in Rio 2016. I am able to achieve these goals through hard work and practice."
Women's Shot Put F55
Gold: Marianna Buggenhagen (GER):
" It was a wonderful experience here in Doha. My next aim is Rio 2016 where I am to claim the gold. Although I haven't managed to see the city of Doha, the organising of the event has been amazing."
Silver: Marie Hawkeswood (GER):
"It's wonderful to win silver here, it really is, It is especially nice as we have the gold and silver place for Germany. Mine was nearly a PB, not far off, so I am happy and looking forward to sharing the podium with Marianne."
Bronze: Daniela Todorova (BUL):
"I am very happy as it is my first medal in the shot put. It is my best result so far as my speciality is discus and javelin. I will be competing on the 28th in javelin and 29th in Discus and I am hoping for something better than bronze."
Men's High Jump T12
Gold: Siarhei Burdukou (BLR):
"Finally I won the gold medal it's a dream come true, I won the bronze in Lyon 2013 in triple jump and since that I have been aiming for the gold, I have succeeded here and I have achieved my dream."
Silver: Ihar Fartunau (BLR):
"My discipline is long and high jump. Today I won the silver even though I had a problem in my right foot. I plan to train hard for Rio 2016 although I have competed for many years now so my thoughts will also be on retirement."
Bronze: Andrey Shashko (RUS):
"I am extremely happy considering this is my first world championships, so to get a bronze medal is fantastic for me."
Men's Shot Put F38
Silver: Reinhardt Hamman (RSA):
"it was a tough competition today. The heat was difficult. I am thrilled for the silver as two years ago I was fourth and now I am second. My next event is on Wednesday with F38 Javelin, this is my only event for Rio 2016. Next stop for me after Doha will be the swimming pool to cool down and then start training."
Evening session
Men's 200m T53
Gold: Brent Lakatos (CAN):
" To win as well as possible was the goal here and sets the bar high for myself in Rio. I feel good, I feel ready and strong for the race of my races."
Bronze: Moatez Jomni (GBR):
"I came here to get medals, but of course it is easier said than done. I am leaving with the bronze in my first world championships and that feels pretty amazing."
Women's 200m T11
Gold: Cuiquing LIU (CHN):
"I am really happy and I always knew that if I worked hard enough I would make it. Terezhina is a role model for me, so I am hoping to follow in her path."
Silver: Terezinha Guilhermina (BRA):
"It was very disappointing, but I think I wouldn't of lost if it wasn't for my guide pulling a muscle. I won't give up though and I still have a few events left."
Bronze: Jhulia Santos (BRA):
"I am very happy with my performance because these world championships were my goal. I am happy with my medal no matter what colour it is."
Women's 200m T36
Gold: Elena Sviridova (RUS):
"I am so happy! I expected a good result but to take gold is really special. Particularly since it's just one year since I gave birth to my first son. I will share the gold medal with him."
Men's 200m T44
Gold: Richard Browne (USA):
"I feel absolutely amazing. It was a fast track and very fast competitors. I can't wait for next year. That's one down, two to go. I still have the 200m and 4x100m and I don't plan on losing those either."
Silver: Alan Oliveira (BRA):
"I have just had a sabbatical, but I am still happy with the result. I told Richard that I will beat him in Rio!"
Bronze: Hunter Woodhall (USA):
"It feels amazing to be in the top 3, it was always going to be tough but I have worked hard and it paid off today."
Men's 200m T35
Gold: Dmitrii Safronov (RUS):
" I am absolutely flying! It was a very tough race, but I am the world champion and so happy."
Silver: Artem Kalashian (RUS):
" It feels good to be second, and I am happy to share the podium with my team mate and friend."
Women's 200m T12
Gold: Omara Durand (CUB):
"I am so very happy, I am surprised myself. I feel like a new woman, I think what I have done is exceptional."
Silver: Oxana Boturchuk (UKR):
"It's a good day for me! I got my second silver medal here in Doha, and I have to thank my guide, Alexey, for helping me. He is my eyes and the best guide I could of possibly hoped for."
Bronze: Elena Chebanu (AZE):
"It was a tough race but I am not very happy with my performance because as an athlete you always go for gold."
Men's 200m T47
Gold: Yohansson Nascimento (BRA):
"This is a very hard race that took a lot of hard work but I've trained so much and this medal is a result of my hard work. This is my third World Championship medal first in 2011, 2013, and now in Doha. But my real medal will be in Rio next year."
Women's 400m T37
Gold: Georgina Hermitage (GBR):
"I am so happy, coming back from injury I didn't think I would be able to compete, to come out here and break a world record, I couldn't have asked for more."
Silver: Mandy Francois-Elie (FRA):
"I can't say I am too pleased. This was not even a seasons best, but the silver medal is still ok. I hope to get gold in Rio."
Men's Shot Put F33
Gold: Evgenii Malykh (RUS):
"This was such a cool experience! I was hoping to win gold, but for the team to take the top two places made this really special. We are all good friends and I have had a great time in Doha."
Bronze: Daniel Scheil (GER):
"The competition did not go to well for me, my technique wasn't great so I am happy to come away with a medal."
Women's 400m T38
Gold: Margarita Goncharova (RUS):
"It was my dream to come here and win, but I knew it was going to be tough, especially with the Chinese – but I have trained well and worked hard, and I am extremely happy to be crowned world champion. I am so happy to have broken the world record in difficult windy conditions tonight."
Bronze: Torita Isaac (AUS):
"It was a really tough race and I am happy with my medal."
Women's 400m T53
Gold: Angela Ballard (AUS):
"It was really tough out there. There was a lot of wind so the track wasn't very fast. I was wondering how it would go for me. Tomorrow I have the 800m so that is what I am focusing on next."
Men's Javelin Throw F54
Gold: Manolis Stefanoudakis (GRE):
"I feel very proud because the Greek national anthem will be heard in Qatar. The organisation here is very good with very high standards, for us it is an honour to participate in such events. Rio is now my focus and I hope to win gold there as well."
Silver: Jose Rodrigues (BRA):
"In Toronto I didn't perform well at all and now I have come here and won silver. My next aim will be the gold in Rio."
Bronze: Alexey Kuznetsov (RUS):
"I actually wanted to do better. I am not too happy with my performance. It was quite windy but the same conditions for all my competitors, and the other two were simply stronger today. I have to go back, train harder and get ready for Rio!"
Men's 100m T42
Gold: Scott Reardon (AUS):
"It doesn't matter how you win coming into these championships, what matters is how you execute the race when in it, so yea I am really happy. It is good to take away the gold medal. I am capable of running under the 12 second barrier and will now focus on this for Rio next year."
Bronze: Daniel Jorgensen (DEN):
"I had a slow start and struggled for the first 30 meters, so I had to put the turbo on and really go for it. I never expected to get a medal in the 100m race though, as my strongest event is tomorrow's long jump – but it is extremely cool to get the bronze. Hopefully this can inspire other young Para athletes."
Men's 100m T54
Silver: Leo Pekka Tahti (FIN):
"I am a bit disappointed but I did my best this season and I am satisfied. My acceleration wasn't as good as this morning obviously but when I wake up in the morning I will feel better. The facilities here are great and I am enjoying being here in Doha."
Bronze: Kenny Van Weeghel (NED):
" The competition was very good and it's good to see that there is so many strong competitors in this event. I was very surprised by Leo, I think he is at his best at the moment for 100m. This was a really good race for me and I got my season best so I am happy."
Women's Discus Throw F44
Gold: Juan Yao (CHN):
"I am very excited, but winning here just makes me want to work harder. I want to thank my team mate for inspiring me."
Silver: Yue Yang (CHN):
"I did my best, and that's ultimately all that matters. I lost my record today, but I am happy that it stays in China. Hopefully this can give the whole Chinese team a booth and drive us on."
Bronze: Natalie Bieule (USA):
"I am extremely happy and especially as I set an area record, I really can't put that feeling into words. It has been a remarkable experience and I am very thankful to Qatar, thanks for everything."
Men's Long Jump T38
Silver: Dyan Buis (RSA):
"I am very happy with my performance – to end the season with a season best of 6.30 meters makes me very happy and I'm very excited for Rio next year."
Bronze: Andrei Poroshin (RUS):
"I've got mixed emotions. It wasn't my best performance but I'm really happy to get the bronze medal in a very challenging final."
Men's javelin F11
Gold: Vitalli Telesh (RUS)
"I am of course immensely proud to be world champion. It was a really tough competition. I have to say that the experience of Doha has been tremendous. Amazing stadium and amazing organisation – everything has been superb."
Men's shot put F37
Silver: Mindaugas Bilius (LTU)
"It is ok that I came second, I wanted to come first but I have to be happy as I did my best out there tonight. I have recently had surgery so I am not at my strongest, I will still be competing in the discus so that is another chance for a medal."
Bronze: Khusniddin Norbekov (UZB)
"I am fairly happy with that, but I know I could have done better. I hope to improve and compete for the gold medal in Rio."
Men's 1,500m T20
Gold: Michael Branningan (USA) - Championship record
"I am feeling great this is my first championship record in the World Championships, I got extremely tired but pushed all the way through to the finish line. I was in the top 4 and kept saying to myself, keep pushing, keep going."
The IPC Athletics World Championships has attracted around 1,300 athletes from nearly 100 countries and will continue until 31 October.
Download rights free images from the Championships here, credit: Doha 2015/ Getty Images
For broadcast footage, please email Jose Manuel Dominguez
Watch all the action live and find live results here.
The lastest IPC Athletics updates on Twitter can be found here.